THIS REVIEW CONTAINS NO SPOILERS! YOU CAN READ IT WHETHER OR NOT YOU HAVE SEEN THE MOVIE!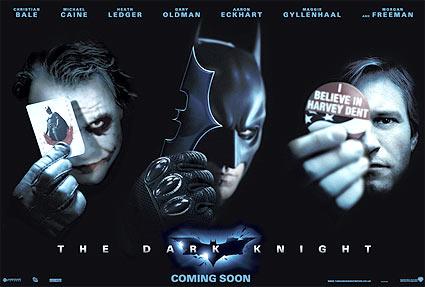 Where do I begin? How about we begin over a year ago... When word of this movie began to spread, people talked about it and were very interested to see what this movie would become. As the months went by, every bit of news was more intriguing. Heath Ledger as the Joker? Aaron Eckhart as Harvey Dent? Maggie Gyllenhaal replacing Katie Holmes?

Then of course, the news of Ledger's death put a dark mark on the project. People wondered if his death would cause people to exaggerate his brilliant performance or put the film in a bad light.

But none of that mattered in the end. All that mattered was that this movie was brilliant. A masterpiece. It exceeded expectations. Expectations that were set higher than I could imagine by outstanding marketing, an extremely obsessed fan base (me included), a preceding film that set the bar high as it was, and an all-star cast/director.

I'm still in shock. I'm trying to write a coherent review but I can't even grasp this movie right now. I'll try to break it down.

The plot... flawless. Every character was incredibly important. With all the spoilers and clips flying around, the movie still managed to keep you guessing throughout. The character development was the best I may have ever seen. I couldn't believe that a summer action movie was actually making me feel this way and that I was getting so deep into the character's heads. Harvey Dent was dynamic and a man of raw emotion. The Joker was maniacal and hilarious. Simply the most gruesome and perfect villain I've ever seen. Bruce Wayne/Batman was guarded, troubled, and righteous. Rachel was tough but lovable. Even Alfred, Gordon, and Lucius were deep characters. I was blown away at how the movie displayed that many characters in such detail.

The acting... outstanding. Christian Bale portrays Bruce Wayne/Batman better than anyone ever could. Aaron Eckhart's charisma and emotion are something else. Heath Ledger plays the most chilling, scary, and lovable villain I've ever seen. He deserves recognition of some kind (yes, I'm talking to you, Academy!) and couldn't have ended his unfortunately short career on a higher note. Maggie Gyllenhaal is fantastic, Gary Oldman is incredible, and Morgan Freeman is as usual, top-notch. Pay attention to the way the characters interact: Batman and the Joker, Harvey Dent and The Joker, Rachel and Bruce Wayne, Rachel and Harvey Dent, Alfred and Bruce/Batman, Gordan and Dent, etc. These actors mesh so well together and are never uncomfortable. I can't imagine how much they pushed each other to be so outstanding in their performances as an ensemble and individually.

The direction... masterful. Christopher Nolan not only managed to co-write this fantastic screenplay, but he directed a masterpiece. Granted, he had extremely talented actors to work with, but he pulled something out of them that I haven't seen before. Even elite actors like Bale and Oldman and Freeman were something else, and Heath Ledger was something I could never imagine. I can't see anyone else playing that part better. Nolan also created these incredible action sequences without going overboard. Nothing about this movie needed to be improved, every scene was essential, and 3 hours didn't even feel long enough. THAT is good directing.

The cinematography... unbelievable. You don't even see very much CGI (because there isn't) and when you do you barely notice. The action scenes aren't overblown or outlandish but thrilling and heart-pumping. The landscapes are captured gorgeously and every detail is like it is painted. Go see this film in IMAX, your eyes will love you.

The musical score... fantastic. A gorgeous and dark score that sets the proper emotion before you even realize what is going on. Watch out for a certain familiarity in the score whenever the Joker is about to come on. You will find yourself on the edge of your seat without even realizing it.

Everything else... costumes, editing, dialog, whatever you can think of... amazing. I can't believe how every aspect of this movie was nearly flawless.

Look at the words I've used to describe it: flawless, outstanding, masterful, unbelievable, fantastic, amazing. I'm out of words to describe this greatness. I don't give in to hype. I usually ignore the hype, set my expectations low, and still find myself disappointed. I am a huge critic and very picky about what I like in movies... and this movie EXCEEDED the hype. I can't stress that enough. The psychological implications of the plot and the themes of the movie are so deep that there could be a class about it.

Watch this movie and don't just blindly wait for the cool action scenes to come. Watch this movie with your mind on, you will be shocked at how big this movie is in every way. If you have seen this movie the way it should be seen, your mind should be tired when you walk out. You should be speechless for a bit. You shouldn't be able to pinpoint your favorite moment right away. And you shouldn't be shocked that three hours has just gone by.

10 stars! A++ Three thumbs up! Believe me, go see this movie now.

edit: In reality, I'd give the movie a 97% approval rating. No movie is perfect... but this one is damn close.

Judge for yourself.