Music Mends Broken Hearts

Booyah!
Sweet - new MxPx cover album just showed up. Gonna run to the store and come back and listen to this while cleaning up the place. Was busy all weekend and didn't get around to that -- now that the site is all updated and news is posted for the day ... I should do some chores.
It's Like The DaVinci Code of AP.net
I have never seen a thread like this before.

There is a little of everything in there. Fights, nudes leaking, more fights, stories from two girls who have had a run in with the epic Hoplerpotamus. Hilarity, drama, suspense, jail time letters from ex-members, yeah ... I don't think there has ever been a thread like this on AP.net history before.

Hahaha, just when I think the website can't surprise me ... it does. The community (minus some of the drama) has been better than ever the past few weeks.
Tags: rotfl, thread
Inside AP.net: Some More Stats
So after one of the biggest weeks in AP.net history, what do we do? Top it. Last week's stats compared to the week before:

Visits: +9.07%
Pageviews: +8.20%
Bounce Rate: -3.15%
Avg. Time on Site: +2.46%

We did a damn good job keeping users around and keeping conversation up last week. I was a tad worried we'd see a big fall off from the week before. Didn't happen. That makes me happy.
Tags: inside ap.net, stats
I Didn't Think This Through
So I have an extra room downstairs that's sort of a "living room" type room. Basically nothing in it except a couch, some stuff on the walls, and a bookshelf. The unfortunate thing is that it would be a damn awesome pool table room; however, it's like 3 feet too short on one end. Stupid house.

I want a pool table. I can't think of anything else to do in that room. It's basically never used - and it just chills there ... wishing it could be an office or den. Wishing it was bigger so it could be an amazingly fun game room. But noooo ... instead it's just a sad little wanna be room that currently is good for nothing except showcasing things on the walls. I suppose it feels slightly better than the spare bedroom that is never used - ever. But it's still a stupid, stupid bitch. Grow 3 feet!! GROW!
Tags: ranting, i'm weird
Not a Bad Movie...
Watched Henry Poole is Here the other night. I liked it. Pretty good low budget movie actually - worth checking it out if you're looking for an inspirational kinda-dark comedy.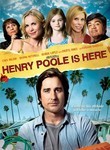 Tags: recommendation, movie
Devil Dressed in Blue
Angel wrestle me
Crack my sides to let me see
That if the end will set me free
They're sending me down below
Well I can feel your wooden chair
Creeping out my cross to bear
I never knew you actually cared
I'm such a simple fool
Tags:
lyrics