A blog about art and shit.

Salty Eyes


whipped this up in studio today. It's a linocut print (the red) and then drypoint on top (the black)

I miss them.

(excuse the shitty cellphone photo)
blaahhhhh photo vomit.
Well hellooo~

Just a couple things...

First up, I got approved as a photography major at my school last week, so yaaaaayy! I get to live in the darkroom for the next 3 years! I'm ready. (: You should also check out/follow my photo blog called photovomit that I started up with another photography student 8D I'll be more active once the semester's over, I promise.

And secondly, I just got back from the printmaking studio and we've been doing drypoint prints so I'll just post some of those here...

Ummm this is printed off a plate that I carved on the subway on the way to class this morning haha. It turned out waaaay better than I thought. The words were taken from "Like Ships in the Night" by Fireworks. ya man.

The proof print:



Two colour print...



Three colour print...



And then this one's inspired by "Indoor Voices" by Transit. It took for-fucking-ever to carve, but the prints came out really nicely (:



And a two colour version...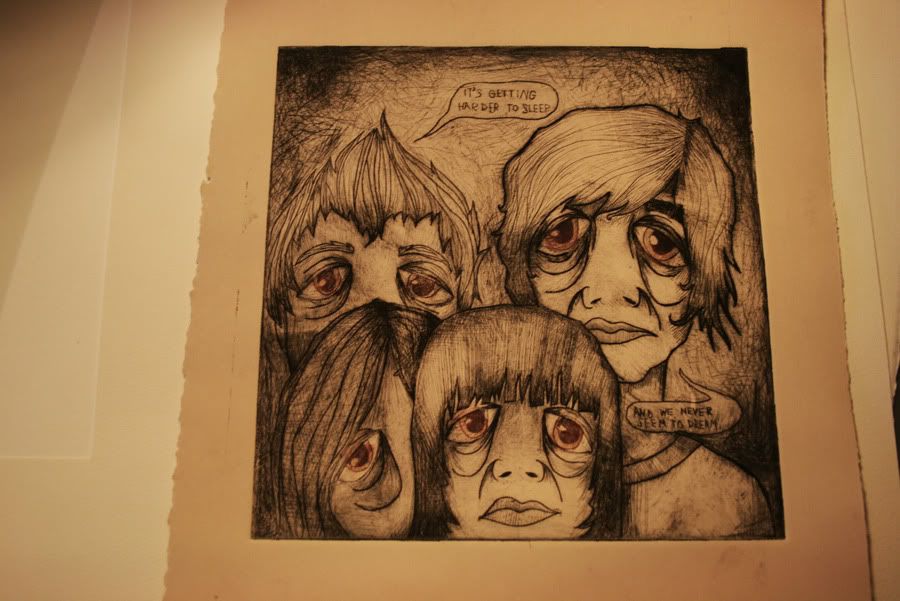 This little guy was printed off a scrap aluminum plate I found laying around the studio. I carved this in like 5 minutes and printed it on garbage quality paper. haha. I think it's cute though. (it's tiny... like 4"x4" maybe.) A Living Diary - Transit


I've been on a very obvious pop-punk binge, as you can see... (or maybe more like just a Transit binge...)

until next time, ap.
new drawing yay


it's been so long since I've drawn something non-music related and I actually really like where this is going. It's also been a long long time since I've done a straight up ink drawing. I'm about 60% done (:

yeah.
Sup, Austin TX?
The Sketchbook Project 2011 is in Austin for the next couple days as a part of SXSW. I think you should all check it out (1. because I'm a part of it and 2. because it's generally super cool)





here are the details...

March 12, 2011 / 1:00-6:00pm
Austin Museum of Art
823 Congress Ave
Austin, TX

March 13th, 2011 / 12:00-6:00pm
29th St Ballroom at Spider House
2906 Fruth St
Austin, TX

My sketchbook is under "Jackie Lee", look me up!
Cute things.
Hello!

My friend recently made a bunch of cute little crocheted animals and I made a little diorama and photographed them for our etsy store.



(edit: we sold them! haha follow us on tumblr and I'll post here again when we have more things in the store!)
www.etsy.com/shop/ohsnapshop
ohsnapshop.tumblr.com

yeah. (:
Transit.
I was dicking around with the relief presses in the printmaking studio today.

And I'm on a huge Transit kick.



ok that's it. byebye.
day 4
Forgot to post this here yesterday, woops.

Favorite place:




<3
day 3


favorite food. I like every kind of salmon sushi. true story.
Daily Drawing #1: Self portrait
I'm doing this silly drawing challenge thing that requires me to draw something specific each day (like my favorite food, favorite animal, etc etc)

So, for the first day, I had to draw a self portrait.




I've been in this crazy ska mood lately, so I figured I'd draw myself skanking hahahaha. I went to a really fun show on Saturday and I saw this band (www.myspace.com/smalltowngetup check em out.) and they put on a pretty fun set, and they covered Keasbey Nights (originally by Catch22/Streetlight Manifesto). Good times.