| | | | |
| --- | --- | --- | --- |
| 's Blog | | | | |
Show Review: The Ghost Inside
While on their "The Gang Hits The Road" tour with Stray From the Path, Reign Supreme, and Betrayal, The Ghost Inside made a stop in Poughkeepsie, NY at The Loft. The show drew a rather large crowd despite the show being in the middle of the week and featuring bands like Betrayal who had never toured the east coast before.

First up was the aforementioned Betrayal from Los Angeles, California. Despite never having played so far from home before, the band certainly felt more than welcome here. The band powered through their set with their blistering brand of hardcore that got the night off on the right foot. Though I was already a fan before seeing them, their set was a really convincing one to those who may have never heard of them before.

Next up was Long Island's own, Stray From the Path. The band has made a few trips to the area in the past and it seems that this may have been one of their bigger crowds to dates here. Live, they are just as impressive as they are on record. They played a nice mix of songs off both of their records during their set. Of course, they played their new single, 'Damien", as well as the fan-favorite, "Negative and Violent". As a fan myself, it was nice to finally catch these guys live.

Following Stray From the Path was Reign Supreme. While I'm not a fan, I did enjoy their set. The band gave a ton of energy as most hardcore bands do, but these guys take it to another level. The crowd clearly took notice as the participation was at a high point for the night. This band is one worth checking out.

Capping the night of were tour headliners, The Ghost Inside. I can't express how great it was to finally see them play in my hometown having been a fan of theirs for over a year and a half. Simply put, this is a band you can't miss out on. Whether it be live or on record, this is a band to know. Their set consisted mostly of newer songs off their recently released record, Returners, but also included fan-favorites of off their debut, Fury and The Fallen Ones. The passion shown by Vigil and company during their set is unparalleled. The Ghost Inside's amazing set ended on a high with some members of the audience rushing the stage to sing the gang vocals in "Faith or Forgiveness". It was certainly a great finish to an amazing night.
Saosin Show Review
A packed house at The Chance Theater in Poughkeepsie, New York was the setting for Saosin's recent headlining tour with Maylene & the Sons of Disaster and Before Their Eyes.

Taking the stage first was Ohio-based screamo act, Before their Eyes. The crowd was unenthused with only a few singing along and moving to Nick Moore and company. This had little to do with the band's energy as they gave an entertaining performance, powering through material from their previous records, as well as their upcoming release Untouchable. The band capped off their set with an older song: "A City In a Snow Globe." The crowd was finally beginning to come alive.

Following Before Their Eyes were southern rockers, Maylene & the Sons of Disaster. Despite not being much of a fan, I thoroughly enjoyed their set. Vocalist Dallas Taylor had a swagger about him onstage that was hard to ignore. It was clear that the crowd, based on their response, felt the same way.

Closing the show was headliner, Saosin. Unfortunately, their set ranks as one of the most forgettable performances I have seen. Vocalist Cove Reber seemed more robotic than anything else as he just wandered the stage. The rest of the band was high intensity as was the crowd's participation. Things never picked up until the band's encore during which they played fan favorites: "Bury Your Head" and "You're Not Alone." Maybe it was an off-night for Cove, but I couldn't help but be disappointed by Saosin's set.

Thanks to Jeff Menig and the rest of Killer Cool Entertainment.
The Who's Driving Tour Show Review
The Who's Driving Tour, which featured bands such as Every Avenue, The Audition, The Summer Set, and Sparks the Rescue, made a stop at The Chance in Poughkeepsie, NY. Playing to a packed house, the show kicked off what should be a very big year for the Poughkeepsie area.

Ian Walsh, from Boston, Massachussetts, started the night off on the right foot. Having already played at The Chance in October, he had a sizeable fan base in attendance. Despite after seeing him for the second time, I still wasn't impressed by his set all that much. However, I can certianly see the appeal that he has. After his set drew to a close, Sparks the Rescue took the stage. The band played material exclusively from their record, Eyes to the Sun. I was a bit disappointed by their set list for this show. It was almost identical to the set they played when I had seen them with Hit The Lights back in November. A little varierty would have been nice, but there's only so much a band so new into the careers can do. However, the crowd was fairly responsive to the band's energetic performance. Arizona natives, The Summer Set, followed Sparks the Rescue. The band made their most recent appearnace at The Chance with the aforementioned Ian Walsh in October. The band sounded great as they played a wide variety of their material in terms of age. The biggest of the supporting acts, The Audition, played next. Led by vocalist Denny Stevens, the band blazed through their set, which was a pleasant surprise, as a majority of their set consisted of songs off of their debut record: Controvery Loves Company. They also threw a new song into their set, "The Art of Living", off their upcomng record, Great Danger(for those waiting on a band to really break in the coming year, keep an eye on these guys). To cap off the night was tour-headliner, Every Avenue. Crazy antics aside, it was an extremely entertaining set. The crowd was drawn toward the band and were even informed that line shots from "Tell Me I'm a Wreck" would be used for an upcoming music video, adding even more excitement to the night. After the conclusion of their set, the auidience called for an encore and the band re-took the stage to play "Trading Heartbeats" one last time for their enthusiastic fans.


Thanks again to Jeff Menig and everyone at Killer Cool Entertainment www.myspace.com/killercoolent
Tags: show review, Every Avenue, The Audition, The Summer Set, Sparks The Rescue, Ian Walsh
We Are The In Crowd Show Review
While on tour with Action Item, We Are The In Crowd made a stop in its hometown of Poughkeepsie, NY for a show. I had a chance to attend the packed show which featured many acts from around the area.

Prior to Action Item, four locals opened: The Turn On, Killscreen, The Here and Now, and Call It a Night. If there's any band to keep an eye on, it's certainly The Here And Now. I've seen them play a few times, and they get better each time...and this was no exception. If you've never heard of this band, they're centainly worth the listen. As always, local favorites Call It A Night were good, even debuting new material during their set.

After all the locals played, Action Item took the stage. They've played in Poughkeepsie a few times before, but this was the first time I had the chance to see them. As someone who doesn't consider himself a fan, I was quite impressed with their set. They have an infectious brand of pop rock that was able to win over even the big disbeliever.

Following Action Item was We Are The In Crowd, the most recent band from the area to get signed, having signed with Hopeless Records. Their set opened with Gunz from The Gunz Show intorducing the band leading to the band covering "I'm On a Boat" led by bassist Mike Ferri. Throughout the song, members of the band made their way on stage. Once the entire band was on stage, they went right into their set, playing old fan favorites like "Easy." In the middle of the set, they played their recently released single, "For The Win" which they released along with the news of their signing. Most in attendance were singing along to this song and the others the band played. Though it was just another show, the band was most definitely excited to share their joy with thieir hometown fans.

Thanks to Jeff Menig and the rest of Killer Cool Ent for putting this show on.

www.myspace.com/killercoolent
Tags: We Are The In Crowd, Action Item, show review
10/31/09: Just Surrender Halloween show
Recently I had the opportunity to attend Just Surrender's Halloween at The Chance in Poughkeepsie, New York. The show was certainly a success to say the least, showcasing local talent from the Hudson Valley as well as a couple acts from the Albany area.

If there was one band whom I had never seen before that I was anxious to see, it was the opening act, ABEL. I've heard plenty about this band from Frank of Happy Windsday, who, I've seen play an ABEL cover on several occasions during a set of his own band's. ABEL's set consisted entirely of songs of their recently released EP, The Honest Love. Despite playing in a genre that evokes little crowd reaction, it was clear to me that they were a favorite amongst those in the crowd, including me.

Following ABEL was another local act, Sleeping At the End of the World, a band that may be familiar to some of you on AbsolutePunk. To call this band energetic would be a gross understatement and does their live show no justice. The band was all over the stage playing a mix of their own material and visually, this was one of the most appealing sets to me.

Another AbsolutePunk favorite, We Are the In Crowd(formerly just The In Crowd), took the stage next. I've had the opportunity to meet the band on occasion and I must say, it would be difficult to find a more honest and all around "nice" band. Given the date, the band began their set with a cover of Michael Jackson's "Thriller". Afterwards, the band played their own material while throwing in yet another cover, this time around it was Taylor Swift's "Love Story". We Are the In Crowd's set was highly enjoyable to all(especially myself). Be sure to be on the look out for big things coming from this band in the future(given the current date, I'd like to congratulate everyone in the band on thier signing to Hopeless Records. Nice work everyone!).

Next was Secret Secret Dino Club. When I first gave this band a listen, I wasn't entirely sure what to think. Are they serious? Is this in any way decent? After learning that they would be playing this show, I gave them a another listen and for what it's worth, it wasn't half bad. Their set that night was good, playing a mix of songs both old and new. The band's humor and light hearted nature clearly struck a chord(no pun intended) with the crowd.

After Secret Secret Dino Club was Young and Divine, also natives of the Albany area. The band has built a modest following here(as evident by how many fans were wearing their shirts), playing quite a few shows here in thier existence. Their set was visually entertaining too, with all of their additional lighting equipment and effects. During their set, the band played their fairly successful single, "Shake That Bubble". In addition, they played fan favorites such as "Strangers By Day" and "Weakdays". Much like the acts that preceeded them, Young and Divine were clearly able to draw the crowd's attention.

Closing the night were hometown heroes, Just Surrender. This was the band's first show back in months and thir first since signing to their new label, Razor & Tie. I've had the pleasure of seeing these guys several times dating back to 2005 and every show of their's is great. Their set list consisted of fan favorites from, If These Streets Could Talk, We're In Like Sin, and their Stronger Now EP. Apart from taking the stage dressed as 80s hair metal rockers, the band treated their fans to another extra special treat, an unreleased song scheduled to appear on their next full-length due out in early 2010. While the band was cut short, much to the dismay of their fans, they closed with She Broke My Heart So I Broke His Jaw", providing for an excellent ending to the night.

Special thanks to Jeff Menig and everyone at Killer Cool Ent for putting this show on.

Please check out all of the bands that played:
www.myspace.com/abeltheband
www.myspace.com/sleepingattheendoftheworld
www.myspace.com/wearetheincrowd
www.myspace.com/secretsecretdinoclub
www.myspace.com/younganddivine
www.myspace.com/justsurrender
www.myspace.com/killercoolent
Tags: Just Surrender, We Are the In Crowd
Forgoing Popular Opinion
It's certainly been a long time since I've last posted a blog here so here we go...

The recent posting of news that current and past members of Dance Gavin Dance possibly coming together to record another record got me thinking how great Downtown Battle Mountain really is. Upon more thought, I realized it may be one of the best post-hardcore relases of this decade(being that it is 2009 already). I certainly realize many people will have a problem with this but, quite frankly they need to get over it.

It would be hard to deny the talent and musicianship that's present on this record. Jonny Craig has one of the better voices in this scene and this record proves that point. At the same time however, it never comes across as showboaty or that the band is trying hard to showcase his talent. It just comes off naturally, which is how it should always be. Instrumentally, the guitar work is absolutely amazing. The guitarists can seeamlessly play with an element of prog and then play songs with distinct power chords. Plus it doesn't hurt that as a whole, Downtown battle Mountain is highly appealing.

I know this is a lofty title to give this release and I'm well aware of that. I wouldn't call it the best release in the genre as bands like Thursday deserve that honor, but it certainly warrants a mentioning in at least the top 10 post-hardcore releases of the 2000s. here are some prime examples as to why I feel this way:

"Intro/And I Told Them I Invented Times New Roman"


"Lemon Meringue Tie"


"Antlion"


"Open Your Eyes and Look North"

Tags: Dance Gavin Dance, Downtown Battle Mountain, Jonny Craig, post-hardcore, 2000s
Maybe?
Was just on the Daggermouth MySpace where their headline reads, "Don't call it a comeback!" and their last login was only yesterday. Could Daggermouth be preparing for something big soon? I sure hope so.
Tags: Daggermouth, new material, touring
Is All Time Low Big?
Well, given what I saw yesterday...I'd say so.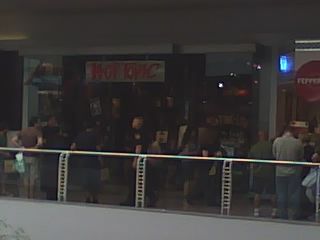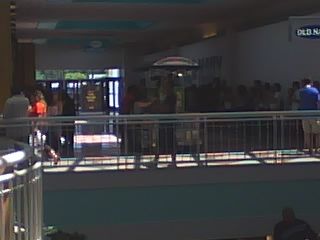 On their current tour with Cartel and We the Kings, the band made a stop in my hometown for a show. In a addition to playing a show, the band held an autograph session for all of their fans who pre-ordered their new record Nothing Personal at Hot Topic. My younger brother pre-ordered the record while I did not, therefore, I did not gain access. That said, I did get a chance to meet the band at the 2007 Warped Tour(Hipster ATL fan alert). If you needed proof to gain a grasp on how big this band is at the moment, all you needed to do was be here. There were at least 200 kids waiting in line(though some of the girls decided to do more than just wait, *wink, wink*).

My only comment on this whole event is how this band is viewed by their [female] fans. I remember watching the accompanying DVD to the re-issue of Underoath's They're Only Chasing Safety and how the band and their crew stressed how they just like to be treated as just a groups of "dudes". They don't wish to be revered as gods or, in this case, symbols of teenage lust. If you could only see the girls who walked out of the store in tears or fanning themselves off as if they had just met [insert whichever actor/celebrity is popular with girls these days]. Or even the girls who lost it because they touched Alex Gaskarth's hair(that actually happened). It's borderline ridiculous. It's this sort of reaction that I can't stand, they're just a bunch of guys who make music and they only wanted to be treated as such. The band would gladly tell any fan that. I hate to say it, but it's these kinds of fans who are ruining these bands by turning them into faux-celebrities. This needs to stop now.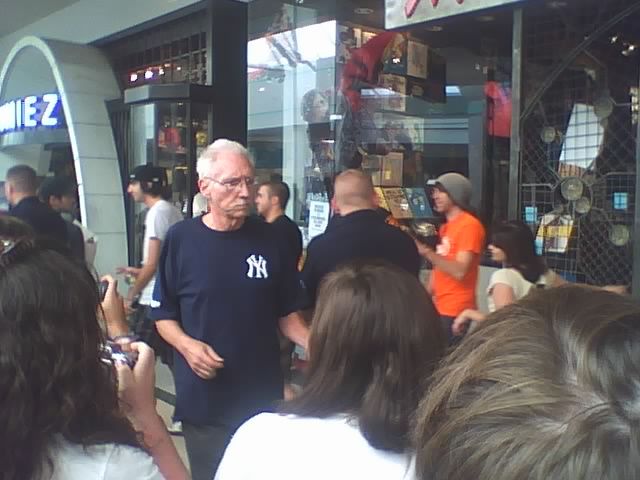 I thought I'd just throw in my little paparazzi shot of the band. In the photo is Jack Barakat, Rian Dawson, and Alex Gaskarth(from left to right respectively).
Tags: All Time Low, signing, overtly obsessed fans
Officially Annoying
Not that I haven't had enough reasons to think this, but Forever the Sickest Kids are so damn annoying.

I was on the Purevolume homepage and noticed they did a Purevolume Session for the site so I decided to check it out, oh my lord. First off(music aside for the moment), the banner on homepage advertising the feature shows the infamous JCook with his New Era hat of God knows what with sunglasses on. Sunglasses inside? Bad call Mr. Cook. Getting back to the music, for each song you hear them desperately attempting to get the crowd involved. Now that's laughable because no one is getting involved apart from the band and this session is taking place in their home state of Texas. All the while my teeth are grinding due to how ridiculous they all sound attempting to do so. I mean, Jonathan Cook sounds like he swapped voices wih a cartoon character.

..and how highly did I put this fucking band on my year end list last year? Fuck, that was a shitty list.
Tags:
Forever the Sickest Kids: The next Disney sensation
A New Low
Last night/this morning was easily one of the worst periods of time that I may have ever had. It's amazing what finding certain details about a person you're interested in can do to you. I believed she was above them all. Now, what spererates her from them? I feel that the person I knew never existed. Was it all in my head?

I've got a lot of work to do now...
Tags:
I set myself up for dissapointment here
Caught Me By Surprise
If you asked me to list my favorite bands, I'd probably end up giving a list of roughly 10 bands. Near the top of that list, you would find Set Your Goals and All Time Low. To say my opinion of each band's last record varied is an understatement. So Wrong, It's Right was highly dissapointing for me, while Mutiny! has become one of my favorite records of all time.

With that said, it would be easy to predict my level of anticipation for each band's next record. I'd be far more excited for new Set Your Goals versus new All Time Low, especially considering what All Time Low has gone through since the release of So Wrong, It's Right. What I've noticed, however, is since the release of songs off both Nothing Personal and This Will Be the Death of Us, my opinion has vastly changed. It is now Nothing Personal that I'm anticipating far more than This Will Be the Death of Us. None of the songs that Set Your Goals has released thus far have really grabbed me. I'm starting to enjoy the title track a bit more but, "Gaia Bleeds" has done nothing for me. Oh well, "The Fallen" is going to be on that record and there are still many more songs that I've never heard, but where is there tendency to combine their hardcore and pop punk influences that I've grown to love so much.
Tags: All Time Low, Set Your Goals, Nothing Personal, This Will Be the Death of Us