| | | | |
| --- | --- | --- | --- |
| 's Blog | | | | |
And Then There Were None
I got back two hours ago from one of the release shows And Then There Were None are playing this weekend. After watching them live for the first full time(I caught the last two songs of their set at a festival a few weeks ago), I feel this needs to be said: Check out this band!

Now they may not be the most original band out there, but they sure are fun. Their music is highly uplifting and fun to listen to. These guys are big on promoting social issues which is something this scene sorely lacks nowadays, bands with values. If you haven't seen this band live yet, you need to. If you see they're playing a show nearby, clear your schedule and buy a ticket. I promise you will not be dissapointed. Here's a video(not from the show I was at...) to get a sense of what their live show is like:


Additionally, I highly reccomend buying their brand new record, Who Speaks For Planet Earth?.
Tags:
And Then There Were None
Alternative Press' 100 Bands You Need To Know In 2009
Yesterday I recieved my copy of the latest Alt Press issue which features the annual 100 Bands You Need To Know In ____. Like it has been in recent years, it was a joke.

One of the things I hate about this special is it's affiliation with the AP Tour. The bands on the AP Tour are usually featured as a part of the special. Funny thing is, some of the bands on the tour have already been in this feature before. Take the inagural AP Tour in 2007. It had Cute Is Whate We Aim For, a band in the 100 Bands... in 2006. Last year All Time Low was on the tour and was one of the featured bands. They were in the 100 Bands... special in 2007. This year we have three bands from the tour who were already previously featured(Hit the Lights in 2006 and The Maine and 3OH!3, both in 2008). Why are they wasting spots by giving bands who have already been featured a spot?

My second problem is the actual list itself. For the third straight year, I haven't really dicovered any new bands. For me, the list is more of something I'm interested in seeing in order to find out which bands I already know have recieved this honor. The list this year(like in years past) fetures 50% of the pop-punk/pop rock and metal/hardcore bands I already listen to and the remaining 50% is mostly the indie/folk/alt-rock bands that bore me to death. It was basically a waste like it has been recently.

So AP, please do better research next time and find some truely "underground bands".
Tags:
Alternative Press
My Thoughts On Thursday and Common Existance
For the record, I have never been a Thursday fan. That's not to say I don't like Thursday. I do. Several of their songs could even be found on my iPod. It's just that their music hasn't thrilled me thus far. I've yet to feel compelled to buy(don't worry, I've never downloaded) a Thursday record. With that said, I've always respected Thursday as the wonderful and passionate musicians that they are. I've always felt that way.

Fast foward to 2009. Thursday have signed with Epitaph and has also released their follow-up to A City By The Light Divided, Common Existance. Yesterday I was at my local Best Buy searching for some new CDs to buy(I bought The Hottness' Stay Classy and In Fear and Faith's Your World On Fire, each are stellar records). When I looked out of curiousity for Common Existance with the rest of the Thursday CDs, it was nowhere to be found. It was located on the new music endcap with everything else released within the past week. I must say that the very low price of $7.99 was compelling and something made want that record. So what did I do? I bought the record of course. Now, I'm gald I did.

I offically know what all the hype is about concerning this band. Everything I've ever known about Thursday's talent has increased tenfold with this record. Simply put, this record is amazing. hey, it has a shot to be in my end of the years list, and it's only February. If you don't already own this record, buy it. Even if you don't like Thursday, buy this record. This is something we will still look back on years from now

...for the record, I'm a Thursday fan.
Tags: Thursday, Common Existance
New Amber Pacific
I'm not exactly sure when Amber Pacific posted some new material online but I just got around to listening to it and here is what I think: It sucks.

Now I know that seems a bit harsh and it may appear that it's said without reason but it's just the truth. I absolutely can't stand the new singer. It's definitetly not that Matt is gone (well it kind of is), it's just that the new singer is just bad. His vocals sound better suited for a pop-rock band, not a pop-punk. It really sucks because instrumentally, the new songs are amazing; they're extremely catchy. Maybe since they're only demos, there will be much imporvement come the time they release their new record.
Tags: Amber Pacific, songs
Nostalgic Records: Minutes To Miles
I've decided to add a new feature to my blog where I'll post a blog about a record that I haven't listened to in forever from years past that I've listened to lately.

The first nostalgic record is Crash Romeo's Minutes To Miles. I remember buying this record way back in the fall of 2006 because I loved the song "Actions Not Words"(should have been a huge hit in my opinion). I remember the record came with a pre-packaged t-shirt which was totally awesome. Overall the record was pretty average but, there were a few songs I really enjoyed, especially "Actions Not Words". I was just going throught the review archives and noticed this wasn't listed so I might review it. If you plan on buying this record, make sure to be on the lookout for the one that has the t-shirt with it.

Crash Romeo - Minutes To Miles

Tags: Nostalgic Records, Crash Romeo
The Dangerous Summer @ the GK store
Tomorrow The Dangerous Summer is scheduled to be playing a free acoustic show at the Glamour Kills store in Beacon, New York. So long as the snow doesn't make the roads too bad to travel on I definitely plan on attending. Assuming it goes on as planned and I'm still able to attend, I'll post another blog about the show. Peace!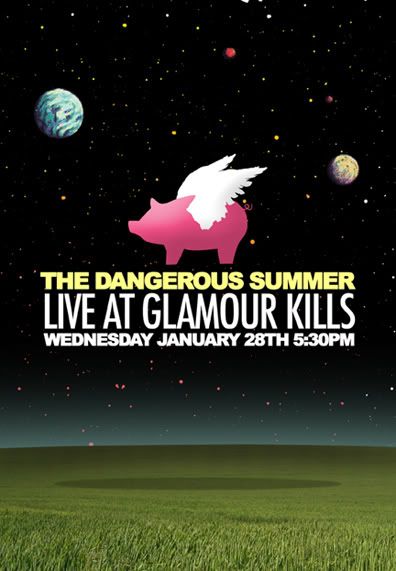 Tags: The Dangerous Summer, Glamour Kills, acoustic
I Now Know To Avoid This...
So a couple days ago I heard that Drop Dead, Gorgeous had posted a new song online from their upcoming full length release later this year so I decided to give it a listen and I've already deemed it to be one release this year I need to stay very far away from. The song is called "The Internet Killed The Radio Star" and if this song can serve as any indication of what's to come, you should save yourself the trouble and avoid it all together too.

For starters, the name of the song is ridiculous. If anything, they're the perfect example of an "internet band" so what are they calling themselves out for. Is this some sort of strange irony? Then the lyrics. If you can even hear what they're whining, you can hear them scream, "You fucked with the wrong son of a bitch!", ok guys. Now I'll be the first to admit I listen to what you guys call "scenecore" (The Devil Wears Prada, Bring Me the Horizon, Attack Attack!) but come on, this is exactly what scenecore is. It's just oozing with cliche and teenage angst. Again, say what you will about bands like The Devil Wears Prada, at least their lyrics are meaningful (depending on what you take from them) and they're talented musicians. This is just a slap in the face of those aforementioned bands who are unfairly lumped in with this shit.
Tags: Drop Dead Gorgeous, horrible
Reviews, reviews, and more reviews
Haven't submitted any reviews lately so I figure I need to make up. I've alread written one so far, started another a little, and I have a few more ideas floating around my head at the moment. I'd expect to have them submitted by the end of this month.

Definitely thinking this is going to double my total reviews, maybe even triple it. You're all welcome to take guesses...
Tags:
reviews
A Sad Fact Indeed
Just a short one today...

I was just listening to Living Well Is the Best Revenge today and I got to thinking, "Kids nowadays are going to know Gabe Saprota as 'that' guy from Cobra Starship and not as the singer/bassist of one of the most influential pop-punk bands we grew up with"

Kinda makes me feel sad.
Tags: Midtown, Gabe Saporta, Cobra Starship, Anton Djamoos
Sorry Valencia
So on Monday I finally decided to buy Valencia's new record, We All Need A Reason To Believe. Now before Monday, I was on the fence with the new record, I wasn't sure how I would feel about it. They had a new label and new experiences/influences. I really loved This Could Be A Possibility and I was afraid I would be let down. As it would turn out, that was not the case and the record rocks. Since I had already created my top records of the year list (and clearly this record would have been included had I gotten it earlier) I feel it is necessary I apologize to Valencia...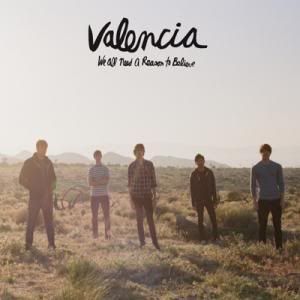 Go buy this record. Go buy this record. Go buy this record. Go buy this record. Go buy this record. Go buy this record. Go buy this record. Go buy this record. Go buy this record. Go buy this record. Go buy this record. Go buy this record. Go buy this record. Go buy this record. Go buy this record. Go buy this record. Go buy this record. Go buy this record. Go buy this record. Go buy this record. Go buy this record. Go buy this record. Go buy this record. Go buy this record. Go buy this record. Go buy this record. Go buy this record. Go buy this record. Go buy this record. Go buy this record. Go buy this record. Go buy this record. Go buy this record. Go buy this record. Go buy this record. Go buy this record. Go buy this record.


That should do it...
Tags: Valencia, apology, record, We All Need A Reason To Believe