no matter how temporary

hooray for snail mail!
look what i got in the mail yesterday!



apparently the camera on my phone is dirty hehe. thanks for sending this jackie! for anyone that reads this and hasnt checked out her blog you seriously need to!

not much going on with me. i'm still looking for a job. i applied at a grocery store but they arent hiring and i reapplied at walmart so hopefully i can get hired somewhere before school! it seriously sucks because there are like 4 concerts i want to get tickets for and i cant afford any
. ok enough of my complaining i gotta think positive! i cleaned my room again so its a bit more organized. i need to get a plastic crate or something to hold my vinyl in so that i can start putting dvds on the bottom shelf (where my records are currently residing).

hope everybody is having a lovely day.
so fracking cool



the videos are a bit long but i think its really cool.
i came across these houses on the internet and became interested and now i am seriously thinking it would be awesome to build one of these. it would be a few years down the road but i think it would be cool to build your own house and then live off the grid.
they remind me of



or




maybe that's what draws me to it. i guess there's a huge community of them in new mexico where the creator of them lives but there's people that have built them in colorado. i am looking to visit one sometime. the main website --> http://www.earthship.net
i need to write on here more
so i havent updated this since i started it but i have been drawing a tiny bit. i've been pretty busy with my homework and stuff lately and have not been able to draw as much as i want to.homework is the least of my worrys though because i've been stressing a lot lately with my job situation. i work at a local coffee shop and i have had my hours cut in half so i am only working 9 hours a week. i am barely getting by. i applied at walmart so hopefully that works out. i really need to get a job to start saving for my next year of college. and yeah blah blah blah hopefully it will get better and that was kind of a big rant.

i do have a question. anybody that is in the know about pencils for drawing and such i need some tips. i dont really use pencils... i use pen whenever possible and i want to know if there are any specific kinds of pencil i would want to get for drawing and sketching? because sketching with a pen is a little hard... any advice would be appreciated :)

i'm going to try and make some time for more blogging and if i get something post worthy some drawings. hope everyone is having a wonderful week.
Tags: ranting,
my first blog
Well this is my first blog (hence the lame title). I've been wanting to start a blog for a while now but I put it off and put it off. So now i'm finally starting one. I'm going to try and start drawing and painting again and perhaps post some stuff up on here, give some recommendations, etc. I'll explain my blog title. Its a quote from this graphic novel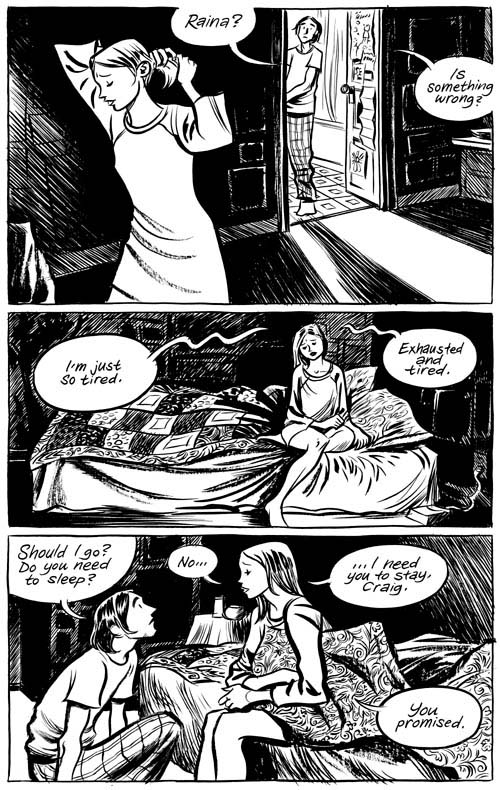 I came across this book completely by accident. A few years ago I was looking for things to read in my local library. The library has a very limited comic and graphic novel selection so I was reading pretty much everything there. I read the hobbit in graphic novel form, a few simpsons comics, even a few shitty manga comics about a little girl or something. I was scraping the bottom of the barrel and came across Blankets. I had picked it up and looked at the cover a few times before but it just didnt look like a graphic novel "should". I mean there wasnt' any action heroes or a good vs. evil plot lines at all. But like i said i had read everything else and was desperate for something to read.

So reluctantly I took the novel home and started to read. Instantly i was in love with the book. It is an autobiographical/somewhat fictional story about the author's life and his first love. I could relate to him in that he grew up in a very christian family, how his relationship with his brother slowly dissolved over the years, and his first love. The ending is heartbreaking but also hopeful and the final words of the story have so much meaning to me and are much more powerful the the accompanying pictures in the book "how satisfying it is to leave a mark on a blank surface, to make a map of my movement, no matter how temporary"

So there you have it folks. That's where my blog title came from. If your at all interested here is Craig Thompson's blog http://blog.dootdootgarden.com/ Well thanks for anybody reading this and I hope to make good use of this little space on AP.net.