| | | | |
| --- | --- | --- | --- |
| 's Blog | | | | |
The Pen, The Page, The Paper

An Open Letter to Anton
Dear Anton,

When Glamour Kills contacted me to set-up a contest promoting their new line, I figured this would be a contest just like any other. You know how it is. Get a few entries, pick a winner - same old, same old. And then, when you asked if you could submit a video entry, I at first figured that answer should be "no". You are after all, a staffie. But then I thought, "Well, hell. I want to see if he actually air guitars."

I figured you were kidding until I saw Jason's news post. I don't think I've laughed this hard in forever. My giggling is clashing with this episode of CSI: Miami I am enjoying at the moment, but I don't even care!

And now, I need to post this video in my blog so I can always remember it. Oh man, picking a winner just got a whole lot harder.



Thank you for the pre-Thanksgiving laughs,
Julia
Tags: anton, contest, air guitar, glamour kills
New avatar - what could it be?
I haven't been this excited for a new band in ... maybe forever. Haven't been able to listen to anything else since I got my scrubby little hands on the unmastered files. Layered and lush post-rock stuff, totally fresh and alive. For fans of Moving Mountains, Lydia, Radiohead and Muse. Expect a major introduction to said band in (hopefully) a week's time. For those of you who follow my blog on a regular basis, I've been talking about this project for quite some time. Get pumped.


Tags: new band, get pumped, eeep!
Just a random thought, missing old friends.
I had this friend in Pittsburgh, my roommate and closest friend, that I really miss. We went our separate ways a couple summers ago when a summer vacation together went very wrong, and the more I think about it, the more I really wish I could fix what went awry.

PS - I really need to get my haircut. If I procrastinate this anymore, I will be choked in my sleep.
Tags: amanda, pittsburgh, friends
The return of cupcakes.
Truth: we've stopped baking cupcakes. Until this weekend for our Sunday bowling show, when they made a resurgence. These were pumpkin-flavored w/ apple cider glaze and so delicious! Jac gets all the credit for the baking and finding the recipe. This is the first cupcake in months I've actually wanted to eat.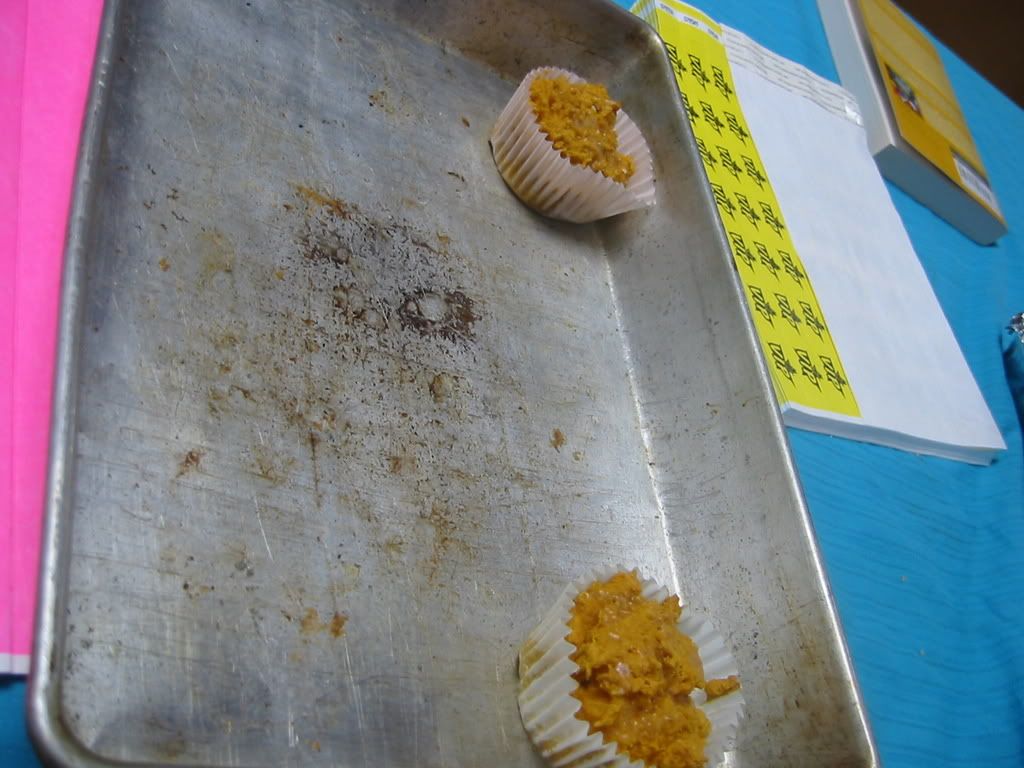 And who knew they made beer bottles in the shape of a bowling pin?




Hey, did I tell you guys that we booked Punchline and The Years Gone By at the bowling alley? I'm pumped because if I've learned anything about Punchline over the years, it's that they are a fun group of people. And it's impossible to not have fun when cosmic bowling. I'm gonna write "play the Xmas rap" on each of their VIP wristbands.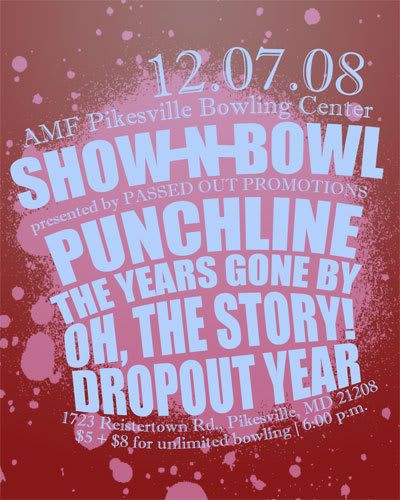 Tags: cupcakes, bowling alley, show n bowl, punchline
Vinyl Collective: Better Music Fans Than Me
Virgil Dickerson runs Vinyl Collective Cooperative, a side project of his Suburban Home Records. A couple things I'd like to note about this and this interview:

1) Although I don't collect vinyl, it's cool. I fully support the collection and if I could (aka, had the funds), I'd be a buying machine. So I don't. I do own Purple Rain on vinyl though, I hope that gives me a couple noteworthy points.

2) Vinyl Collective only releases vinyl reissues and the company is cooperative, so it's like a group project. Team work is a beautiful thing, especially when it comes to music.

3) It's doing well. And it releases a very specific format. A glowing example of what fresh business models can do. There is tons of potential in this venture, and I'm excited to see what paths Dickerson takes.

4) The Collective are music fans. They are better music fans than I.
Tags: vinyl, vinyl collective, interview
What would I do without you, Blog?
Mike McCarron, a sophomore at Temple University, asked me to answer a few questions about my blog. I liked my answers, so I figure I'd reproduce them here. Mom and Dad, if you guys are reading this, I love you.

1. Could you tell me a little about yourself. Where you were born, and little about your upbringing, any important events that impacted you life.

I'm Julia Conny. I'm halfway between 22 and 23. I currently live in Baltimore, MD and am a Towson University senior journalism and new media student. Essentially, I spend too much time on the Internet.

My parents were living and getting their PhD's in Boulder, Colorado when I was born. I was five (hmm, maybe four?) when we moved to Frederick, Maryland, which is about an hour outside of Washington, D.C. I lived a pretty simple suburban life with good public schools, ice rink birthday parties and annual need-new-school-clothes mall trips. I spent an insane amount of time at this 24-hour coffee shop called Frederick Coffee Company when I was in high school and during summer break. My parents are very liberal and both always stressed that the most important part of life is to enjoy what you do. My dad, a molecular chemist for the government, plays jazz trumpet on the side and likes building things with two-by-fours. My mom is a writer, and she blogs too. If my parents didn't let me steal their computer time when I was a kid, I'd probably be into drugs or quilt fairs or have a lot of cats.

In my senior year of high school, a close friend of mine (and now roommate) and I started a promotion company for small bands. When we started using the Internet as a promotional tool, Myspace was barely anything. As the company and technology grew, I started teaching myself HTML and graphic design. I adapted. I kept up. I'd say it was a pretty good time investment. I went away to college at University of Pittsburgh, and to keep tabs on everything I was doing and what everyone else was doing, I always had some sort of blog or online journal to record my thoughts. Same with when I transferred to Towson University; I've always wanted a place to show my writing, record my thoughts, and keep in touch with friends.

Little things - the small life beauties - inspire me, so it's hard for me to find grand events that have really changed my outlook. I often blog about random things that amuse me. But even with that said, music has had the most impact on my life above anything else. It's what pushed me to stay on top of trends within the art and the business of music, and it's what I blog about 85 percent of the time.

2. What got you interested in doing a blog? How long have you been blogging?

I touched on this before, but it's all about having a place to put all those thoughts. Maybe some people can go weeks without taking a step back, but I've always felt as though there is too much going on in the world (digital and real), too many thoughts that run through my head, to not jot down at least a few. And hey, why not share them while I'm at it? I also think that this generation - the hyper-paced Internet generation - is valued individually on their Internet presence. That may be a nerdy and/or lame appraisal of life, but I figure I should still try to be good at it, you know?

The blog here, my AbsolutePunk.net blog, was started just about two years ago. I am a staff member at AbsolutePunk.net and so the decision to start one was easy. It's just like why you keep a coffee mug in your cubicle.

My official job at AbsolutePunk.net is as an album reviewer, but I do a lot of other things too (exclusives, contests, interviews, features, etc.), so while I use the blog to record random thoughts, I also use it as a major tool for band recommendations and updates on what site-related projects I'm in the midst of. I guess people actually read it because it's a Top Viewed Blog. It also gives people an inside look into how AbsolutePunk.net words behind-the-scenes.

3. How has the blog changed since it started?

Hmm, interesting question. I curse A LOT in real life, and as I was reading my old entries, I realized that too many words started with an "f", so I've been trying to clean up my language. Not that I feel like I HAVE to be nice - it's my home, I can say whatever I want - but at least I don't sound like drunken sailor anymore.

More seriously, I've changed my blog to be a part-promotional outlet. When I first started blogging at AbsolutePunk.net, I didn't put much thought into the power it held. It was more random than anything else. As the months passed, more and more people commented on what I had to say, and I gathered more pageviews, it became a great beginning stage (and still is) for new bands I was working with and ideas I was ironing out. Or, for example, when I get an advance of an album, I might post a 'First Impressions' entry, just noting my thoughts upon the first few listens of the album. It helps the band to get an extra bit of attention and draw some buzz into the release of the album.

4. What do you like about your blog? What other ways can the format evolve to make the blog more effective?

I like it because it's mine! I've had several blogs, maybe six or seven since I was 16, and I keep up with this one quite regularly. I'm proud of myself for that. And I like it because it's a Top Viewed Blog, what can I say? Ha. I'm around music, just listening or the business, all day, and it's like my private thinking corner.

The format is based on the way AbsolutePunk.net is formatted, so I don't have wild layout freedom like you do on a tumblr, blogspot or wordpress. The website is working on a new beta version, and I do like the way the blogs look under that. Other than that, I bold and italicize things. Maybe even center a picture or embed a video or mp3. That's about it. I think that this has to do a lot of why I've kept up with it for so long - I don't have to worry about programming or coding or re-doing styles. Makes it easier to just focus on the writing.

5. How many places do you look for fodder for your blog? Does anyone else see it before you post information? How comfortable are you with the current editing process?

Like I mentioned before, a lot of what goes on my AP.net blog involves the website, so I guess "the office" is most of my fodder, but I pull from my everyday life, my Google Reader and the other projects I have going on with music, like my promotion company.

No one sees what I post before I post it. I am my own editor. And I'm definitely comfortable with that. I wouldn't be very inclined to write in my blog if I had to get the entries approved first, or something like that. I can always go back in and edit the entry if I need to, so I have no qualms with the process. I can't spell and always miss words, so that's a good thing, I'm positive.

6. And any other information/fun stories you feel comfortable sharing with me would be great. I look forward to hearing back from you, and again, i really appreciate this.

I'll probably blog about this interview.
Tags: interview, parents
Food Review: Denny's Rockstar Menu
Review
-
Denny's Rockstar Menu
(available late night only) - 10.07.08
This past Friday night, my roommate and I ventured to Denny's. It had been awhile (at least a year) since we hit up the 24-hour, all-American diner, but - you know - it's Denny's. Not much changes. The same late night crowds filled the booths, and we felt oddly comfortable, like a flash back to our our high school days, killing time after movies and before curfews. Except this time, we're 22/23 years old and here on a mission, not just because there's nothing else to do on a Friday night.

The goal for the evening was to eat gloriously from the Late Night Menu. More specifically, eat gloriously from the Rockstar Menu, which is a subdivision of the Late Night Menu. As you can see above, the Rockstar Menu is quite serious about its rockstars. Each band and their self-made dish is featured prominently on the menu, and each band is showing off their myspace or website link. We start to giggle at this whole ordeal. How many people actually order from this menu? Hello Boys Like Girls, I would like to try your "The Great Eggsteak!" (get it ... Escape ... Eggsteak??) Katy Perry, a coffee beverage? Really? Sorta lame in comparison. We were having too much fun.

We originally planned to get everything off the Rockstar 2 menu, which included Katy Perry's "The Hot N Cold Cherry Chocolate Cappuccino", Hoobastank's "Hooburrito", Taking Back Sunday's "Melty Grilled Chicken and Sausage Quesedilla" and Boys Like Girls' "The Great Eggsteak". Yet, as we browsed the menu, it was obvious we were going to have to try items off the first Rockstar Menu, which are still offered. We were too curious to turn down TBS' Bacon Burger Fries, which is all it came down too. That, and I wanted ice cream.

A feast devised by rockstars would be a feast eaten by two suburban college students with relatively boring lives. The premise is mildly fun. But how was the food??!!

Hoobastank's Hooburrito - BBQ chicken strips, pepperjack cheese and onion crisps in a wrap with tortilla chips and cheese sauce served on the side.

The Verdict - Chicken in a wrap is a simple concept and difficult to mess up, or at least I hope. So I commend Hoobastank for going trusty with their dish - the sweet BBQ sauce was just the right amount of tangy against the chicken, and the pepperjack cheese and onion crisps gave the wrap a bit of complexity. The fail? The chips were stale. Nonetheless, this was my roommate's favorite of the evening.

Taking Back Sunday's Melty Grilled Chicken and Sausage Quesadilla - Chicken breast, sausage, American cheese, grilled peppers and onions and pico de gallo in a quesadilla, also served with a side of cilantro-ranch sauce.

The Verdict - The combination of chicken breast, sausage and american cheese tasted cheap and the 'dilla was overwhelmed with grilled onions. Dry-ish chicken didn't help too. And I could have offset the taste with the cilantro-rance sauce, execpt it was regular ranch, so now I was just bored. False advertising! Hmph! My least favorite of the meal.

Plain White Shake - Vanilla milk shake with cheesecake. Topped with whip cream and white chocolate chips.

The Verdict - Well, it's ice cream, so how could I be too disappointed? Exactly. The cheesecake was a very faint flavor, so faint that if I didn't know it was cheesecake, I would have just thought it was a funny tasting vanilla. But we kept drinking and scoopin' with spoons. If you've ever been to Denny's before, you know that in addition to your old shoppe-style sundae cup filled with shake, you also get the excess in the metal mixing cup. 'Tis the same with this Plain White Shake. Ice cream = good, so Plain White Shake = good.

Tacking Back Bacon Burger Fries - Fries topped with cheese sauce, ground beef, bacon, pickles, ketchup and mustard.

The Verdict - My initial impression of the Bacon Burger Fries was not a resounding YUM, but a YUCK. Mustard. That's all it came down to. Not that I hold any serious feelings against mustard, I'm just not sure I want them on my fries. So that's why we tried them. To brave the mustard and try new things. And we did.

It's almost as though I didn't see it before. It's a burger, on top of fries. It makes so much sense, I wondered why I hadn't tried anything like this before. SOMEONE had to thought of this too, because it too delicious to go undiscovered. My roommate and I were immediately giving props to TBS' for stealing the show, even with the 'Dilla distater. The dish was big, definitely enough for two people, and the pickles and mustard were the biggest complements to the overall flavor. Moreover, the next day when I was craving leftovers, the dish was just as delicious cold. And everyone knows that cold fries are never good. Well, now they can be. Easily the highlight of the evening for me, even above the ice cream craving.

The Leftovers: Left to right - TBS Bacon Burger Fries, PW Shake, TBS Chicken Dilla and Hooburrito.
Tags: review, dennys, food, roommate
First Impression: So Young, So Insane EP
You Me and Everyone We Know have done it again. The So Young, So Insane EP will be out soon, and they've brought golden pop-rock to my doorstep ... again.

Ben's changed up his vocals, which I wasn't nuts about from the demos, but they've really ironed themselves out. The comparisons to Patrick Stump will be unavoidable, but if you'd heard Ben when the band was first starting out, his voice has come a long, long way.

Immediately, the EP opens up with "I Can Get Back Up Now" with guest vocals with [insert popular singer here]. Hmm, who could it be? When this news gets posted, kids are gonna go wild. So very cool. I've loved "Happy Birthday" since they've been playing it at shows, and it's great to have a squeaky clean version to call my own. The fifties sock hop swag of "A Symptom" is killer, especially the "waaa-waa-waaaa's". Bottom line, this EP is most definitely more sexy and collected than the previous. Each song has it's own punch and catch - nothing gets lost in the mix.

Get pumped. Soon.
Tags: you me and everyone we know, first impression
A November night. Hello world.
My best buds Hannah and Margaret are coming over to chill. They are wonderful. I very much enjoy seeing them. And where oh where is my roommate? Hmph.

Got a 20 dollar gift card to Denny's to review the new Rockstar menu. Major perk. Random, but a total perk.

That is all. Have a sweet night, my love muffins.
Tags: friends, dennys, random
Then again, anything is possible - like holograms.
Today was a good day. I felt inspired. Watching The Daily Show right, and Jon Stewart is talking about CNN's holograms. If you missed the sweet technology, or even missed our grand election day thread last night, well, I'm sorry. It was an awesome night, and subsequently, an awesome night on AP.net. I was unaware that technology was advanced enough that holograms were indeed possible. Then again, we've learned that anything is possible.

Finished a flyer for our November Show N Bowl.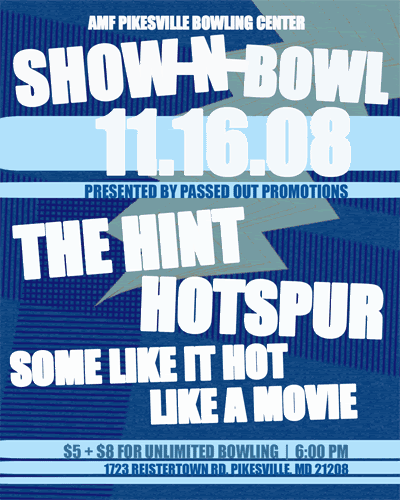 My family and I are planning on attending the January inauguration. My parent's went for Clinton's and now, it's about time we all went together, especially because I'm of legal voting age now. All of this just feels so cool, so surreal. And no one can take it away from us.
Tags: post election, flyer, passed out promotions, books