| | | | |
| --- | --- | --- | --- |
| 's Blog | | | | |
The Pen, The Page, The Paper

Zombie Grapes
"Look how huge these grapes are!"

He lifts the grocery bag to show the room, and we chuckle in response.

"Do you think the zombies would eat these?"

I turn to him as were walking out the side stage doors. I can hear commotion outside, like excited buzzing. "Wait, you call your fans zombies?"

He laughs and throws in a goofy smile. It's a genuine one too. Even slightly angelic.

I swing open the side stage door, and there it is: a real life barricade. There are two sides to the sea of screaming girls, creating a path to the door of the bus. We make our way across the parking lot, and I light a cigarette to maintain my excuse for watching. Single screams, trills and hollers go unnoticed, and it's as a collective group, a live, breathing solid life force, that this swarm of girls throw their determined flag to the ground. As one, they are nothing. As fifty, sixty or more, they are an army. They require attention, and they will get it. With grapes.

He heads to the far end of the line, the side closest to the patio wall and plucks one off for the first zombie.
Tags:
zombie grapes
THANK YOU SNUGGLEMUFFINS.
My blog has hit 100,000 views. Thanks for taking a liking to this girl from the wrong side of the tracks, I'm truly touched.

That said, I'm still a little freaked out by Paranormal Activity, and I saw it a whole 24 hours ago. I think I'm a pussy.

And PS - Today is my third year anniversary as staff on AbsolutePunk. I cannot even begin to list all the crucially awesome experiences, courtesy of this little engine that could. Thank you again, all of you, for the fun times and drama llamas. How weird is it that I hit 100,000 and three years on the same day!
Tags: thank you, friends, paranormal activity
Sunday Recommendations: 10.18.09
No, but seriously, the New Moon soundtrack is actually quite good.

And anyway, I've read the Harry Potter books and seen all the movies so I'm not sure I have room to diss on super teen book-to-movie series. I don't quite understand the extreme hate on Twilight anymore other than the storyline and buzz is just so over-the-top. And the sparkling. It just seems like the cool thing to do at this point.

Look at this tracklisting:

01. Death Cab for Cutie - Meet Me on the Equinox
02. Band of Skulls - Friends
03. Thom Yorke - Hearing Damage
04. Lykke Li - Possibility
05. The Killers - A White Demon Love Song
06. Anya Marina - Satellite Heart
07. Muse - I Belong to You (New Moon)
08. Bon Iver & St. Vincent - Roslyn
09. Black Rebel Motorcycle Club - Done All Wrong
10. Hurricane Bells - Monsters
11. Sea Wolf - The Violet Hour
12. Ok Go - Shooting the Moon
13. Grizzly Bear - Slow Life
14. Editors - No Sound But the Wind
15. Alexandre Desplat - New Moon (The Meadow)

I really enjoy the Anya Marina track.
Tags: new moon, soundtrack, track list, recommendations, recommendation
Show Review: Brand New and Manchester Orchestra (Aragon Ballroom, Chicago)
What makes a band tick? Or click? Or what makes a band want to play on stage in front of thousands, hundreds or just three dudes every night with same pizazz. I dunno, it seems pretty simple. It's about energy, it's about vibe. It's about passion and inspiration, from the band and from the crowd. The anatomy of a band on stage, if you will.

Questions and thoughts ablaze, my mind was spinning after I caught the Brand New Daisy Tour. In Chicago with friends, I went to see Brand New, Manchester Orchestra and hometown openers Sybris. The venue - the gorgeous Aragon Ballroom - was designed like royalty. The place was huge and open and the ceilings looked as though they extended into the never-ending sky. More auditorium than small club, but more small club than stadium, Aragon was quite a location for the some 4500 of us that were in attendance.



The opening band, Sybris, wasn't a surprise, in a sense. Back in the day, when Brand New brought out bands like Manchester Orchestra, Anathallo and Colour Revolt, we got the sense that the band was trying tell us y
ou should like this band
. Sometimes it worked. And then, the hammer doesn't always hit the nail on the head. Take 2006 summer openers
Ultra High Frequency
. Sybris was comfortably in the middle of the spectrum. Appropriately bombastic, spatial but relatively unmemorable filler, the frontlady singer was calm and healthy in her role as a Feist and Karen O hodgepodge. Instrumentally, Sybris is familiar to a driving rock version of Sonic Youth, except more accessible to the young adult man crew of the Brand New fanbase. She was certainly more than a pair of tits, I'll tell you that.
Manchester Orchestra and Andy Hull, looking as beardly as ever, took the stage to an enthused crowd. While it was clear that many of the night's guests were still not on the Man Orch in, their set brought in a pulsation from the audience. Like the show had officially started. Whether it be the huge venue and that balconey seats can never translate as well as the frontlines, it felt as though the band hurried through their set, intensely concentrated and only glancing up once in awhile to soak in the Midwestern hospitality. Hull mentioned earlier in the evening that they had been touring non-stop previous to the
Daisy
tour; I imagine it was time for a rest. Their set consisted of songs only off
Mean Everything To Nothing
, begging the question: When will we get
Like A Virgin
again?
And then there was them, that one band. Brand New - for every penny they're worth - never fails to intrigue. Part of me can wrap my head around it; the transition from pop-punk to emo poster boys to progressive rock with the deepest of lyrical themes and straight up suspense. And then part of me is still wondering what Brand New is thinking. Why the fan disconnect? Why the obscurity? Even the most distant obscurity has some connection to its owner, and I want to know what that is.
And then there are the little things. Jesse Lacey
chucking his guitar
at Lollapalooza. The lyric books. The no U.S. press for
Daisy
. And even
smaller things
. Which leaves me wondering if I'm overthinking this (which is obvious, really), and if the band isn't battling an inner fan-band war.
Yet, that doesn't stop me from buying tickets to their tours in different time zones. I might have a problem. For all the chances I've caught Brand New perform live, I've either been heartachingly disappointed or mindfuckingly satisfied. This time, my experience was content in the middle. The setlist, seen below, was varied enough to quench. I've seen Brand New when they played setlists of my now-dreams; I have no room to complain. However, it's obvious in the band's onstage resolve that they're not thrilled to repeat the motions anymore, and they're greatest satisfaction from touring comes from playing new material. After "No Seatbelt Song", Jesse said to the audience, "We're gonna play new stuff because that's fun for us. And don't worry, we'll play old stuff." As soon as "Vices" kicked in, the band also re-kicked in their energy. The lights show became a production with mysterious black and white images reeling through on the backdrop screen, encapsulating the eerie, big beat ideals of
Daisy
and the rest of the set. Between the newfounded energy of Brand New and this aura, this section of show was excitable. Later on and during "Sowing Season", Lacey was engulfed in orange beams. This combined with the grand, archaic beauty of Aragon and a mortal tide of swaying figures ... it was one of those mental pictures that I'll keep stored away.
(Brand New photos courtesy of my friend
Shelby
. I gave her my photo pass for their set - she's better with my camera than I am, truth be told.)
See the thousands of screaming bodies? Does that inspire you? Dear Brand New, do you care about your fans? Sometimes I just don't know, and this show still left me firing out questions. But thank you for the awesome performance. You guys are fucking great.
Tags: brand new, show review, review, manchester orchestra, chicago
Bed Bugs and Chicago.
Call me a romantic, but I am in love with the city of Chicago.




My friend Shelby, who adventured with me to this fine place, and her old Brooklyn roommate, Jen, who was kind enough to house us for this past weekend. This is us strolling along the beach, drinking coffee and soaking in the Midwest hospitality.

I'll be posting my Brand New/Manchester Orch show review and getting back into the swing of AP.net things once this massive work week is over. Oh, and apparently, the apartments below us have bed bugs. Sweet, huh? What a great birthday present for my poor roommate! Don't worry Jac, I'll tackle the couch cushions.
Tags:
chicago
The Best and Worst Merch of 2009
Remember when 72-point block print was the coolest thing ever? Or when all those band tee designs gravitated to the side of the shirt, down near our hips. Remember when everyone wore those Glassjaw hoodies or when Glamour Kills swooped up the teenage kingdom? Thankfully, The Get Up Kids have fielded some of the blame.

Ah, those cool kids buying all those cool things. Let's explore 2009, shall we? What makes us look super cool and which makes us look like super douchebags? What makes us look like both?




The Worst Merch of 2009



The Clusterfuck Design - Nothing plain to see here! Relying heavily on the design aspect of the band tee, the Clusterfuck Design is equal parts impressive and over-the-top eye blinders. Sometimes the explosion of colors and layering works, but quite often, the Clusterfuck tends to upset the eyes and just looks plain dumb. Here are a few of this year's offenders:


Fuck Yeah Strong - Call me a prude here, but besides dead puppies and a limp penis, this is the last thing I want to see on a t-shirt. It's ballsy, yes, but I just can't get behind it. Oh, wait...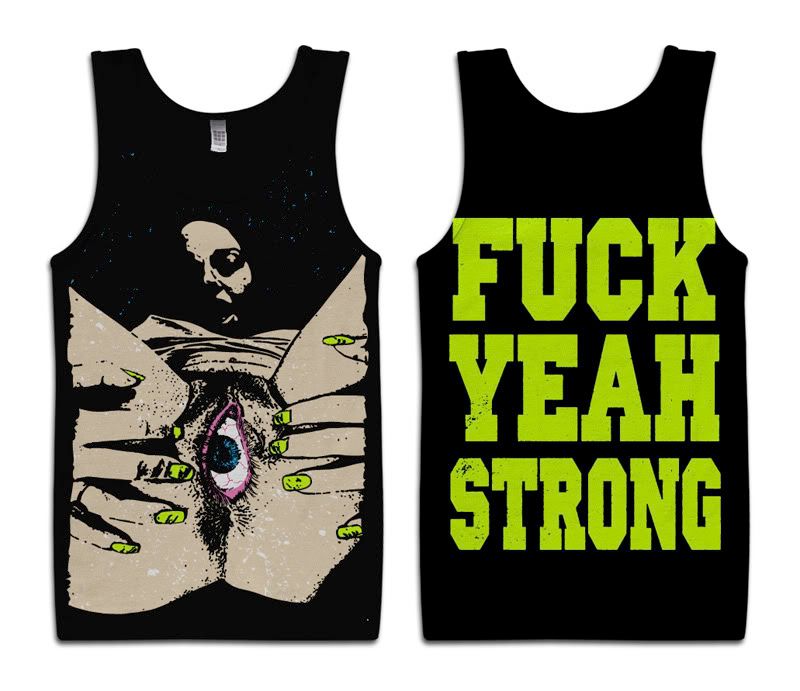 Babycakes - I'd like for bright colors to die. Part of my reasoning has to do with the fact that I can't possibly pull it off in real life, although I don't exactly dream about it, either. The other part is that it singlehandedly breeds the popularity of that new hot company (omg bbycks), and in turn, breeds a stampede of toolish pre-license teens wearing designs that borderline on kindergarten talent. Babycakes is, much to my eye-rolling, continuing this trend (and the color yellow) to the point of exhaustion, and they're actually starting a buzz! And if that wasn't enough, the company sold "I Partied On Warped Tour" t-shirts this summer. Why? Because we need more sluts diluting the afterparty, obviously.


Underoath Loves Fat Dinosaurs - Ok, but why do you love fat dinosaurs? This is an inside joke, I take it? So for those of us that aren't on the IN, the randomness of Fat Dinosaurs is mildly endearing, but it still begs the question: why would you wear this?


The Wuggie - A Weezer Snuggie. It's self-explanatory, and it also makes me wonder: why are Snuggies cool again? Because they seem pointless and moronic to me. Are we really too lazy to remove our arms from underneath the blanket? You might as well just staple the remote to your hand too.




Where's The Quality, 3OH!3? - For being one of the most popular bands of the year, 3OH!3 sure makes cheap looking shit.








The BEST Merch of 2009



Bridge Nine Records Hates Your Neon Shirt, and We Do Too - Cutting the crap and getting to the point. Thank you to Bridge Nine, the notoriously badass hardcore label that summed up their choice feelings about current styles onto one t-shirt on this year's Warped Tour. The best part: your cred shoots through the roof when you slip on this black number.




Jac Vanek Bracelets - They're not incredibly inventive at all. And they're probably pennies on the dollar to make. And yet, Jac Vanek made a killing at Warped Tour this summer selling each of these trendy puppies for ten whole dollars. And it's cool to wear more than one, so I hear? See what I'm saying? Exploit the youth and your profit can be enormous. Looks like this scene queen got it right.



All Time Low Nothing Personal Line - Cute quips from these pop-punk darlings aren't new to their repertoire - we already knew the All Time Low dudes are a goofy folk. But bring a new album titled Nothing Personal into the merch mix and there's just about a million places we could go with this. It was almost a stroke of genius. All Time Low gathered some universal thoughts and published them on a t-shirt. Cut your hair, you look ridiculous? If I had a nickel for every time that thought crossed my mind...

And then, to sweeten the pot, Glamour Kills made their own retort. The twitter reference was quite clever.




The Clusterfuck Design - Ah ha! It makes a comeback. See, the Clusterfuck Design (when done right) looks not only neat but skilled. A Day To Remember, New Found Glory and Set Your Goals have done it right. In fact, it usually goes hand in hand with good bands, in case you were looking for a rhyme to the reason. Except The Devil Wears Prada. For being pretty sucky, they racked up a sweet collection for sale at Warped Tour this year.


Thursday Is More Than A Stupid Scene Shirt
- While their Stupid Scene Shirt could be the best mockery in recent merch history, the serious side of their collection is actually quite good. The black & white numbers are
stunning and simple
. They still won't top the general awesomeness of what you see below, however, but across the board, Thursday prove to be merch pros of 2009.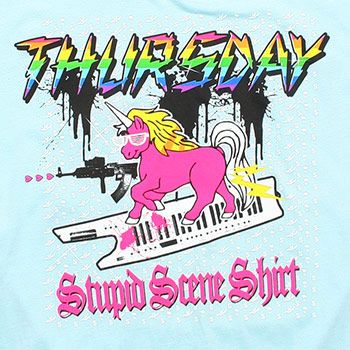 Fun is fun.
- Genuine, clean cut and still looking nice, fun. merch isn't ready to embrace the more severe section of a crayon box, and yet it's standing out from the crowd. It's the first time I've craved a t-shirt with just letters on it since before 2003.
Tags: sounds of buzz, merch, 2009, list
Oh hey, I'm excited for this record.
Didn't realize that I actually was until I beefed up and listened to the single/watched the video for the single (just today). Now that we've got the double-discing out of the way, hey, maybe it'll be like 2005 again?

[myspace]62647858[/myspace]

No really, I'll always appreciate Say Anything, but I would very much so enjoy obsessing deeply about another one of their records.
Tags: say anything, video
Dear Steve Albini, I Think I Admire You.
My roommate is a great lover of all things podcast. It's a glorious thing we have - to drive in the car together, listening quietly to This American Life, The Moth, Savage Love or my current favorite, The Sound of Young America.

I came across an older episode of The Sound of Young America with Chicago producer Steve Albini, and it was just so good, I have to tell you about it. I first heard about Steve when I was in high school, drunk off of underground music and reading books like Michael Azerrad's This Band Could Be Your Life. His resume is in the thousands, and even though most of the bands he has worked with are relatively obscure, he's done jobs on some big clunkers - Nirvana, Pixies, Jawbreaker, Mogwai and the list goes on.

I've only casually glanced at the producing side of the music biz, but that's mostly because it's a mountain I've 1) never climbed and 2) never thought I had the capacity to climb. But as I get a bit older, I start to get it more. I start to realize what I like and don't like. Albini? He's on the like side. Besides being good at his job, he's cheap. He charges a day rate, meaning he doesn't take royalties on any of the records he works on.

In the interview he explains that there are two different career paths for record producers. There are superproducers, guys that can work on only two records a year with superfamous musicians and make bank doing as little as possible. And then there are guys like Albini, who produce music because they love it, and they are fans of the music they work on. Moreover, I think Albini gives a fresh-faced perspective to what we're hearing today (read below).

Young America: Do you feel adverse to superproducing?

Albini: There are a lot of things that come to bear. Having been in band for the whole time I was making records, I know that most bands as they operate are plenty good that they don't actually need a lot of production if you just allow them to do what they do naturally. You'll halve a pretty good representation of the band. Generally speaking, it'll be a satisfying experience. When you start deconstructing a band into its component parts and parsing their music out into lyrics, verses, chorus riffs... you work on all these elements individually and then try to reassemble them into a simulacrum of what the band was doing organically. My experience is that this makes freakish records that don't represent the band very well.


There are bands that are the sums of their parts, and a producer brings those parts together, makes the pieces fit snug and sound good for general consumption. That's what radio rock has been for decades, but now it's not just about the Top 40. If we open up this idea to our music, the kind of stuff that inhabits our music scene, even smaller pop (or any other genre formula) bands are aiming to parse and reassemble, as Albini said. A band that's a unit, a band that works like an organism and cannot do without even one small piece of its structure is a band to admire. There should be no crutch. It adds extra pressure for bands in a live setting - I almost wish there were no frills in production, no making the band better than they actually are. It's either real skill or a fail. It would certainly weed out the bad bands, and I wouldn't be opposed to that.

Once again, this podcast was one of the best I've ever heard. I highly recommend checking it out.
Tags: podcast, steve albini, interview, producer