| | | | |
| --- | --- | --- | --- |
| 's Blog | | | | |
Camp Fightstar.

Brief Update!
It's 2.30am. The solo record is coming along better than I could have ever envisioned. The drums are completely finished, and the past week I've been confined to within the studio recording all of my own bass guitar parts.

It really is just such a wonderful experience to write and subsequently record all of the instrumentation and lyrics myself. Not to intentionally stray off topic, but it reminds me of why I wanted and aspired to enter the music industry originally as an adolescent. The frequent afternoons after class where I'd come home and write music until I no longer had anything left to write it upon. The sense of overwhelming excitement as I created unprofessional recordings and passed them out to all of my friends telling them that this is the direction I wanted my future to follow. These are the feelings that I'm overcome with at this precise point in time. I'm doing what I love, I have the best and most loyal fanbase, and I want to create something spectacular for each and every one of you.

I don't want to promise you anything that I can't deliver upon, but it's highly likely that the record will come out around October and that there will be an album title very soon. I can't wait to meet all the pledgers who will be singing with me on the album. It's all very exciting and I just can't wait to meet and get to know you all!

Also, I realise that I've been very busy and haven't really been available to read and reply to messages, emails, comments and so forth, so let's talk! What records are you spinning at the moment?
Cx
As requested by Anton Djamoos
Hi guys!

thought i'd personally write to you all. it's not so much an update, it's just something that I like to do to connect with the fans. I'd just like to thank everyone for sending in their questions, comments and messages. I do my best to get back to them as quickly as possible. I promise that I'll get back to them all eventually. You guys are the best!

so i know that i said i wouldn't update you but chances are that you're already aware that we'll be releasing our deluxe edition of Be Human in early March. It'll contain four new tracks, a DVD of some footage that was taped from our acoustic gig in Northampton, all four videos containing singles that have been released from the record, some new artwork both outside and inside the lyric booklet and we've also organised so that if you pre-order right now from Play.com, you'll receive an autographed copy of Be Human signed by all of us at Fightstar!
We'll be also be heading out on tour this month with various support acts. Dates can be seen at our official Myspace. We hope to seem some of you there, we'll be staying after the gigs so be sure to introduce yourself and we'll try to meet you all personally!

I've been busy writing some new tracks exclusively for an upcoming solo album that I'm hoping will be released towards the latter end of the year. I've actually just finished writing a track with a fan from Absolutepunk who just happens to be quite a good songwriter which was such a wonderful experience. Having only written with Al since Fightstar formed, it was nice to put myself back into unfamiliar territory. I will tell you that it's coming along nicely. I have some new home demos that I'm currently listening to. It's all in acoustic but I still haven't quite found a direction that I want the record to progress into.

For those unaware, if you're a fan of Fightstar then please take the time to listen to both Brigade and Prego. My older brothers Will and Edd are frontman of those two bands respectively. If you have a spare while then please give them a listen!

As for me, I'm currently in love with these: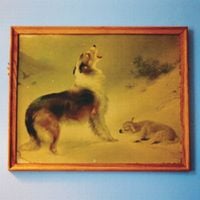 Big love.
Charlie x
Tags:
fightstar
Update!
Hey guys!
First blog here on AP.net. I promise to update this as frequently and regulary as possible whenever I get the chance. First of all, I just wanted to thank everyone who joined in the chat a few weeks ago and asked questions. You made us feel very welcome and it was an absolute pleasure and we hope that sometime in the future, we'll be invited back to hold another. Thank you to the staff members who also made the chat a possibility.

Our new single Mercury Summer is out on the sixth of April, if you haven't already pre-ordered, it would mean so much to us if you would go out and purchase a copy from your nearest record store. It includes two brand new b-sides. Every digital download and copy bought goes straight towards the UK single charts.

As Dan mentioned in the AP chat, we're currently working on an iPhone/iPod Touch gaming application which we've named Spilt Milk. It's completely finished and we're now awaiting confirmation from the store as to whether it's been accepted and when it's likely to be released. Once we get the all clear, you'll be the first to know! What makes this even more exciting is that there are two free FS guitars, and many more prizes to be won. More details on that when we're able to confirm them. You'll also be able to hear three new tracks off the forthcoming album! Speaking of which...

Our new album Be Human will be released on the twentieth of this month and we're all very excited and extremely proud of what we've managed to create and achieve with this new record. I honestly believe that this is the best work that we as a band have ever produced. We were in the studio with our good friend Carl, who helped produce the album, for four solid months we recorded and perfected this record down to the tiniest of details. We hope that you, our existing fans, and potentially new fans are able to take something out of this record, because we couldn't have put anything more into it.

Also, I'd just like to remind people that we'll be heading out on a small UK tour later this month with the awesome In Case Of Fire. Tickets are on sale now for all venues and dates. We'll also be doing HMV album signings in both Liverpool (20th) and Birmingham (21st) check our official Myspace for times and upcoming dates. We hope to see you all there!

Finally, I'll do my best in regards to replying to any comments and messages that you guys send me, fan interraction has always been really important to us. Without you, Fightstar couldn't and certainly wouldn't be a possibility.

New official site on the way!

Charlie
x
Tags: Fightstar, Update, Mercury Summer, Be Human