Inside the Mind of Drew Beringer

The King of Pop
say what you will about Michael Jackson the Person, but Michael Jackson the Musician was awesome. Has there ever been a better live entertainer?



when it came to the live performance, no one did it better.
Tags:
michael jackson
USA USA USA!
Many people may not know this about me, but I'm a huge soccer (football) fan. I don't follow the EPL or any of the leagues overseas, but I do follow FIFA and everything involved with that. Anyways, the United States, who just a few days ago no one though would be here, just upset the world number 1 team Spain, 2 nil, in the Confederation Cup semifinals, giving them a berth in the finals on Sunday. Get pumped, this is huge.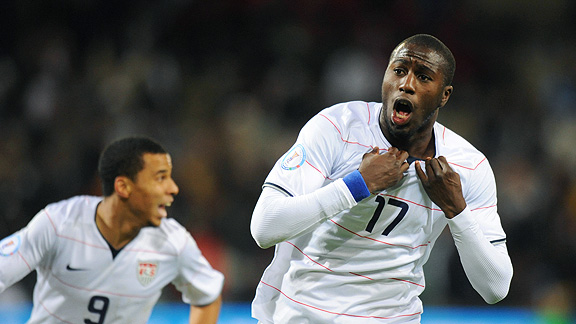 Tags: usa, soccer
The Twitter Revolution
I think it's quite amazing how twitter is being used by artists and bands to release the latest news. Forget Myspace, Facebook, email lists. The quickest way bands are reaching their fans with the latest news is through twitter. You don't have to have a computer with you anymore to update your fans, just a mobile phone and texting plan. Mayday Parade just announced their new album release date through twitter, Cobra Starship revealed their new album art. Say Anything discussed their new single and album on their twitter, while Tegan and Sara let fans know they were going into the studio to record their new album. Plus many other examples, it's really cool.
Tags:
twitter
you know you made it when...
haha, you know you have made it when press releases for upcoming albums use quotes from you that aren't even from a review. The press release for the new Alexisonfire album includes a quote from me, one I made in my blog a few weeks ago. haha.


Tags:
i'm awesome.
haha thanks for stealing my picture
First, this site sucks, homophobia is never cool. Second, thanks for stealing my picture of my All Time Low advance. haha.

Also, my summer has been made this past week with the new Set Your Goals and the aforementioned All Time Low albums. Man, albums like these always remind me why I fell in love with the pop-punk genre.
Tags:
i'm awesome.