That blog with boring shit about music

Golden Ages
Rock and Roll isn't really profitable anymore. Unless you're a walking gimmick you're not making anything.

It's beautiful.

Don't get me wrong, I lament the inevitably short careers of a lot of new up and coming bands that I enjoy. But if there's no prize in this scene contest, what's the point of cheating toward certain genres to please more? There are no other choices but either being completely fake or completely real.

The scene needs that black and white. It'll weed out people that don't commit to themselves 100 percent.

Onward, you beautiful genuine bastard children. Love yourselves, wear those influences and do you. There isn't any money in it anyway.

Ryan
The Swellers
Dear Swellers:

Thanks, seriously. I had a lot of words put down here of stories about how I love the band. How they helped me through personal struggles, or times I've talked to them and they were great. I could have made it long and difficult to get through but I'll just say this:

The Swellers were a pop punk/rock band worth looking up to. Everything you wanted from a band: Sincerity, talent, consistency and humility. It always seemed like your best friends were coming into town on a visit when they came around. They had a great run of releases and if you've never heard them you should go out of your way and listen to them when you get the chance.

One of my favorite memories of the Swellers was when I was AOL Instant Messenger chatting with a staff member from this website begging him to send me the 3 demos for their follow up to My Everest. The demos were for "Sleeper", "Fire Away" and "Feet First". During that conversation I found out they were going to be signing to Fueled by Ramen and I was so excited.

Anyone who knew or came into contact with The Swellers thought they were going to be big. We have never been more heartbroken to be wrong.

Long live the Swellers. I'll see you on that farewell tour.

Ryan
Alternative Press is made of garbage


"Hey I just finished the new article."

"Oh cool... Uhhh did you read the title out loud?"

"No, I didn't. Why?"

"You know what? Never mind. The kids are too dumb anyways."
You're a dildo


You know, you could always just play shows and be a good guy instead of a dildo who messages people on APnet
When it began
I remember when I used to write songs with my friends.

We would be goofing around on our instruments and eventually you'd hear an interjection amongst the noise:

"Hey that sounds cool."

Music used to be THAT to me. My compilation of my favorite "cool parts" made into my favorite albums. When you weren't worried about who liked it and who didn't. And it was a blast.

I'm too hard on bands I don't like nowadays. But I have to think a lot of them were just kids in a garage goofing off first and one of them said "Hey, that sounds cool!".

Ryan
Music ain't about the music, man.
I love this blog post, and it pains me to see that we're probably not heading back in the right direction anytime soon.

Whether or not bands tell you to put your cameras away and enjoy the show, you should. That's why you're here, right?

But let's expand that idea for a moment. Bear with me:

You know what's missing from modern society?

Trust.

The "Pics or it didn't happen" mentality is ruining the greatest part of my life. And that is storytelling. I made a conscious decision when I was younger to not take a ton of pictures of moments in my life. When people my age go out to have a good time nowadays, they have to take so many pictures just to let everyone know that they are there. What's that? You can't trust the person on their word?

It's the convenience that puts up too many requirements for actual "belief". Society tells us WE NEED the pictures now. Because it's so convenient that we have to. You don't need imaginations to picture anything, we have the pictures right here!

Do people realize that when putting a moment into a picture and putting it on the internet, the moment isn't yours anymore? It is theirs to dissect, taking away any of the feelings you had about it. People shouldn't care whether or not you WENT to a club. They shouldn't NEED pictures, they should be able to TRUST you.

So maybe next time you go somewhere fantastic, put your camera away. Think of the story you'll be able to tell. And if your friends don't believe you, maybe they weren't your friends to begin with.

Ryan

P.S. I have an instagram, of course. And I still take pictures. But usually it's for the sake of taking a nice picture. There's no feelings in it. It was just nice at the time. I try with every fiber of my being not to capture moments, because those moments are mine (and the feelings I get along with them).
It is Staring Back
"I caved in and decided that it is time. There's a chance that it might help me, I hope it does."

I opened the small box and put the bottle on the table. The other thing that came in the box was a birthday check. I couldn't be less interested in the check.

OVAL BLUE TABLET:
Side 1: G 4900
Side 2: 50 MG

"Are you worried?"

"I have an anxiety problem, of course I'm worried."

"Why?"

"Because I think it'll change me."

"Ryan, relax. If it doesn't work, you don't have to take it anymore."

"I'm not worried about it not working. I'm worried about it working well."

"Ryan, if it works well, you have a chance at being happier."

"But what if it changes something so slightly that I don't notice? And then everyone else notices and it hurts them and I don't mean it and-"

"Ryan, relax. It is going to be fine."

The bottle still sat motionless next to me. I'm sitting in my chair staring at the television and I can feel it burning a hole in the side of my head. It is staring back.

"I want to enjoy life a little more. A little less anxiety."

"Well this MIGHT help. There's also a chance it could make things worse, but if you notice that happening just stop taking it."

"Well hey, maybe the first day I take this is the first day of the rest of my life. But then again, if it goes wrong that could still be true."

That'll be tomorrow morning at 10AM.

Here goes nothing.

Ryan
Happiness
The concept of wanting happiness makes it hard to recognize happiness. I will always question it even when I have it.
The Most Interesting Album of 2012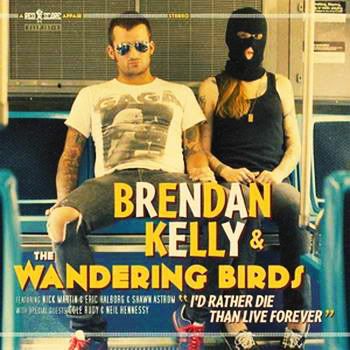 This is seriously the most interesting album I've heard in years. It runs the gamut of rock genres with assorted depraved lyrics. Brendan Kelly's voice is at it's best when it is getting weird, and this album is his voice's coming out party.

Buy it and enjoy it. "Suffer the Children, Come unto me" is the catchiest song you've heard all damn year.

Ryan
Choices
"If I don't make it to work tomorrow, I made a rash choice and I'm probably in jail."

"Ryan, think it over before you do something crazy."

"I'll think about it long and hard. The person who did this certainly has earned what may come to them."
PUNK
Still waiting for the "Punk goes Punk" compilation where bands that pretend to be punk cover classic punk rock songs and realize that they have no talent and quit.


Ryan