strange world of a starving musician

Shit Spit (recs)
Oceanographer

I've loved this band for years, and they're finally putting out a new album after about five or six years now. No release date as of yet, but they've been keeping up with their twitter account. They have a handful of mp3's to download on their site, so go check them out if you love to hear well written, and gigantic soundscapes accompanied by heartfelt vocals and lyrics.

Other bands I've been diggin' on:

Carissa's Weird - perfect sad music
dd/mm/yyyy - this band is fun as hell live.
The Appleseed Cast - new EP is pretty cool.
Sunday Recz
I haven't done this in YEARS, but I think I'm going to start again.

Dikembe - Chicago Bowls

I haven't listened to and enjoyed a pop-punk band like this since probably 2004, which definitely says a lot about this band's debut EP (which is free by the way). It reminds me a bit of The Kidcrash's debut New Ruins, but without the technical guitar work. Nonetheless, the drums and vocals make up for it. The thing that drew me in first was the clever EP name and song titles; they combine two things I love: 90's Chicago Bulls and weed.

Other Lives - Tamer Animals

The first time I heard this album, I was so overwhelmed with all of the beautiful instrumentation, I couldn't possibly take it all in on the first listen. I knew after that, this album would be a grower; I must have listened to it 15 times by now, and find something new to love about it every time I hit play. This record is the most beautiful thing I've heard in 2011 yet. It comes out in May, so keep an eye out for it.

I've also been regularly spinning:

Flying Lotus -Los Angeles
Saosin - Translating The Name EP
Mogwai - Mr. Beast
Tags:
recommendations
Just wanted to let you know
I pretty much love the whole lot of you. I can't believe how long I've been a member here and how much this place has been some sort of part in my life. Another chapter in my life starting, and I'm still here. I just wish I had some idea of where this chapter will go.
It feels good
We played our first show near home for the first time in well over a year. It felt really good to see familiar faces and a lot of new ones. I was really blown away by the turn out. For awhile, I pretty much thought everyone forgot about us.

Our sound wasn't that great because we didn't sound check. We were all just too excited and just ready to play. It was awesome. The response from the crowd was just amazing. There are some pictures on our myspace. We'll have a video or two up soon hopefully. We need more videos. They're out there, just not online. That doesn't do anyone any good haha.

We're going to be playing a few more shows in July. Maybe a couple in June. We're going to be booking an August tour going out east. I'm beyond excited to start playing shows again. You have no idea how happy it makes me!!! asdjgoiawuelrlsdf YES!!
Reporting back from an EPIC WEEKEND!!
Friday, February 27th, 2009
The Appleseed Cast @ The Bottom Lounge


I barely remember this set because I greatly underestimated the power of Jack Daniels. Sorta pissed about that. Getting too drunk ruined my night after the set actually. But I do remember this song. I wish there were more videos. I remember singing along to "Forever Longing..." and a bunch of others. I don't recall hearing any older songs that I haven't heard live before. Which is disappointing in a way. I just wish they'd mix it up. The first time I ever saw this band, they opened with "Strings" and never heard anything else then. They actually played "Marigold ad Patchwork" too. It was their first time back in Chicago since their hiatus and played for two hours. Chin Up, Chin Up played too which was pretty cool.

Saturday, February, 28th, 2009
Jimmy Eat World Clarity x10 Tour @ The Metro



Around the 1:52 mark Jim's vocals gave me crazy goosebumps. These videos turned out really good. They're so fucking solid.



Hearing "So here I am above palm trees..." made me want to melt, I was so high. Not off of weed. I didn't smoke or drink for this show. I genuinely fucking love this album with all my heart. These are some of my all time favorite songs.



Again Jim's epic voice gave me a boner.



moar



This is the song that got me into this album and this band. I can't remember when I heard it. It was lumped under random downloads when Napster ruled. That fucking program changed my music taste forever.

I wish more bands did this. There are a lot of really incredible albums that hold my most favorite songs. It was just an amazing feeling to witness that. I'm not lying when I say I want to relive that show over and over again. I'm glad these videos are up but nothing would compare to the actually experience. I can still hear it when I think about it. It was by far one of the most amazing experiences I ever had at a live show. Really unique.

Now I'm on a JEW binge. Some Appleseed Cast and N.A.S.A. as well. I'm going to be seeing them this weekend. I'll let everyone know how that one is too.
Daitro


This is one of my favorite songs by them and this is the first time I've seen this video. Its not that new but I swear I was looking for new videos of them last month and didn't find this. Its such a heavy and intense song.

Makes me really excited to finish some new Chemist songs. I'm not going to say we're starting to sound anything like Daitro but its definitely on the same level of intensity. I feel we've always brought that but I think now a little more with my brother in the band. He's into heavier shit. Which is fine by me, because I absolutely love my heavy music.

Its been a good week. I won Jimmy Eat World tickets, I found someone to go see N.A.S.A. with me the week after the JEW show. And the day before JEW, I'm going to see The Appleseed Cast with a ton of people. Depending on how money is treating me, and if I can find anyone to go with, I might see Maserati on March 12th. I might just start going to shows alone. I don't know enough people with very broad tastes in music. Kinda sucks but I miss going to a lot of shows. Shows that I'm not playing.
Tags:
sweet balls.
New faces meet some old habits
The band is almost finished with our first new song with the new line-up. We're working on getting our set down for our show in Chicago on March 24th. Its going to be the best set list we've ever had, making plenty room improvisation. The new material is very intense and powerful stuff. I haven't been this stoked in a really long time.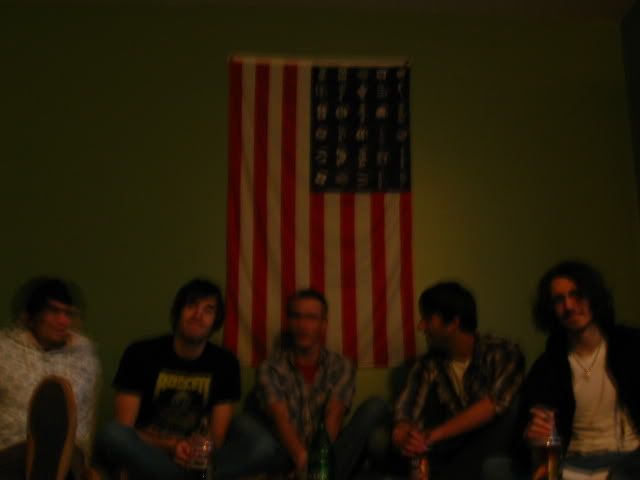 Tags: mickey's, steel reserve, skull fukc
dmora rekx
The Appleseed Cast - Sagarmatha
Telefon Tel Aviv - Immolate Yourself
Bibio - Vignetting The Compost
Mono - Hymn To The Immortal Wind

I'd also go on iTunes and get a few tracks off of Starbucks' sweethearts compilation thing. The songs Devotchka and Katy Perry cover are really good. Yeah, I said it.
Tags:
ear fucking
recs just because
N.A.S.A. - The Spirit of Apollo
Telefon Tel Aviv - Immolate Yourself

and probably my favorite album of the year:

The Appleseed Cast - Sagarmatha

This band has been putting out solid records for twelve fucking years for christ sake. And this is probably their best album yet. I didn't really know what to expect but after hearing it, I'm really blown away. I'm glad I pre-ordered a signed copy.

Have a great weekend peoples
<3
Ugh
Tests didn't go so well. They didn't give me a definite answer. I'm going for a follow up with my doctor tomorrow to see if I need to get a biopsy. I'm kind of scared because 1) I hate needles and 2) Its very expensive. Maybe its not helping that I'm high and reading about the core needle biopsy, but I have never been a hospital person. I've never been sick enough to go to the hospital (minus last year's mishap) and I have visited very few people there. Or maybe I repressed those memories. Regardless, its all a very new experience for me.

On the plus side, I bought Pineapple Express today!
Tags:
t00mr
Some reassuring news
The doctor seems pretty certain that its just a fluid filled cyst. He still wants me to get an ultrasound and mammogram done just because its in the breast area. That sounds fun. And expensive. So far I'm financially fucked in 2009 but I guess thats really been the case every year since I turned 18. But this is the year I plan to wipe my debt clean so I can get a car. I also am planning on joining/starting a cover band so I can make some extra cash while The Chemist is still writing.

I have big plans and goals for 2009. I just hope I don't end up in a hospital bed... or jail.
Tags:
elf sex
god god dammit dammit
So I'm just to come out and say this because I can't stop freaking out about it. There's a lump under my nipple. A quarter sized lump that feels sore. I'm going to the doctor Wednesday to get it checked out but I have a bad feeling. And I hate having bad feelings because I'm right more than I'm wrong. I'm hoping its just a cyst or something.

I refuse to let 2009 kick my ass like the past two years have.