| | | | |
| --- | --- | --- | --- |
| 's Blog | | | | |
harveyn590's Blog

St. Vincent - Terminal 5 - 2/26 - Live Review


St Vincent is the real deal. A true legend in the making.

A superstar? Who knows, but surely a cult classic.

It was melodic, beautiful & serene one moment, rapturous & raucous the next, all before settling into one hell of a solid groove.

Moments were new like the new Tegan and Sara if not a more sophisticated Lady Gaga. The words "Art Pop" surely organically popped into my head more than once.

But for every bit of the futuristic pop star she is, she's equal parts Sonic Youth. Forward thinking, progressive, and surely not tied down anyone's traditions or expectations.

Entering the stage Annie Clark was striking. Seductive yet vulnerable. Beautiful, but almost vileness. She inhabited a way of being onstage. There were deliberate, yet unsettling body movements. Death stares. Poetic banter. Stutter stepped guitar solos. So many layers here, it's kind of crazy.

And before I forget, she's one of the best guitar players in all of indie rock.

My only gripe was the mix for the first 5 or so songs, but as the second half of the set settled in, everything came together. It almost added to the shows great build which climaxed with the encore performance of "Your Lips Are Red".

St. Vincent and her work is wonderful and inspired, and I surely don't take it for granted.

Can you tell I liked the show?


http://nickpharvey.tumblr.com/
Tags: St. Vincent, Terminal 5, Review, Live Review
Mulatu Astatke Brings the Ethiopian Funk
Ive been meaning to get into African music for around 2 years and I finally got around to listening to at least one artist, and its great! Its from Ethiopia, was recorded in 1974 and is incredibly hip. If anyone has recommendations for more African tunes let me know!


Tags: funk, mulatu, ethiopia
Review/Free LP Download: A Garden Overgrown - The Lost Art of Conversation


I'm jealous of the residents of Maryland. Ive been apart of a few different local scenes over the years in Jersey and Delaware and they've been mostly full of sloppy, derivative, and some what shitty bands. Yet you sometimes find a gem. A Garden Overgrown is one of those gems. Armed with a solid 35 minuete release, these guys should rise to the top of the local MD scene and beyond.

While obvious inspiration for AGO comes from bands like Explosions in The Sky and Thursday, they find ways to keep The Lost Art of Conversation from being a pure tribute to the post rock and emo trail blazers. Album opener "Go, Mordecai!" lies closest to EITS territory with their use of the common post rock tools of reverb, sleigh bells, and gradual crescendos. "Starboard" branches out to a more indie/emo sound with more of a focus on the revebed out and almost Geoff Rickley reminesent vocals. Album midpoint "Cassini Division", while still in character with the rest of the record, brings a welcomed change of pace with the use of minor keys, distortion and screamed vocals. Album closer "With Enless Love, We Left You Sleeping" has a more spacy vibe complete with a perfect spoken word intro before rising to a dramatic conclusion.

The Lost Art of Conversation is solid first outing for A Garden Overgrown with only a few drawbacks that are to be expected with any new band. The songs can sound a bit derivative at times, lying very close to their aforementioned influences. There are some moments that could be mistaken for an EITS record. The other drawback for me comes in the mixing of the vocals. While the album sports quality production with excellent instrument tones, the vocals are a bit low in the mix at times and have a bit too much reverb for my taste. This can make it somewhat difficult to decipher the lyrics.

All in all, this album is a great introduction to a new band and works very well on repeat listens. A Garden Overgrown is off to a good start and it should be fun to see them grow and develop.

Full Album Download;
http://www.mediafire.com/?pzcr928vpvl56if
Tags: A Garden Overgrown, Explosions In The Sky, Thursday, Review, Free
Required Viewing: Parks & Recreation
If you, like myself, have some spare time on your hands this week, may I recommend you check out the fantastic NBC comedy Parks & Recreation.




Parks & Recreation revolves around the parks department of small town Pawnee, Indiana and stars an amazing ensemble cast including Amy Poehler and Aziz Ansari. While the first season sure had its highlights, during the second season the show developed into one of the great shows on TV.

P&R marries a high amount of quality jokes with supreme character development, which draws you closer with each successive episode. Amy Poehler portrays main character Leslie Knope, the perennial do-gooder, well meaning and often oblivious #2 at the Pawnee Parks department, to perfection. From the pretentious hipster teen intern April (Aubrey Plaza) to the well meaning police officer Dave (Louis CK), each character adds something special to the show. As the second season goes on, be it through making fun of the hapless Jerry or helping Leslie overcome a sex scandal, you can start to feel these people become a more cohesive unit.

While new comedy superstar Aziz Ansari is obviously a highlight, its Chris Pratt's Andy character that consistently brings in the laughs. The upbeat, down on his luck idiot displays exactly why the show is so great; hes hilarious, somewhat destructive and a little sweet.

While Ron Swanson (Nick Offerman) is the familiar boss archetype character that's been done before, Offerman brings it a new life. Ron is the pessimistic head of the department who is lazy and shows outward disdain for his work and coworkers. Yet instead of falling into the repetitive trap of a Dr. Cox (Scrubs) type character, Ron gives the viewer and the characters on the show a reason to care about him. Through the slow reveal of who the Ron character is, you get drawn to a character you least expected to. And this is what is so miraculous about this show compared to others. After only 30 episodes, almost every character has gone through some sort of crucial transformation, that has redefined their character.

Without giving anything else away, I'll just say this series is a must see and truly raises the bar for network TV comedies. If you don't trust me check out Time Magazines year end TV rankings/analysis ( http://www.time.com/time/specials/pa...035319,00.html) or The AV Club's glowing year end review (http://www.avclub.com/articles/the-25-best-television-series-of-2010,49229/3/).

You can catch up of the first two seasons on Netflix or for free on Hulu (http://www.hulu.com/parks-and-recreation)
Tags: Parks and Recreation, Aziz Ansari, Amy Poehler
Live Review: Royal Family Ball ft Soulive @ Terminal 5 - New York - Sat, Oct 2
Live Review: Royal Family Ball ft Soulive, Lettuce, John Scofield, etc @ Terminal 5 - New York - Sat, Oct 2, 2010


Featuring Soulive, Lettuce and Nigel Hall along with a myriad of other guests, this night proved to be unbelievable. As I arrived a bit late, I only heard a bit of the last song by soul-revivalist Nigel Hall. While I was bummed I didn't get to see more of his solo set, I knew he'd be back for more in just a bit.

After a grabbing a beer i nestled into a cozy spot near the back of the floor and prepared my mind and feet for one of the world's best funk bands, Lettuce. The band didnt disappoint and got the crowd moving early with "Blast Off", the first cut off their most recent album "Rage!" They followed it up with a few more instrumental tracks before bringing up Talib Kweli. He performed two songs, including a great version of his hit "Get By" along with Nigel Hall. Soon after, out came guitar legend John Scofield. This is where the show really started to heat up. Scofield knocked it out of the park with some wild lines and effects during "The Flu" from Lettuce's 2002 album "Outta Here" (video below). Christian Scott, Big Sam, Maurice Brown, The Shady Horns, and Rashawn Ross all also shined heavy during the hour plus set each taking extended solos. As the set concluded, every one was freaking and I couldnt help but think "that was just the opener".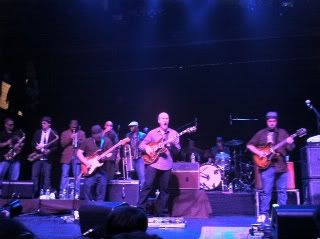 Lettuce w/ John Scofield

Soulive then played close to an hour and a half set featuring crowd favorites such as a horn charged version of "El Ron" and closer "Too Much". They opened the set however with a medley of Beatles songs found on their new record "Rubber Soulive". Sco came back out and was joined by all the horn players from before, and with the crowd's energy really brought it to the next level. As Big Sam was pumpin out a ferocious solo mid-set, you could see Christian Scott diggin just how amped the crowd was getting. Some were dancing, others nodding their heads and a few high-fiving after each song. Another special guest, guitarist Warren Haynes, came to the stage and killed the classic "Born Under A Bad Sign". Near the end of night Kraz and Sco squared off in the Scofield tune "Hottentot" and produced some of the nights most exciting solos. For an encore they played a James Brown song I believe, with Nigel Hall leading the band through a succession of horn hits and multiple bows, ending the night perfectly.

Really, this show was the most fun Ive had in recent memory. It was full of grooves no one could resist dancing to and incredible and sincere musicianship. A night thatll stay engraved in my mind for quite some time.


Tags: Live Review, Terminal 5, Scofield, Lettuce, Soulive, Talib Kweli, Royal Family Ball,