mallyland's Blog

Holy Changes, AP.net
I haven't been on AP in so long, I don't know where anything is. Oh, well.

Not sure why I'm writing this, except to say, perhaps, that I've removed myself from the world of music news for so long, I feel trepidation upon entering it again. Vulnerable. I know it doesn't make much sense....
Key Shaped USB Drives
Key USB by AMT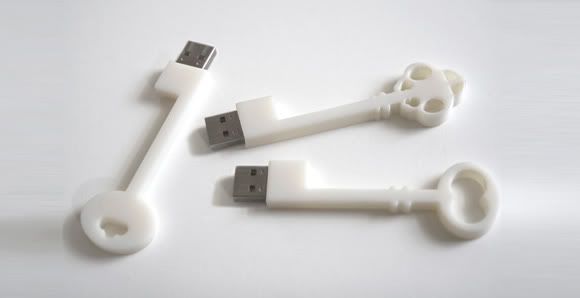 Besides being asethically pleasing, I love the concept of combing the traditional key with the modern USB. Not only does it bring past+present/future together, it reinforces (for better or worse) the impact technology has on modern society. We don't keep our secrets in locked chests or leather-bound diaries anymore. The key does not open the secret -- the key holds the secret.

Perhaps I'm analyzing this too much. Perhaps it's too late.
Tags: Traditional, Modern, Society
How Not To Spend Money
I need to be responsible/a budget. Last month I spent $75 on iTunes alone. Wtf?! I've been trying to save money, which for a while I was being really good about, but because I was spending so much of what I wasn't saving, I had to dip into my savings. Also, I've realized that for the most part wanting something is much more fun than having something.

I just bought Taylor Swift's self-titled album (some habits never change). I really like it. After this purchase is when I checked out my "recent purchase historty" on iTunes -- not good.

In other news, I've applied for jobs at both Target and Wells Fargo. Here goes to hoping I get one of them. I'm also looking around for other jobs -- something in child care would be ideal because I enjoy it, and I have a lot of expereince.

I'm happy for Easter tomorrow. I've already seen my Easter basket! Am I the only adult to still receive an Easter basket from their mommy? If so, you other people have crappy mommies!
Rockin' Romance Compilation
I am really excited for this -- the songs are turning out to be a lot better than the covers from the Punk Goes series. My favorite so far is The Arrival's cover of "Kiss From A Rose."
Tags:
Rockin Romance
Sunny Day Real Estate
Mike Kraft's blog about This Day And Age made me want to relive some oldies. Honestly, though, Sunny Day Real Estate isn't really an oldie for me -- I "discovered" the band in '05, learned they were 'way old,' and immediately stopped listening. With Mike's blog, however, I thought to myself. "fuck it," and immediately downloaded their album Diary off iTunes. Good stuff. Jeremy's not a great singer, but the music is great. Also, who knew they were signed to the infamous SubPop? Okay, maybe you did, but I didn't. My 16-year-old sister, who is a Nirvana freak (also on SubPop), even heard of SDRE.

Without further ado, I am going to copy everyone else and embed some SDRE YouTube videos. Enjoy!

If you've forgotten what the early/mid '90s look like (or were unborn/too young), just watch this video:




Tags: Sunny Day Real Estate, This Day And Age, Mike Kraft