| | | | |
| --- | --- | --- | --- |
| 's Blog | | | | |
crit's Journal

Recommendation: The Devil and the Lion
04/24/09 at
12:31 PM
by
crit
The Devil and the Lion

If you're a fan of Brand New's The Devil and God Are Raging Inside Me, you need to check this band out immediately. You can listen to (or download - for free if you choose) their EP on their myspace which is linked above. The similarites do not end with the name; their sound is very BN-influenced, with vocals that even sound Lacey-esque. Despite this, they do an admirable job with their craft and manage to carve out their own space in the sonic landscape. They broke up in February according to their myspace blog, but this EP is certainly worth a listen or ten.
Tags: recommendation, the devil and the lion
Thank you AP / Atticus!
03/16/09 at
11:41 AM
by
crit
In early February I won a contest here on AP and late last week while I was home for spring break, my prize showed up at my door! In addition to the custom Atticus guitar, I was supposed to receive their newest compilation album (due April 7 exclusively in Hot Topic stores everywhere, it can be pre-ordered HERE, HERE, HERE, HERE ,and HERE for only $6.99) but instead got three Atticus shirts which was just as sweet. They're mediums and just a bit small for me, so my brother was excited to add them to his shirt collection.




And of couse, the guitar. I really dig the design.




Unfortunately, as can be seen here and here, it was damaged during shipment and the damage extends down the neck a bit. Considering that a. my guitar skills are weak at best and b. it was a prize that I didn't pay a cent for it, you won't here a complaint out of me. The guitar now sits on a guitar stand in my room where it looks very nice.

Thanks again to both AP and Atticus!
Tags:
ap contest
AP Member Interviews
01/23/09 at
01:12 PM
by
crit
This is an idea I've been kicking around for a little while and brainstorming some ideas for, and now I'd like to turn it over to your, my fellow AP members. Forum interviews.

We all post on here, but we don't always get to know many of the other posters. I thought this would be a good way to get to know each other and promote some inter connectivity between users. This can be weekly or bi-weekly (it would be nice if it was posted on the same day each week, so people would know to look for it on that certain day) and each time a new member will be featured and posted in my blog. Sound cool? Well then let's brainstorm some ideas and get this thing going!

Now, the questions. I think somewhere between 10 and 25 questions is a good amount. We can have a standard set of questions, and perhaps add a few here and there, and then cater a few questions to the user being interviewed. It would work something like this. The decision would be made (more on this later) on who was next up. I would PM that person the questions, and they would have a few days to answer them and PM me back so I could post the blog. I have come up with a few questions, and hopefully with your help, we can decide if they're usable or not, and also come up with some more to round out the interview. The ideas I had:

- When/where you born?
- Tell us a fond childhood memory of yours.
- What was the first album you bought?
- What is your first musical memory growing up?
- What was the first show you ever went to?
- What was the best show you ever went to?
- Five (ten?) favorite bands of all time. (Elaborate on them if you want.)
- Five (ten?) favorite albums of all time. (Elaborate on them if you want.)
- What is your favorite forum on AP and why?
- How did your hear about AP?
- Tell us about your school and/or job.
- Tell us something fun about where you live.


Another idea I had: to make it fair, I could pick a user at random each time. I could have one blog where you could nominate yourself to be interviewed (that I would link to at the end of each new one for people to sign up who have not) for users to comment on to nominate themselves. I could then put each name into an excel spreedsheet (perhaps put prestigious members on the list twice so they have a better chance of being picked?) in a column, and have one of my roommates (or whoever is around at the time when I need to pick a new user) pick a number. It beats getting a big hat and a lot of scrap paper and picking out of a hat, for sure.

When I mentioned this the other day in a thread, Alyx (Miss Heartcore) pointed out that Joe (anamericangod) had an idea like this before but it never got off the ground. Should it get off the ground this time, he said he would be happy to work with me on this, and I'd certainly be happy to have an awesome guy like him as my partner for this project.

I'd love to hear any feedback/comments/brainstorming ideas you have on this.

Thanks!
Tags: interviews, ap
The Oceanic Six: A Conspiracy of Lies
01/15/09 at
11:39 PM
by
crit
Disc six of LOST season four on DVD contains bonus features. One of those features is a 'documentary' explaining the conspiracy. Here is most of the information given during the 'documentary' for those who did not purchase the DVD's or just want something to think about leading up to next weeks season premiere. Some of these issues certainly may arise this season. (Shoutout to the awesome posters in the LOST thread!)

The Oceanic Six made their way back to the mainland to become legends in their own rights. No one is supposed to survive a crash like that in the first place. However, the story that they have spun for the media...is a lie. That's right. Jack, Kate, Hugo, Sayid, Sun are lying, and if baby Aaron was old enough to know what he went through and where he was born, he'd lie too. They are all part of one of the greatest conspiracies of all time. The question is, who or what are they trying to protect?

Bill Waldock is a professor of safety science at Embry-Riddle Aeronautical University and the worlds leading authority on aircraft crashes. He points out that a Boeing 777 like the one in question hitting the water at the velocity it would have been travelling at would instantly shatter. He states that the water becomes incompressable and at that velocity, hitting the water would have the same effect as hitting concrete. You would end up with millions of pieces of wreckage spread approximately 100 miles apart. His conclusion about the crash is that it would be literally impossible for the plane to be almost completely intact like the one found at the bottom of the Sunda Trench. His final point of contention is that the bodies in the frigid water would decompose much slower than a regular dead body. Now not only does that plane not make sense, the bodies inside of it don't either. Where did that plane come from, and exactly who is inside it? We may never know the answer to this, thanks in part to the fact that the Sunda Trench is so deep (4.8 miles at it's deepest point) that a salvage mission would be far too costly for anyone to finance.

Another question we must ask ourselves is why was Flight 815 so far off course? You see, not only does the depth of the Sunda Trench come into play here, the geography of the area around it does too. According to a 2002 survey by the National Institute of Aeronautics and Space, Indonesia has 18,306 islands. The Indonesian government estimates that 6,000 of these islands are undiscovered, uninhabited and unnamed. What better place to have these survivors crash land...verification of where they spent their 108 days between the crash and rescue is physically impossible.

According to the survivors, they crashed somewhere southwest of Membata. How exactly did they end up on Membata, which is directly northeast of the crash site? Janet Sprintall, the leading authority on the Indian Ocean who works for Scripps Institution of Oceanography at UC San Diego tells us that they are always measuring which direction the ocean currents are moving. They do this through instruments both in the water and their satellites in space. The ocean was not moving strongly toward the west in September 2004 when the plane went down...and yet someone, the survivors floated northeast. That is absolutely impossible.

No attempt has been made to recover the remains of the three people who survived the crash and then died before rescue came. When thousands of Charlie Pace's fans asked Oceanic Air to help them locate Membata to build a memorial, they were met with an official runaround. Why? How did the survivors stay in such good condition? They certainly did not look like they'd be stranded on an island surviving on just coconuts and fish when they were found. Why is that? Dr. Janet Mayer, physician nutrition specialist, notes that fish is hard to catch and coconuts are high in fat. The survivors would have been without carbohydrates. When a person goes without carbs, they first burn their own fat stores for energy. This causes them to lose significant weight. Next they burn their protein stores, causing even greater weight loss and losing their muscles. This raises the question...did they have another source of food? Is it possible that they ate the other three survivors? That would certainly explain why they are keeping mum about what happened to those three.

The men's hair growth also does not seem to make sense. When a human does not get their nutrition and they are wasting away, hair growth slows, and might even cause hair loss. Patches of hair could fall out. Sayid and Jack appeared to have no such issue, and Jack's hair must have been cut, because it's length the day he boarded the plane, as seen by Oceanic surveillance cameras at the Sydney airport, was just about the same as it's length when he was rescued. Also, how were they able to change their clothes? Somehow, wherever they really were, they were able to eat a high caloric diet, find shade (as none of them had any skin damage), get a shave and a haircut, and find new clothes to wear.

Aaron Austin's birth is perhaps the biggest question mark of all. It's not that Kate Austen could not have given birth on the island, it's just that she was never pregnant in the first place. The night before she got on the flight, she was detained in the airport jail because the U.S. Marshal that was accompanying her back the the States needed someone to hold her for the evening. Sheanna Mitchell was the security officer on duty that evening, and gave Kate a full search before she was admitted. According to the timeline of Aaron's birth, Kate would have had to have been six months pregnant at this time. Ms. Mitchell claims "...this bird was not pregnant at all." One month later, however, Ms. Mitchell mysteriously released a statement to the press recanting her story, saying she was not a doctor and therefore unable to know for sure if Kate was pregnant. If Kate was not pregnant, then where did Aaron come from? There was an eyewitness account of a woman who claimed to speak with a young woman at the airport who was obviously pregnant. Being pregnant herself, this woman struck up a conversation and the two chatted for several minutes. She remembers that this pregnant girl told her she was waiting for Flight 815 and heading to LA. She remembers her name was Claire. Who exactly is this Claire? Is this Aaron's real mother? If she is, that could explain why Aaron looked much older than he was reported to be when seen at the Oceanic press conference. Not only that, if she did give birth to Aaron, where did that happen, and where is she now?

There is belief that Oceanic was part of the coverup. They stated after the press conference that there were to be no further details given about this crash. However, a high ranking Oceanic official we spoke to (who spoke on terms of anonymity) claims "there is no such thing as a good crash in the airline business" and denies involvement in any conspiracy or coverup.

Whoever is involved in this coverup must have extreme financial resources and the highest level of power imaginable. Could it be the US government? The UN? An unknown organization? Are the Oceanic Six being paid to keep quiet? Kate received a shocking light sentence for all of her crimes. Sun Kwon became a controlling partner in her fathers company, Paik Industries. In the years since, the Six have been surrounded by tragedy. Sayid's wife, Nadia, was murdered in October 2005. Hugo was readmitted to the Santa Rosa Mental Health Facility after a high speed chase with the LAPD. Jack's life has been plagued by drug and alcohol abuse and increasing isolation. What seemed like money motivating their silence has turned much darker. It now seems like fear. Fear of what, or fear of whom? Unfortunately, we may never know.
Tags:
lost
Best of 2008
12/18/08 at
11:47 AM
by
crit
ALBUMS OF THE YEAR
01 / The Gaslight Anthem - The '59 Sound
02 / The Hold Steady - Stay Positive
03 / Jack's Mannequin - The Glass Passenger
04 / Conor Oberst - Conor Oberst
05 / A06 - The Chronicles of A06 Volume 1: The Dark Tower of Cypher Lecleur
06 / Fall Out Boy - Folie à Deux
07 / Butch Walker - Sycamore Meadows
08 / Matt Pryor - Confidence Man
09 / Valencia - We All Need a Reason to Believe
10 / Death Cab For Cutie - Narrow Stairs
11 / Coldplay - Viva la Vida
12 / Copeland - You Are My Sunshine
13 / Panic at the Disco - Pretty. Odd.
14 / The Injured List - There's Always Next Year
15 / Human Flight Committee - Oh, When the Animals Unionize
16 / Tokyo Police Club - Elephant Shell
17 / Anberlin - New Surrender
18 / Snow Patrol - A Hundred Million Suns
19 / Search/Rescue - The Compound
20 / Ryan Adams & The Cardinals - Cardinology
21 / Alkaline Trio - Agony and Irony
22 / Jason Anderson - The Hopeful and the Unafraid
23 / Good Old War - Only Way to Be Alone
24 / Counting Crows - Saturday Nights and Sunday Mornings
25 / Annuals - Such Fun


EPs OF THE YEAR
01 / Straylight Run - Un Mas Dos
02 / Third Eye Blind - Red Star
03 / Kevin Devine - I Could Be With Anyone
04 / Moving Mountains - Foreword
05 / Manchester Orchestra - Let My Pride Be What's Left Behind
06 / Death in the Park - Death in the Park


BIGGEST DISAPPOINTMENT
01 / The Academy Is... - Fast Times at Barrington High
02 / The Academy Is... - Fast Times at Barrington High
03 / The Academy Is... - Fast Times at Barrington High

SONGS OF THE YEAR
(in alphabetical order)
A06 - "Into Shadow Forest"
Alkaline Trio - "Calling All Skeletons"
Butch Walker - "Ships in a Bottle"
Coldplay - "Lost!"
Conor Oberst - "Souled Out!!!"
Counting Crows - "1492"
Death Cab For Cutie - "Cath..."
Death Cab For Cutie - "Grapevine Fires"
Fall Out Boy - "Disloyal Order of Water Buffaloes"
The Gaslight Anthem - "High Lonesome"
Good Old War - "Coney Island"
The Hold Steady - "Constructive Summer"
The Hold Steady - "Slapped Actress"
Human Flight Committee - "Tint and Quarantine"
The Injured List - "Sure Things"
Jack's Mannequin - "Hammers & Strings (A Lullaby)"
Jason Anderson - "This Will Never Be Our Town"
Jenny Lewis - "Carpetbaggers"
Kevin Devine - "Another Bag of Bones"
Matt Pryor - "A Totally New Year"
Moving Mountains - "Foreword"
Panic at the Disco - "Northern Downpour"
Pompeii - "Ready/Not Ready"
Ray LaMontagne - "You Are the Best Thing"
Ryan Adams - "Magick"
Search/Rescue - "Fireflies"
Straylight Run - "Wait and Watch"
Third Eye Blind - "Why Can't You Be"
Thrice - "Broken Lungs"
Tokyo Police Club - "Your English is Good"
Valencia - "Better Be Prepared"
Tags: best of 2008, 2008, end of year list
RIP HFC
12/02/08 at
08:58 AM
by
crit
http://www.myspace.com/humanflightcommittee



Very sad to hear that one of the brightest and best young bands from New England has called it quits. Their live show was second to none, and each member of the band was a warm and engaging individual. Hard working, earnest and honest, with all the potential in the world, they released Oh, When the Animals Unionize earlier this year and it still stands up as one of the best of the year. Be sure to check out their new projects, these guys truly deserve all the support in the world.



Quote:

Monday, December 01, 2008
HFC disbands

hello all.

I'm sure some people have been wondering "what in the heck is going on with that HFC?" well, I am here to officially inform you that the Human Flight Committee is no more.

we technically called it quits a couple months ago, but have all been going through this or that and for several reasons were just not ready to announce anything yet. since it's both been awhile and I don't think any one actually cares what nonsense a band fluffs their break up with about "why" and "how" and all that, i'll just save you the trouble and inform you with nothing more than the fact that it was just not working out the way we all wanted it to.

we had a great many years and have nothing but amazing memories to look back on. it's super cliche to say we couldn't have done it with out all of you, but it of course is very very true. we have had some very dedicated fans through out the years and we are so thankful to them and everyone that has come to a show, or booked a show for us, or helped release our albums, or anything in between. you have all been amazing.

we have not decided on any official last show, and truthfully it is unlikely that there will be one. however if anyone is interested in what the members are currently doing, set your web browsers to the following:

Aaron and Chris S have formed a new band with some buddies from down south called 'To Speak of Wolves'
www.myspace.com/tospeakofwolves

Garret has joined up with 'And Then There Were None'
www.myspace.com/andthentherewerenone


so that's the basics.
feel free to shoot us any messages or emails and we will try to be in touch, though I will admit this MySpace is rarely checked at best so come check out our new projects


thank you guys so much, and we hope to see you soon in one way or another.


<3
Aaron - HFC
Tags: human flight committee, :(
Four years!
11/19/08 at
11:20 AM
by
crit
Over the weekend was my four year anniversary as a registered member of this site. What a great four years it's been. After reading the news for probably a year or so, I finally took the plunge and signed myself up and threw my hat into the ring. I posted strictly on the news page at first, and it somehow took me awhile to realize there were so many other great forums here too, but I am glad I did. I have made some great friends, heard some great bands, talked some shit, had some shit talked, said some smart things, said some stupid things, called people out, gotten called out, defended the site on all corners of the internet, wrote some reviews but only submitted a few of them, took a break from the site and was encouraged to come back, been told I should change my name to cliche, had an evil person follow me here (sorry about that), gotten involved in the greatest sports forum on the internet (where I constantly feel out of place with all those guys who are much wiser than I), but most importantly I've had a lot of laughs and I have learned an incredible amount. So thanks to everybody, and here's to another four years.

Another original post (or should I say year) by Crit.
Tags:
ap
New Third Eye Blind!
11/13/08 at
07:59 AM
by
crit
Last night, Third Eye Blind posted a pair of new tunes on their myspace, from their upcoming Red Star EP, which is due out this coming Tuesday, November 18. First there's the brooding "Red Star" (formally known as "So Pretty") and then a live, bare-bones, acoustic version of the honest "Why Can't You Be."

Not hi-res or anything but here's a peep at the album art and my new avatar:



Also found on their myspace is a new header, possibly a preview of the album art for next year's much anticipated Ursa Major.

So...is it Tuesday yet?
Tags:
third eye blind
Brand New dust off some gems.
09/27/08 at
08:30 AM
by
crit

"Mix Tape"

Indianapolis, Indiana 09-26-08
Tautou
Sic Transit
Jaws Theme
Quiet Things
Tommy Gun
Shower Scene
Maradona
Two Headed Boy pt. 2
Luca
Sowing Season
Archers
Jesus Christ
Mix Tape
Seventy Times Seven
You Won't Know
Degausser

It's good to know that they haven't forgotten these songs and are still cool with occasionally dusting them off and sneaking them into the set list.
Tags:
brand new
Rock Band champion!
09/16/08 at
12:04 PM
by
crit
Last night I went to the Battle of the Rock Band's competition at the Boston Museum of Science with a friend, met two other people who were serious about winning it, and we did! We all won really great seats for the Coldplay show next month, face value: $120. I'm going to sell our two as a pair and we will split the money. Coldplay is alright but I would much rather have the cash.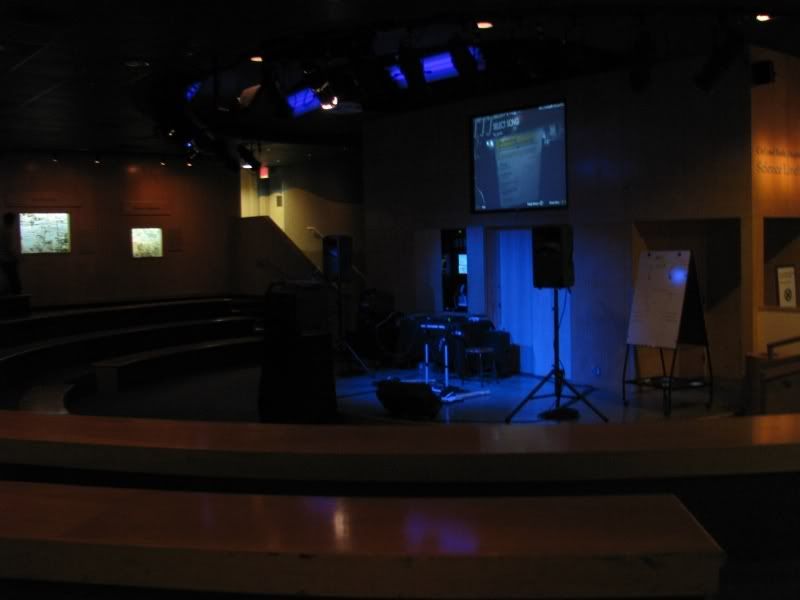 That's the stage, it was pretty cool playing in front of a bunch of people. There was a tv in front of the stage for us to watch and a screen behind us so the crowd could see too. There were 5 bands, we had the highest score in the first round ("Say It Ain't So") and four bands moved to the next round. We were the only band to complete the next song ("Wanted: Dead or Alive") so we were proclaimed the champions and we asked to play an encore and we played "Dead on Arrival" on expert and killed it.

I am going to try to get something like this to happen here on campus sometime this year because that would just be awesome, and I would win.
Tags: rock band, i am a geek
School IS cool.
09/09/08 at
08:27 PM
by
crit
Now that I'm all settled in Boston and classes have started, I am realizing just how awesome Bay State College's entertainment management program really is. I have an entertainment business class this semester which seems like it will be pretty fun and interesting, but by far the coolest class I have is music entertainment. My professor works for a company that books college shows and private functions all over. Here is the list of topics we will be studying in the next 14 weeks:

- overview of music industry careers
- overview of career relationships
- personal managers, business managers, management companies, tour managers, management contracts
- booking, concert production, tour management
- record labels, recording industry, types of labels, the recording industry, A&R, departments at a label
- basic copyright principles, press kits
- music publishing, sampling
- publicity and promotions, press releases
- music and tour merchandise
- radio and audio recording history

I am so glad I found this program. I am glad I took the last two years off instead of wasting money in some program somewhere else that I didn't really want. It feels so strange to be so excited about being in class and learning. Here's to an awesome year.
Tags: college, i am a geek
See what you mean and make your way out.
09/02/08 at
05:44 AM
by
crit
"so let me first start off by saying
how hard i've been working towards this goal
that was set in stone behind my eyelids from hours of countless dreaming
and second, let me tell you about this feeling i can't describe..."

"there's a need for a change
a need to feel the wings
to feel free like the weight's gone off my shoulders
from the top of the world
and i can finally breathe
and do you feel like me having been through what i've been through
cuz from the top of the world is where you can finally see
it's safe to just let go
slow it down to re-capture the words
what you're hearing taught you what to learn
just understand you are right from now
see what you mean and make your way out"

The new Valencia album is killing me lately. Checked it out on a whim and it's just fantastic. This is pop punk done right, which is rare in the ever so saturated market we have today.

Valencia's We All Need a Reason to Believe. Definitely worth the purchase.



This is my new front door. College, part two, here I am. I'm excited and ready.
Tags: college, valencia, lyrics, recommendation