| | | | |
| --- | --- | --- | --- |
| 's Blog | | | | |
The Pen, The Page, The Paper

It's The End of the Year, and That Means Lists.
Stick a fork in me, I'm done.

Our End of the Year Lists are up. And here is my personal list, which - if I can say this much - is BEAUTIFUL. I'm really pleased with my list this year, more than any years in the past. That's probably because 2009 was rock solid in tunes, thwarping 2008. God, I'd hate to be 2010 right now.
Tags: eoty, 2009, recommendations, recommendation, lists, list
The Best and Worst Merch of 2009
Remember when 72-point block print was the coolest thing ever? Or when all those band tee designs gravitated to the side of the shirt, down near our hips. Remember when everyone wore those Glassjaw hoodies or when Glamour Kills swooped up the teenage kingdom? Thankfully, The Get Up Kids have fielded some of the blame.

Ah, those cool kids buying all those cool things. Let's explore 2009, shall we? What makes us look super cool and which makes us look like super douchebags? What makes us look like both?




The Worst Merch of 2009



The Clusterfuck Design - Nothing plain to see here! Relying heavily on the design aspect of the band tee, the Clusterfuck Design is equal parts impressive and over-the-top eye blinders. Sometimes the explosion of colors and layering works, but quite often, the Clusterfuck tends to upset the eyes and just looks plain dumb. Here are a few of this year's offenders:


Fuck Yeah Strong - Call me a prude here, but besides dead puppies and a limp penis, this is the last thing I want to see on a t-shirt. It's ballsy, yes, but I just can't get behind it. Oh, wait...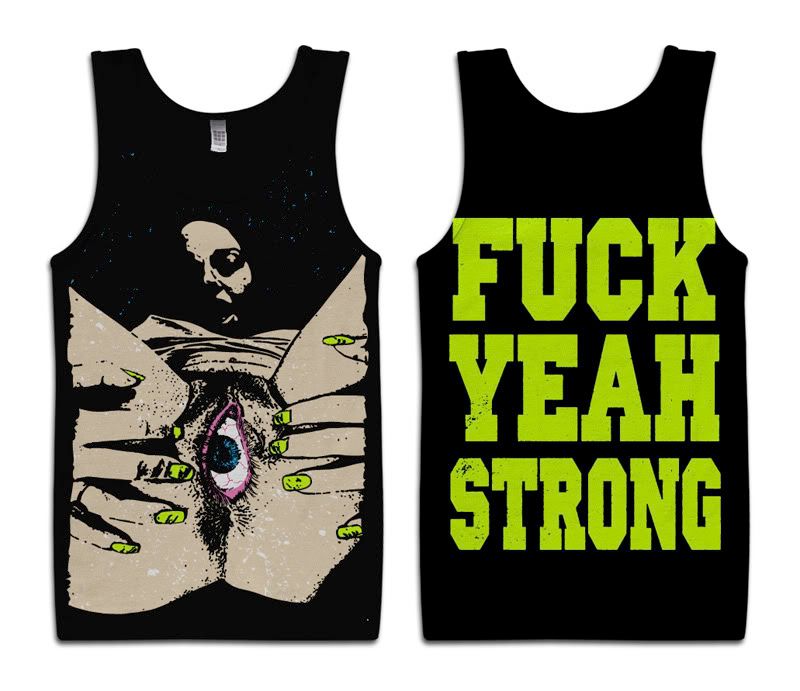 Babycakes - I'd like for bright colors to die. Part of my reasoning has to do with the fact that I can't possibly pull it off in real life, although I don't exactly dream about it, either. The other part is that it singlehandedly breeds the popularity of that new hot company (omg bbycks), and in turn, breeds a stampede of toolish pre-license teens wearing designs that borderline on kindergarten talent. Babycakes is, much to my eye-rolling, continuing this trend (and the color yellow) to the point of exhaustion, and they're actually starting a buzz! And if that wasn't enough, the company sold "I Partied On Warped Tour" t-shirts this summer. Why? Because we need more sluts diluting the afterparty, obviously.


Underoath Loves Fat Dinosaurs - Ok, but why do you love fat dinosaurs? This is an inside joke, I take it? So for those of us that aren't on the IN, the randomness of Fat Dinosaurs is mildly endearing, but it still begs the question: why would you wear this?


The Wuggie - A Weezer Snuggie. It's self-explanatory, and it also makes me wonder: why are Snuggies cool again? Because they seem pointless and moronic to me. Are we really too lazy to remove our arms from underneath the blanket? You might as well just staple the remote to your hand too.




Where's The Quality, 3OH!3? - For being one of the most popular bands of the year, 3OH!3 sure makes cheap looking shit.








The BEST Merch of 2009



Bridge Nine Records Hates Your Neon Shirt, and We Do Too - Cutting the crap and getting to the point. Thank you to Bridge Nine, the notoriously badass hardcore label that summed up their choice feelings about current styles onto one t-shirt on this year's Warped Tour. The best part: your cred shoots through the roof when you slip on this black number.




Jac Vanek Bracelets - They're not incredibly inventive at all. And they're probably pennies on the dollar to make. And yet, Jac Vanek made a killing at Warped Tour this summer selling each of these trendy puppies for ten whole dollars. And it's cool to wear more than one, so I hear? See what I'm saying? Exploit the youth and your profit can be enormous. Looks like this scene queen got it right.



All Time Low Nothing Personal Line - Cute quips from these pop-punk darlings aren't new to their repertoire - we already knew the All Time Low dudes are a goofy folk. But bring a new album titled Nothing Personal into the merch mix and there's just about a million places we could go with this. It was almost a stroke of genius. All Time Low gathered some universal thoughts and published them on a t-shirt. Cut your hair, you look ridiculous? If I had a nickel for every time that thought crossed my mind...

And then, to sweeten the pot, Glamour Kills made their own retort. The twitter reference was quite clever.




The Clusterfuck Design - Ah ha! It makes a comeback. See, the Clusterfuck Design (when done right) looks not only neat but skilled. A Day To Remember, New Found Glory and Set Your Goals have done it right. In fact, it usually goes hand in hand with good bands, in case you were looking for a rhyme to the reason. Except The Devil Wears Prada. For being pretty sucky, they racked up a sweet collection for sale at Warped Tour this year.


Thursday Is More Than A Stupid Scene Shirt
- While their Stupid Scene Shirt could be the best mockery in recent merch history, the serious side of their collection is actually quite good. The black & white numbers are
stunning and simple
. They still won't top the general awesomeness of what you see below, however, but across the board, Thursday prove to be merch pros of 2009.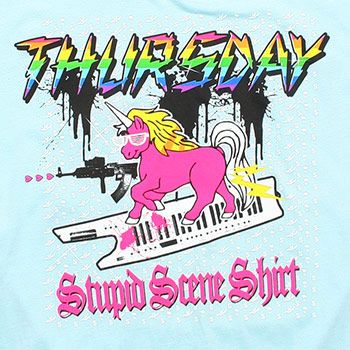 Fun is fun.
- Genuine, clean cut and still looking nice, fun. merch isn't ready to embrace the more severe section of a crayon box, and yet it's standing out from the crowd. It's the first time I've craved a t-shirt with just letters on it since before 2003.
Tags: sounds of buzz, merch, 2009, list
Summer of '09 Has Been A Summer.
Since it's nearly the middle of August, it's time to begin reflecting on my summer. Most notable moments for me? Painting the walls of my new apartment Disney underwater blue. Being out on Warped Tour for a few weeks. The simplicity of July 4th sparklers with friends. Killing a man in Reno and then those brief weeks spying on Russian intelligence. The usual. I've been thinking - it's been an AWESOME summer.

No, let me rephrase that. It's been a summer.



We know this season is historically a good time, but what is it about this summer that has been particularly top-notch? Our economy BLOWS and my 'check engine' light has been on for two months, but I'm still thinking that this summer should win an award for an exceptional amount of fun. Fun fit for my wallet, too. And I don't just mean for me - this is for all of us.

But don't let me read too much into this. It's obvious where this fun is originating: the tours. Blink 182 decided to give it another go, causing pandemonium and the most united musical front I've seen in this Internet culture in forever. Maybe even ever. And it wasn't just any line-up for their super summer tour with Fall Out Boy, Weezer, Taking Back Sunday, All American Rejects, and Panic at the Disco (Chester French and Asher Roth don't count in the 'super'). The band made sure that ticket prices were low because we're all broke now, and those low ticket prices even included fees and parking. Even if you didn't care to attend, it was the tour of the summer even before the dates were released.

Poison The Well, Bane, Terror and other hardcore mainstays teamed up for the 10 for $10 Hardcore Summer Tour, a br00tal event of genuine and cheap pits. Brand New graced us with their prized presence on a small club tour, a dream come true for anyone who still sleeps and breathes Lacey. Two of my personal favorite lesser known bands, All The Day Holiday and All Get Out, spent time on the road together. Even LFO decided that summer of '09 was the perfect time get out there again. Dredg and Rx Bandits took out Good Old War and As Tall As Lions for the most talented tour of the summer, ever boosting some sold out dates. Moving Mountains adventured to the Midwest for the first time. Audrye Sessions and Paper Route decided to help the financially-challenged on their New Deal tour, setting up an email account to send recession pleas for free tickets. Even the festivals knew that bank accounts were tight. Virgin Mobile Free Fest dropped their ticket prices from the two-day 200 dollars of 2008 to the wild and gracious charge of NOTHING.

And then there were my two personal favorites: the BBQ Across America Tour and the embodiment of a bro-down with Set Your Goals and Four Year Strong. I caught both shows, and both shows were - to put it as cool as possible - crucial.

At BBQ Across America, The Gay Blades (currently my favorite live band) played with The Dangerous Summer (currently my favorite pop-punk band). They were the main support for Person L and Ace Enders, which, as you probably know, is kind of a big deal for anyone who used to own a Drive-Thru t-shirt. Both Kenny Vasoli and Ace Enders have payed their dues, and now they get to play whatever the fuck they want on smaller but successful national tours. Good for them. And you can tell they're happy about that - both Kenny and Ace were hoppity and gleaming on that stage, content with fulfilling a new creative outlet. Person L, a genre-blending experimental outfit of old friends, showcased material from their upcoming full-length, The Positives. Ace Enders even played Early November material for the nostalgic folk. All in all, the vibe was cooperative and supportive, the signs of a tour going well and a line-up picked well.

And then there was the Giglife tour, which took the cake for 1) energy and 2) moisture content. Sold out and at a small venue (Ottobar in Baltimore, MD), my date of Giglife with co-headliners Set Your Goals and Four Year Strong was bustling with sweaty bodies, muscles and fist-pumping. Never have I seen a crowd go so wild, and that might just be because I decided to spend some time as close to the pit as I could get. Tour supporters Fireworks, The Swellers and Drive A were the right pick for the crowd and the whole night was constant roll of intensity, crowd surfers with no barrier and dudes jumping off the balcony. Moreover, because it was the summer and 450 perspiring boys were sardined into a small room, the humidity inside the venue was like cutting through jello, the floors slick with mini-puddles of human secretion. And I don't think any of us would want it any other way.

It's been a summer. What about you? What shows and festivals made your summer a kick and a punch?
Tags: tour, summer, summer of 2009, show review, set your goals, person l