| | | | |
| --- | --- | --- | --- |
| 's Blog | | | | |
Getting Past the Industry to Love Music Again

Five and Alive: Album Artwork (w/ special guest)
Album artwork is just one reason to buy tangible mediums. It may encompass an album's feel, or give the music a visual life.

AP.net user Cue the Sun has graced us with a lot of great art in her blog. I've asked her to give me her top five favorite album artworks.

She also drew up something special for us. Scroll past to see.

1. Less Than Jake - "Hello Rockview": This album was one of the first I ever purchased and even to this day, it has my absolute favorite album art. Not only is the front cover bad ass, but the inside is laid out like a comic strip, the lyrics inside the speech bubbles.

2. The Format - "Interventions + Lullabies": The beauty of this album artwork is it somehow manages to be rough and sketchy while still maintaining such a clean look. It's all about balance in this one.

3. As Tall As Lions - "As Tall As Lions": I love how when you listen to this album it almost brings you to a different, sort of whimsical world. The cover art visually represents that. (And who else, upon first seeing the artwork, ran their fingers across it and was disappointed that it didn't feel like a paper towel?)

4. Saves the Day - "In Reverie": This artwork is just so, so cool. There's really no other way to describe it. I love how the figures sort of look like they're cut out of paper and I love the dripping effect in the background.

5. The Matches - "Decomposer": This is the kind of art that gets embedded into your memory forever. Whenever I think of The Matches, I think of this crow. Shawn Harris does phenomenal digital work and this piece is no exception.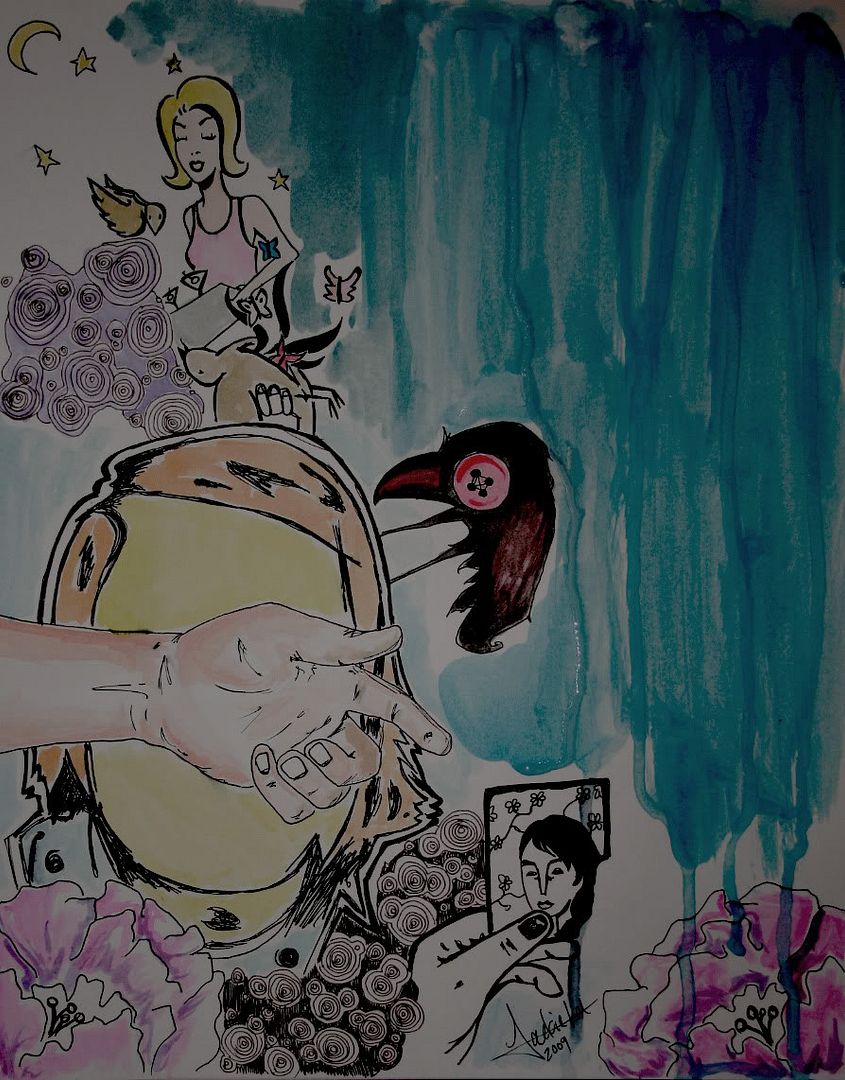 Tags: Five and Alive, Album Artwork, Tangible Mediums
Milk, Eggs, Music Pass?
So let me get this straight. We had vinyl, then 8-tracks, then cassettes, then compact disc, then the Super Audio Compact Disc, back to vinyl, and now credit cards?

On my stroll through Best Buy last week, I noticed a small rack of what looked to be gift cards. In fact, they had pictures of albums on them. Like iTunes or Zune Pass cards, I didn't pay any attention to them. Yesterday, there was a whole rack of them at the local grocery store.

What I've come across is the Sony Music Pass. Digital album cards that have found their way onto small kiosks located at Best Buys and even the local food store. It just so ends up that the grocery store was Winn-Dixie, and they're part of Sony's deal which was reported by USA Today in January, so don't expect to catch this at any mom and pop shop in BF (insert your small town here).

I'd like to contend this against the art form that is CD and vinyl (and even cassette) packaging that some of us music buffs have come to love. Sure, we all have the ability to grab that anticipated release a few weeks early, but for the most part, those consumers who matter and can afford it will eventually make the purchase. Is that purchase for the physical medium, or the linear notes that contain the lyrics one may try to wrap their heart and head around?

Does this card, or any card that contains the digital code, erase that magical feeling we may have? How many of you were stoked to see Chris Carraba's e-mail in the linear notes and e-mailed him your heart? I'm sure it wouldn't be on the card.

What about the art that goes along with the record? The monk on fire that encapsulates the political aggression on Rage Against the Machine or the linear photos on O' God the Aftermath? Those images can have an effect on the listening power and intake of any album, and can help set some sort of visual base for the notes that line wax or slick digital code.

I understand that this is just a simple ploy by Sony to venture into new distribution outlets. When I interviewed a spokeswoman for EMI in regards of music possibly being moved to a flashdrive-type format, she informed me that the other mediums would not be discontinued, but another medium, which may be consumed by digital consumers, was just being introduced into the market.

Well to this, I would say the majority of music consumers might catch on to the Music Pass. I always think of myself as the minority group of said consumers. Obsessed with the art, the physical copy, the limited supply of vinyl, just something special. But for many, all that's necessary is just an iPod shuffle, which is used for singles on the radio anyway. At least that's what my friend who worked a coffee shop's drive-thru complained about.
Tags: Music Pass, Sony, Album Art, Linear Notes