| | | | |
| --- | --- | --- | --- |
| 's Blog | | | | |
The Pen, The Page, The Paper

My Crib, Welcome.
Welcome to my crib! My home, my stomping ground, the sweet little two-bedroom on Knollwood Road. Both Blake and Mike did a picture tour for their pads, so I figured I'd do the same. A few weeks ago I tried to do a video tour with my roommate, but our apartment was incredibly messy and it ended up as five minutes of giggling about our inside jokes.





This is my living room and where we spend about 85 percent of our non-sleeping free time. Our couch is this pink velvet monstrosity from the eighties, and it's epic. And really comfortable. Our coffee table is like a magnet, so you'll rarely see it clean. My laptop is resting patiently on the couch, and there's an Eyeball Records (sorta blurry) proudly stuck to the top. Reppin' my favorite label, of course.





Here's a picture of my roommate, Jacqueline, chilling on the couch with our cat, Duke. He demands attention about 90 percent of every second of every day. More on him later.





I LOVE hot sauces! And I LOVE trying new ones, so this kicker right here is my current bottle. I pretty much eat everything with it. Next to it would be a Starbucks cup because I am indeed an employee of aforesaid drink corporation.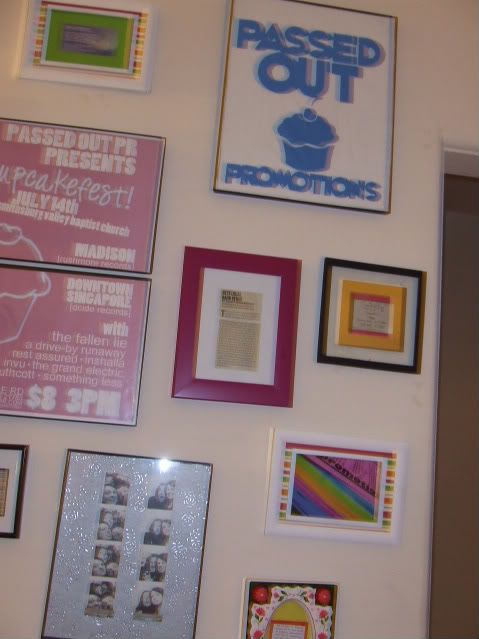 Jacqueline and I have a promotion company - Passed Out Promotions - and this is our wall of glory.





Thanks to AP.net and booking shows, I run into a lot of touring bands. Both Jacqueline and I are always willing to provide a floor to crash on, and with these nifty letter magnets on our fridge, we fully encourage love notes. And, you can see the AP.net calender magnets. Booyeah.





I LOVE crafting. These two bookshelves are squatting stubbornly in our dining room, and anything and everything you could possibly need for your creating desires are housed on these shelves. THIS is why I am not allowed to enter a craft store alone or with a credit card.





And now onto the bedroom! The Brand New line "I hope this song starts a craze, the kind of song that ignites the airwaves" posted on the wall sums up exactly what I want in music. It warms my heart a little every time I head into my room.





Oh here's Duke! He's 20 pounds of loving and flubber.





My mom gave me this Bhudda for my birthday last year and it's one of my most prized possessions. And Purple Rain on vinyl, what can I say? I have a minor love affair with Prince. Guilty pleasure number one. I also have these great corkboard tiles all around my room, which you can see in this take. Here it's loaded with pictures of my family, a Hey Mercedes promo pic and a view from the Rocky Mts. (I was born in Colorado).





I'm kind of a pack rat. Not that I have to keep EVERY thing, but I'm probably too sentimental for my given lack of space. Hence the reason why my bookshelf is exploding. To note a few things - the Suburban Home beer coozy (why getting promo stuff in the mail is awesome), the books that I want to read (but will probably never get to), the boot-shaped shot glasses (even though I think liquor is bleh), and the Nintendo DS box (because I'm trying to sell mine but have ended up playing it more these past few days than I have in a year).




This is my desk. I would die without Post-it notes. There's always a small stack of CDs next to my desktop - the most current stuff I'm spinning or need to check out. The CD tower contains are all the albums that are my current faves of the past year or so, stuff I definitely want to have on hand in case I want to quickly pop them in to the CD player. The poster on the left side of the desk (sorry it's kind of hard to see) is this pic of Max Bemis, blown-up and pixelated.





A Manchester Orchestra watermark. The best thing I've ever gotten in the mail.
Tags: julia, crib, apnet cribs, ap cribs, apartment, home sweet