Kinda True Stories

:(
My best friend just left. I wonít see her again until Winter Break. I hate that we live so far away from each other. And yes I know I post this every time this happens but it really sucks.
Tags: life, friends
I love cheap movies
at Target. Last night I bought: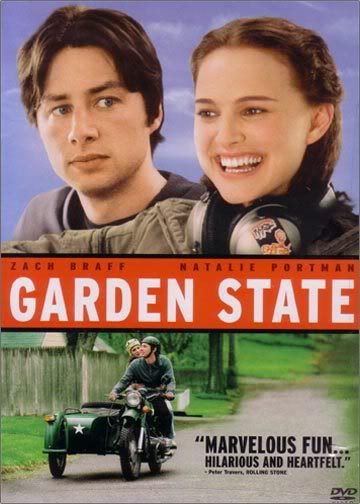 packaged together for less than $10.


This has been a good week. I passed both of the classes I was unsure I'd pass and my best friend is here for 2 weeks. The only crappy thing is I still don't have a job but I think I might have a lead on something. Now I just need to get down to Party City to apply.
Tags: say anything, garden state, life, school
"Guess Who's Pregnant?"



Today was over all pretty good. I think we did well on our presentation and I'm pretty sure I got at least a high B on my test today. The only bad thing about today was I almost got run over by someone when I was walking in the crosswalk. It's the 3rd or 4th time it has happened this semester.


Oh! Check out my new favorite song "Hannah Montana."
Tags: fmylife, school, the injured list
Asper Kourt
I just found out about these guys today from the school's newspaper. I can't believe I hadn't heard of them before. Their music is lovely. It's very laid back music. I'd describe it as singer-songwriter or maybe a bit folk-y but I'm terrible at describing music. So don't take me too seriously. They remind me of someone but I cannot think of who is is. So support my local scene and check them out please. http://www.myspace.com/asperkourt


I just applied to CNM today and will be registering in a few weeks. My summer is going to be so short. My finals at UNM are the week of May 11th and I start summer classes the week after. And then classes end 2 weeks before my classes at UNM start up again. Oh well, at least I won't be bored this summer hopefully. Also, I might possibly get a job at a day care if they let me start in a little over a month. I really hope I get it because I don't want to spend all summer looking for a job like I did last summer.
Tags: asper kourt, life, school
I love reading these
Quote:

Today, my girlfriend broke up with me after a year of living together. She told me that she met someone else and wanted to move out. She moved out... but moved her things into my roommate's bedroom. FML




Quote:

Today, I woke up at 5 and studied for my 9:30am exam for 4 hours. When I left my dorm at 9, it was dark outside. Turns out I slept through the entire day and woke up at 5pm. FML




Quote:

Today, I told my long-distance girlfriend that I just could not handle the distance and we should just be friends. To which she responded, "What? You thought we were going out? Lol". FML


Post some of your favorites.
Tags: fmylife, lol
These always makes me feel better about my life
Quote:
Today, I received my passport in the mail. They got my birthdate wrong. Then I picked up my birth certificate that I had sent in with the application. Turns out my parents have been celebrating my birthday on the wrong day for 16 years. FML
Quote:
Today, the girl I love and I went to visit my parents out of state for the first time. My father grinned and acknowledged that she was a "keeper", at which she laughed and said we were "just friends". I was going to propose to her next week. FML
Quote:
Today, my boss asked me to pick up an extra shift. I said I couldn't because I have a date. He told me I didn't need to lie and to just say no next time. FML
Quote:
Today, I made a joke about having a wedding to my mom and she told me not to joke about something that will probably never happen. FML
http://www.fmylife.com/
Tags: fmylife, lol
Going No Where
I went out to lunch today with a bunch of people I grew up with but haven't seen in years. It's so weird to think about how 'grown-up' we all are. Three of them are married and two of them each have a son. Two of the other ones are living in different states for school. I hate how their lives are drastically different and mine is the same as it has been for years. No matter what I do I can't seem to break out of this rut. I feel like I'm going no where and everyone else it moving on in their lives, leaving me in the dust. I hope this new year brings around change. I'm in desperate need of change.
Tags:
life
Grrr
I'm so frustrated with myself. I found out I got a 72 on my Mass Communications test (a 78 with the curve). I know it isn't that bad but what really bothers me is I did everything I could to ace this test. I did all the readings, went to all the lectures, and did the review for the test. I even felt pretty confident going into the test and coming out of the test.


I'm so ready to give up.
Tags: life, school
Pointless Blog
What is people's obsession about getting married/starting families so young? Like every few weeks, I find out that someone I knew from high school is married/ getting married or is pregnant.

/pointless rant
Tags:
life
That Time Of Year
So it's that time of year again. Summer is winding down. School starts back on Monday. It's even been getting a bit cooler here and starting to seem like fall. I'm actually happy to start school for once in my life. I think this school year is going to be a good one or my goal is to make it a good one. All of my classes should be great this semester. I'm actually taking classes that are relevant to my major this semester which should be fun. I really hope I don't stress myself out too much with taking 18 hrs. Another one of my goals is to be more social and actually make some friends this year.
Tags: life, school,
"I Know You're Not As Strong As You'd Like To Let On"
I went up to school today and paid my tuition and tried to buy some of my books. They only had half of the books I needed. I hate the fact that books are so freaking expensive. $350 for the 3 books I bought today. Ugh. I hope the rest of them aren't that expensive. I am ready for school to start back though.

I'm really getting annoyed with the rain we've been getting. I enjoy rain but the humidity is killing me. Especially when it gets up into the nineties during the day. I really hope the rains stop before I start back to school.
Tags: life, school