| | | | |
| --- | --- | --- | --- |
| 's Blog | | | | |
Take This To Your [Headphones]

Fear and Loathing and Losing
Her stomach swirled with knots as she listened to his voice on the other end.
He cheerily recounted the events of his day, oblivious of her nervousness on the other end.

She found it hard to pay attention when her mind was running rampant with mixed feelings. She tried to hold back interrupting him and blurting out how she really felt and everything she needed to see.

It's almost not worth the fight.

He sounded pleased with himself as he wrapped up his story. She had barely heard a word he said.

I need to tell him. I need to tell him that I'm losing it, that I feel like it's almost gone already. Things are different now.

But what was different? Was it her personal issues? Was it his personal issues?

All she was certain of was that she lost it.

It was the fear of losing someone. The realization that you've figured out how to live without that person.

What was there really if you didn't think you needed them in the same way? If you knew you could wake up on your own and it would still be okay?

Could you ever get it back? Was it the same as completely falling out of love?

Something had changed at some point. It was no longer the fear of losing, but the fear of the truth.
Tags: stories, writing, relationships, love, breakups, life,
Champage Dreams
I've been on a roller coaster of emotions the past month or so because of issues with work. It seems as though, even with 3 years put into a job, you're still considered replaceable. Whether or not things were said in the heat of the moment, it makes for an uncomfortable work environment for sure. With this recent development, it makes it pretty hard to get up in the mornings to go to a place that makes you feel so unwanted. I need to find the right direction for myself, but I'm not sure how to do it.

Other than that, there were some hard times dealing with a boyfriend on tour and the different time zones and coming second to the band he works for, but I was thankful to see him for 3 nights during that period of time and then a week together during the Thanksgiving holiday.

Long distance relationships aren't a cake walk, but they can work if both people are clear and vocal with their wants and needs and respectful towards those things. You have to take each day at a time.
With that being said, I had an amazing week with my boyfriend and wouldn't trade those moments and memories for anything in the world. This week reminded me of how grateful I am for this relationship and having him in my life. Of course there are ups and downs, but you have to know how and when to compromise. Pick your battles. Cherish the little things. Always be creative and willing to try new things. Be considerate. Be yourself.

With that being said, it's unbelievably hard to wake up alone after spending a week waking up in someone else's arms. Maybe one day I won't have to wake up alone anymore.

Until then, I have my friends, and technology to keep in contact and keep me busy...not to mention this bottle of champagne at my desk.

Cheers.
Tags: Thanksgiving, relationships, love, life, personal,
Well I hope you try to find me, I'm all spun and pacing...
Forget your problems
Lay it down, they start up
The innocence of what you are is what I want
I've ran my colors dripped down and drained out
Tried a million things, but my heart's been shot

Well I hope you try to find me, I'm all spun and pacing
I know what you want to say here, so say it
Forget the words speaking
Just want to rearrange so I'll just say it

I really miss you, miss you, say
Smile at the chance just to see you again
I really miss you miss you say
Yeah Yeah Yeah
- "Miss you" | Foster the People



"What if I was actually secretly a millionaire and I had houses all over the place and a yacht and you had no idea...and I haven't told you because I wanted to see if you really liked me for the right reasons and you weren't in it for the money." He asked playfully.

I swerved my chair back and forth in thought before replying, "...I think I'd be pretty pissed at you."

"What!" He explained not receiving the answer he was looking for. "Why??"

"Well because...given the amount of time we spend apart because of money...why would you make me suffer like that?"

"Ohhhh, you think you're the ONLY one who suffers?" He questioned, not at all amused.

I fell silent and shifted anxiously in my seat.

He continued with a mixture of frustration and confidence, "Because I wish I could wake up next to you EVERY day."

I felt a smile twitch at the corner of my lips and whispered, "I want that too."


It was all I needed to hear. I could feel my heart swell and ache. I wished that he was more than a phone call away and just right in front of me because in the moment I would have wrapped my arms around him and not let go.
Tags: relationships, boys, love, life, personal, Foster the People,
Relevancy & a Lack of Love
this thing was the reason I met you
and you are the reason I wrote the words
and it is the reason we are ruined.
It'd be funny if it wasn't so pathetic.
I'm guessing that if you looked up jealousy in the dictionary- there would be a picture of me.
- wentz


I miss these entries.
They were the only thing that used to keep me sane.



This is relevant. This is me.
This is what I couldn't say to you.
Tags: pete wentz, journals, writing, personal, life, love,
Things I'm Enjoying Right Now.
(Intended for a few weeks now though Blake beat me to the punch)

1. Glee, Fox, 9PM/E.
Think what you want (and it's probably "This show seems too hyped) but this show is awesome. I haven't been able to get back into a non-reality show since I was in high school. Sure The Office is amazing, but I never had time to watch it in college. Now that I'm living the life of "grown ups", I can get back into TV-land again. This show lives up to the hype, the reviews, everything.
Taking place in Lima, Ohio (Hey, sup, Hit the Lights) a hs teacher takes over the Glee club which once made him famous when he was a student. This motley crew covers songs we all know throughout the episodes, meanwhile dealing with faculty and student "politics", fake pregnancy, real pregnancy, cheating, dating, relationships, family issues, etc. Check out at least one episode...they're all on Hulu and they just got picked up for a full season. Watch a clip, at least.




2. Blink 182 - S/T
I'll probably write a full blog on this later, but I've revisited this album recently since I saw them live for the first time at Virgin Mobile Free Fest back in August. This album apparently was hard to warm up to when it was originally released because it was a darker, more more romantic side of Blink. The boys cut out the dick jokes and finally starting singing about the real, true love they experienced as adults and they do it really fucking well.




3. Transit - Stay Home (Boston MA, Pop Punk/Hardcore)
My buddy Andrew rec'd Transit for me last year. Sure, I'm late on this but I don't feel so bad now that they made AP's Top 100 this year (First round too!). Even if the vocals aren't top notch, they're songs are fucking enjoyable and I find myself listening at least every other day during my work commute. Pop punk goodness. Now I just need to get my hands on their full length...hmmm.


4. Averman - Hide Your Girlfriends (Virgina, PopPunk/Punk)
I discovered Averman through Chris Immunity, who happens to manage them. Lately I've been going in this direction with music and it's a nice change. With song titles such as, "Shark Week", "Sweep the Leg" and "She Feelin My Gangsta", you have to be somewhat curious to hear what they're all about. Check out their myspace and start with "Boner Jamz 09". If you like Transit, there's a good chance you'll like Averman.


5. Christcore
Not sure what took Rob Dobi so long to come up with this famous character, but I laugh every time I come across him, either on yourscenesucks.com or when I'm helping out a friend's band at RevGen fest. They're pretty harmless and probably pretty okay to hang out with, but they're also fun to laugh over. We all know how much I love snake bites and deep v's...praise Jesus!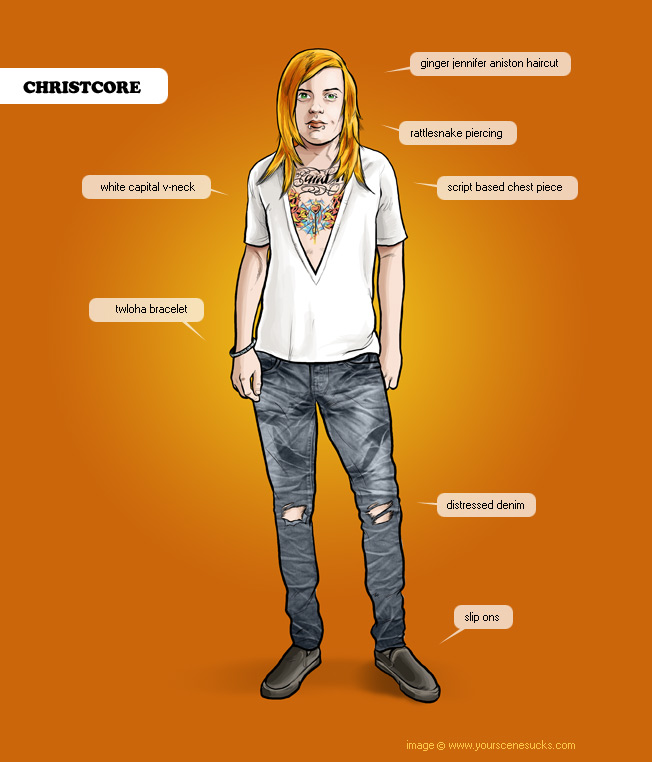 Tags: Glee, Transit, Averman, Blink 182, Likes, Love, Life
How many people can you say this about?
"You never knew
well I never told you...
Everything I know about breaking hearts
I learned from you, it's true
I've never done it with the style and grace you have
But I've made long term plans
based on these mistakes "


People say the worst about me and my endeavors but there are several boys who made me the way I am.
Unfinished business leads to constantly try to settle a score with your heart.
How many people do you know have ruined you?

Someone once said:
"Sometimes you have to break a heart to unbreak your own."

And that's how I live....
...Trying to settle the score and sometimes it feels good....but it has yet to be fulfilling.
Tags: Boys, relationships, love, personal, life
The Waiting Room
We walked to the elevator in silence.
He was still dressed in his work suit. Doctor ID clipped to his tie, he carried his famous straw hat in his hand.

The elevator doors close and he turns to me.
"I've been here nearly 60 times in the last three days..."
He thinks to himself a moment.
"...it's tiring, you know?"

He fidgets with his hat and turns to face forward.
After a moment of silence he looks towards the ground and then back to the ceiling while saying to no one in particular,
"I don't know what's going to happen..."

What do you say to a man who's wife appears to be dying?
What do you say to a man who's been strong (so much stronger than I felt I've been) for the past year--seemingly confident that everything will be alright--and now....and now a year later, seems to be losing hope by the hour?

I stared at the ground unsure of what to say...a part of me in fear that I would break into a million pieces on the spot.

So, she's finally alert and talkative. She seems to be more with it now than she has in the past several months.
However, she looks like she's dying.
But nevertheless, her husband takes his daily trips to see her.

He talks to her in an upbeat voice, trying to bring out the woman he fell in love with over 50 years ago.
She smiles at him as best she can. She listens to his stories.
And at the end of the day, he walks out with his head down, his heart sinking, with his straw hat in hand.
Tags: Grandparents, Family, Love, Life, Relationships, Health, Personal, Life
You're so Vain...
...you probably think this song is about you.


And I do. I can think of several guys who would probably pin this to me:




I was too proud to call you that night
I couldn't run
I know running gets old in a way
You sure know how to make or break a day
Well, you just fled the scene
So hard to breathe

You think a lot about yourself so much
For someone who relies
On someone else's trust
I cower to your touch
You think I'd be the one to let go
So carry on

Thrilling to know
There is no control
She's got the soul of poet
And the fire of a bullet
She is what she is
Nothing less or unspoken
She don't love you no more
She's in love with a motive, yeah

This jealousy can't hold me over
I can't get mad
You know that anger gets all in your way
My jealous mind
It hates it but takes it
Those haunting memories
Are laced with secrets

Although I'm hard-pressed
To back from a fight
You think that this would end soon
But it's taking its time
Confusion, it is such an all-time bad written melody
Of course you'd sing
Please carry on

Thrilling to know
There is no control
She's got the soul of poet
And the fire of a bullet
She is what she is
Nothing less or unspoken
She don't love you no more
She's in love with a motive, yeah

Ask about her ways and her secret life
She'll say yeah, yeah, yeah, yeah, yeah
Ask her if she thinks she can sleep at night
She'll say yeah, yeah, yeah, yeah, yeah
Ask about her ways and her secret life
Ask her if she thinks she can sleep at night

- "Love with a Motive"
Tags: The Audition, Love with a Motive, Theme Song, Boys, Relationships, Life
We were both young when I first saw you...
Yes, that's right. THIS song.

Can't stand country music or Taylor Swift's strange mouth/teeth. I even managed to avoid it at all costs until last week.
Now the damn song won't leave my head.

I love it.

Good song ending, cute music video to go with it.


He knelt to the ground and pulled out a ring and said,
"Marry me, Juliet. you'll never have to be alone.
I love you and that's all I really know.
I talked to your dad, go pick out a white dress;
It's a love story - baby just say 'Yes.'



Too bad this couldn't be real life.





Tags: Taylor Swift, Love Song, Music, Romance, Personal, Life.
Across the wards as we both dissolve
So tell me dear where is it you go from here?
As you curse and peel and pose in tears
Against the wall and across the hall
Across the wards as we both dissolve
I have this habit of punishing things
That move so fast they grow out wings
That sneaks through houses as we barter for sleep
(So just let me hide)

I wish I had you in my lungs
I'd blow you up and block the sun
To save everyone from this brilliant light we've won

And our bodies got so much clearer
With dirty blood and thirty last calls
So fill it up and spin forever down the wall
I throw it up just to watch it fall

Through the window you looked much sweeter

Tell me something bout a lonely night
Burnt by the steam from a better life
But your lottery touch feels lucky enough
Refugee hands from a gin war.
I know a place where we can rest tonight
But when the bombs start falling... you've got to open your eyes
And I just hope that I have mine
I just hope that I have.

I wish I had one hundred thousand pounds
Id crack the ground as your struggle for sound leaps
From town to town to town

Share your spoken wealth
Share your body's health
I need it more than I need myself
I know you'll leave with the kings reprieve
I guess that's just fine by me

Through the window you tasted much sweeter


---------------------------------------------------------------------------------------------------

Whether I feel sick body wise, sick in the head, or just sick in the heart, Nick Torres sings me to sleep.

I'm considering just flying out to his shows because I doubt he's going to come back over here any time soon.
Tags: The Gin War, Cassino, lovely lyrics, life.
love&reverie
Love can make some people act really fucking stupid.
Or at least cause them to says some of the stupidest shit.


Quote:

"Baby I love you! HAPPY 3 MONTHS! <3333333333!!!1111!!!"



Girlfriends are shitty.
I don't think I miss being one.

Most guys with girlfriends are shitty too.

I am a cynic.

I know what it's like to be in love.
However, I don't think I want to be in love any time soon.

I want to exist normally
with some sort of life security.
No false hope.
No pressure.

My boss told me a while back:
"This ain't the field if you're looking for love".

How true it is.

--------------------------------------------------------

I'm a loose bolt of a complete machine
What a match:
I'm half doomed and you're semi-sweet

So boycott love
Detox just to retox
Tags: Life, Love, the pursuit of happiness, and some fall out boy.
Left on my doorstep.
Last Friday I was walking home from the train station after a pressing day at work.
My mind was racing with a ton of conflicting thoughts that were really bringing me down...I was just not in the mood to socialize or do anything for the rest of the night.

As I stepped onto my porch I noticed a package addressed to me.
I opened it, full of curiosity, as to who would send me anything.
Enclosed was a handwritten letter and three cds with my name on it.

To my surprise a guy a know reminded me of a conversation we had to be pen pals. He took the time to make three mixed cds about life and us and tell me exactly how he felt.



I was completely stunned.
The cds are amazing...full of songs we've talked about, some songs I know, and songs I've never hear before but now love.

I hope that someone does something like this for you one day. I think we all could use a nice gesture like this.

With that, here's the track listing to cd one. I might post the rest in the future, but some things should be kept a little private.



Quote:

Taking Back Sunday- Your Own Disaster
The Starting Line- Island
Anthony Green- She Loves Me So
Brighten- We Are Birds
CocoRosie- Werewolf
Cold War Kids- We Used To Vacation
Days Idea- Ideas
The Format- She Doesn't Get It
Counting Crows- A Long December
This Providence- My Beautiful Rescue
The Dear Hunter- Red Hands
Death Cab For Cutie- Transatlanticism
Brighten- What She Really Wants
Tags: Letters, Happyness, Friends, Love
Conundrum
"i am in love with everything that is broken and sometimes,
i like it that what's broken, is in love with me." - petey


I decided to leave the comfort and safety of what I knew for the past 5 years
and take a chance on real life.

I want to be challenged.
I want to feel passion.
I want to wake up without wanting.
I want to be understood.

I don't want to make this about you.
But it usually always is.
It's always about all of you.

I want to believe that all of this will come together someday
That I can build a life that I'm proud of.

Believe.
We all need a reason to.
Tags: Life, Love, The Pursuit of Happiness.