| | | | |
| --- | --- | --- | --- |
| 's Blog | | | | |
The Pen, The Page, The Paper

The Best and Worst Merch of 2009
Remember when 72-point block print was the coolest thing ever? Or when all those band tee designs gravitated to the side of the shirt, down near our hips. Remember when everyone wore those Glassjaw hoodies or when Glamour Kills swooped up the teenage kingdom? Thankfully, The Get Up Kids have fielded some of the blame.

Ah, those cool kids buying all those cool things. Let's explore 2009, shall we? What makes us look super cool and which makes us look like super douchebags? What makes us look like both?




The Worst Merch of 2009



The Clusterfuck Design - Nothing plain to see here! Relying heavily on the design aspect of the band tee, the Clusterfuck Design is equal parts impressive and over-the-top eye blinders. Sometimes the explosion of colors and layering works, but quite often, the Clusterfuck tends to upset the eyes and just looks plain dumb. Here are a few of this year's offenders:


Fuck Yeah Strong - Call me a prude here, but besides dead puppies and a limp penis, this is the last thing I want to see on a t-shirt. It's ballsy, yes, but I just can't get behind it. Oh, wait...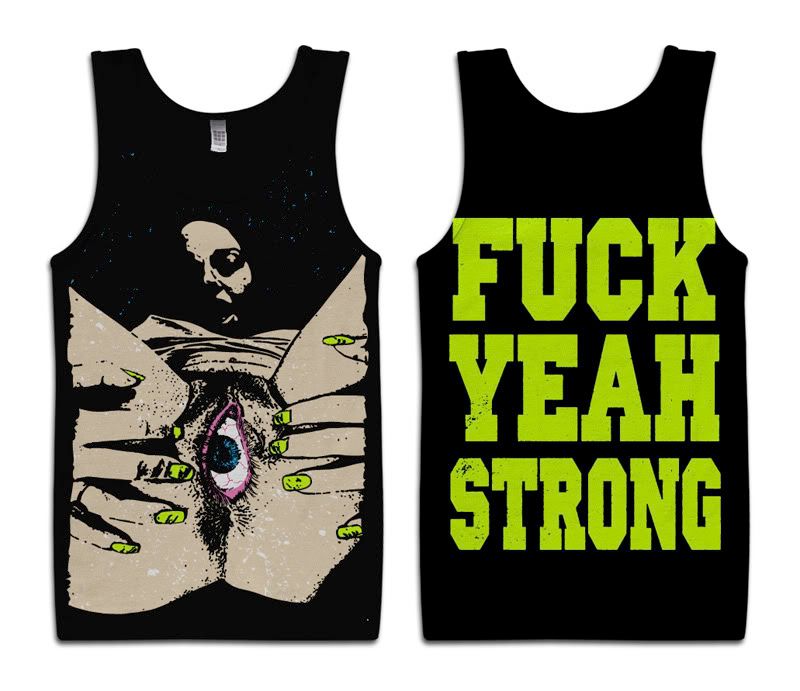 Babycakes - I'd like for bright colors to die. Part of my reasoning has to do with the fact that I can't possibly pull it off in real life, although I don't exactly dream about it, either. The other part is that it singlehandedly breeds the popularity of that new hot company (omg bbycks), and in turn, breeds a stampede of toolish pre-license teens wearing designs that borderline on kindergarten talent. Babycakes is, much to my eye-rolling, continuing this trend (and the color yellow) to the point of exhaustion, and they're actually starting a buzz! And if that wasn't enough, the company sold "I Partied On Warped Tour" t-shirts this summer. Why? Because we need more sluts diluting the afterparty, obviously.


Underoath Loves Fat Dinosaurs - Ok, but why do you love fat dinosaurs? This is an inside joke, I take it? So for those of us that aren't on the IN, the randomness of Fat Dinosaurs is mildly endearing, but it still begs the question: why would you wear this?


The Wuggie - A Weezer Snuggie. It's self-explanatory, and it also makes me wonder: why are Snuggies cool again? Because they seem pointless and moronic to me. Are we really too lazy to remove our arms from underneath the blanket? You might as well just staple the remote to your hand too.




Where's The Quality, 3OH!3? - For being one of the most popular bands of the year, 3OH!3 sure makes cheap looking shit.








The BEST Merch of 2009



Bridge Nine Records Hates Your Neon Shirt, and We Do Too - Cutting the crap and getting to the point. Thank you to Bridge Nine, the notoriously badass hardcore label that summed up their choice feelings about current styles onto one t-shirt on this year's Warped Tour. The best part: your cred shoots through the roof when you slip on this black number.




Jac Vanek Bracelets - They're not incredibly inventive at all. And they're probably pennies on the dollar to make. And yet, Jac Vanek made a killing at Warped Tour this summer selling each of these trendy puppies for ten whole dollars. And it's cool to wear more than one, so I hear? See what I'm saying? Exploit the youth and your profit can be enormous. Looks like this scene queen got it right.



All Time Low Nothing Personal Line - Cute quips from these pop-punk darlings aren't new to their repertoire - we already knew the All Time Low dudes are a goofy folk. But bring a new album titled Nothing Personal into the merch mix and there's just about a million places we could go with this. It was almost a stroke of genius. All Time Low gathered some universal thoughts and published them on a t-shirt. Cut your hair, you look ridiculous? If I had a nickel for every time that thought crossed my mind...

And then, to sweeten the pot, Glamour Kills made their own retort. The twitter reference was quite clever.




The Clusterfuck Design - Ah ha! It makes a comeback. See, the Clusterfuck Design (when done right) looks not only neat but skilled. A Day To Remember, New Found Glory and Set Your Goals have done it right. In fact, it usually goes hand in hand with good bands, in case you were looking for a rhyme to the reason. Except The Devil Wears Prada. For being pretty sucky, they racked up a sweet collection for sale at Warped Tour this year.


Thursday Is More Than A Stupid Scene Shirt
- While their Stupid Scene Shirt could be the best mockery in recent merch history, the serious side of their collection is actually quite good. The black & white numbers are
stunning and simple
. They still won't top the general awesomeness of what you see below, however, but across the board, Thursday prove to be merch pros of 2009.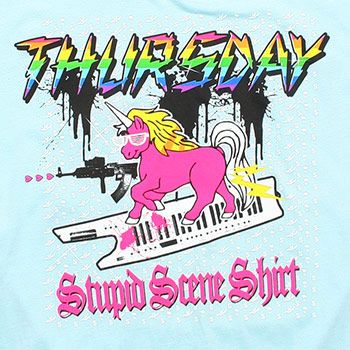 Fun is fun.
- Genuine, clean cut and still looking nice, fun. merch isn't ready to embrace the more severe section of a crayon box, and yet it's standing out from the crowd. It's the first time I've craved a t-shirt with just letters on it since before 2003.
Tags: sounds of buzz, merch, 2009, list
I'm making this.
It's a quilt from old band tees, because I never wear them but I'm too sentimental to give them away. I'll be sure to post the finished product.




But I just couldn't bear to cut up these two.


Tags: craft, merch
Mega Mega Spring Break Update
Wow. I've been neglecting my blog and my Google Reader. This might be a dissatisfaction with my nose, which has been running so bad that it's motivating me to stay away from updating activities. Even so, my spring break has been fruitful, if you can believe that, with things and more things.

Right now I am relaxing in a Les Savy Fav phase. Art rock and post-punk, humph. Howling vocals. Yes, damnit. Sometimes I can't get enough of it, and I imagine it's great live too, or at least sounding live, as we will experience on April 29th when the band releases a live album, After The Balls Drop. Kevin Devine put some new demos up on his myspace too, and you know how I feel about that Brooklyn boy. Oh yeah, and apparently I like Atreyu, but more on that later.

You Me and Everyone We Know won the Unsigned Merch Hook-Up! Good for them. Every band in the contest deserved that merch (hence the reason why they were IN the contest), and I hope that the potential 1000 dollars of profit finds this band well, which I'm sure it will. I'm sure I will have to battle off their haters; lots of people still think the band is signed to Drive-Thru, despite the fact that they AREN'T and it's common knowledge enough. But really, they won fair and square. Have a problem with this? I'll be more than happy to discuss with anyone who would like to know the full, detailed list of reasons why they are as unsigned as any of their competitors.

Here is my past week, summed up into bits and minor details.

Friday, the 14th:
Interview with Panic at the Disco, which had to be rescheduled for this coming Tuesday. Popped some cough drops and rested until I said screw it and made my way to Starbucks for some me and computer time. Katherine and I went and saw Naomi Watts in Funny Games at the screamingly hipster (but always worthwhile) Charles Theatre. We, of course, got crepes at Sophie's Crepes beforehand. All in all, a complete day and a great start to my spring break.

Saturday, the 15th:
Work. Show with The Unseen and A Wilhelm Scream. I was definitely not punk rock enough for this crowd, but AWS was astonishing. HANDS DOWN one of the best live bands I've ever seen. The phenomenal guitar work was even more phenomenal on stage. Liberating, even. We didn't stay for The Unseen because it was a Saturday night and we are riddled with lameness for our couch and cat. That's alright though, I've seen The Unseen some four/five years ago with Stiff Little Fingers and Dropkick Murphys. And that's a show I'll never forget.

Sunday, the 16th:
Take Action Tour at Rams Head Live. Show review coming soon. This was the first time I've seen Every Time I Die. Realization hit that I have a full-blown singer crush on Keith Buckley. Musicbox Mom was awesome and let us chill in the section near her booth, which meant that I could see the show perfectly. Dustin from August Burns Red used to be in Stretching Amber Skies, a teensy hardcore local band we used to book back in Frederick and Hagerstown. Now he's playing to floors stocked with eager youngsters. Music can be a ticket out. It was good to see him play - it reminded me why I think it's important to start from the ground up, which in my case, means organic church and grange halls, a shitty sound system and a generally awesome time. I almost (read: totally) miss the Leitersburg Grange and Generation Next.

Monday, the 17th:
Work. Running out of work, taking a quick shower and then hopping into the car to haul ass to Virginia. Ah yes. On this eventful Monday, Jac and I headed to the Taste of Chaos tour at George Mason University. Bullet For My Valentine, Atreyu, Avenged Sevenfold, Blessthefall ... not really my scene AT ALL, but the experience was hilarious. Really, the day was awesome.

The interview was set for 5:15, but there was barely any reception and trying to call my on-site contact was proving to be a bitch. With a little detective work and a conveniently-located friend working the Alt Press table, we found my contact at the band's signing and grabbed some time with Dan Jacobs, guitarist of Atreyu. Here's the thing about interviews at AP.net - once you make the news post, it's set in stone. You do all you can to get the interview. A couple of my interviews had fallen through the wayside after this confirmation, but I wasn't going to let this Orange Country assumed metalxcore slip away from me. And I'm glad I didn't; Dan was very nice and it was a cute little interview. I'll have it up soon.

Tuesday, the 18th:
Starbucks all day to get some schoolwork and other work done. I laid low to try to boost my immune system. Damn the sniffles. Ordered Veronica Mars - all three seasons - on Amazon because I couldn't stand trying to stream on those damn Japanese websites. No more misery, I proclaimed.

Wednesday, the 19th:
Work. Recher Theatre to flyer the sold-out Yellowcard and The Spill Canvas show. Hopefully one day I'll get the chance to see TSC. I hear they're a solid live act.

Thursday, the 20th:
Racing Kites & The Years Gone By at Sonar. Two cool bands consisting of cool people. I wish them both the best of luck. Got my Lydia review up (read here) finally.

Friday, the 21st:
Closing at work and then home to relax with Duke. Watched American Hardcore, which got me pumped for Ian MacKaye (like always) and wishing I could have seen the early eighties. The documentary did a wonderful job of life-ing the essence of what hardcore was during that time period, and it interviewed tons of bands, many more than I expected. This isn't the film to watch if you are looking for a Black Flag memoir, which I can respect because that's not the way it was back then - all and only about Black Flag.

Saturday, the 22nd:
The Second Sunrise CD release show in Waldorf, MD. This band is so talented, there are only a handful of MD bands that compare, IMO. Once Jac and I got to the show, we bought the album and headed to my car so we could listen. And admire. I really want to open more people up to this band. I am going to be working on this as hard as I can.

After the show, we all headed to the band's newest member's house. James' parents were gone; we partied hard. It was a blast, and as destructive as the word blast can get. I don't drink as much as I used to (I know, I know ... I'm a bad 21-year-old), and it was glorious to let loose and have tons of fun. It was a night I'll never forget, but I'll spare you the hilarious details. I'm sure they won't be as funny if you see them on the computer screen, although we did get video footage. Oh noes.

Oh yeah, and I drunk dialed a certain someone. But it was well-deserved after his Canadian casino expedition, except my phone call won't ring up 50 bucks of roaming charges.

Sunday, the 21st:
Came home from the festivities and slept late to replenish. Worked on details for our April 29th show at The Ottobar. We have something big up our sleeves for that show. Once we get all the details confirmed, I'll update all of you on the super secret, which will hopefully be tomorrow.

Well there you have it. I've lived to tell an exciting tale.
Tags: party, spring break, mega update, unsigned band merch hook up
Unsigned Band Merch Hook-Up Finalists - Vote!
Forget Paris
- Naugatuck, CT
___________________________________ ____________________
Lansdowne
- Boston, MA
___________________________________ ____________________
My Getaway
- Palm Coast, FL
___________________________________ ____________________
The Rise of Science
- Atlanta, GA
___________________________________ ____________________
Team Goldie
- Landenberg, PA
___________________________________ ____________________
The Years Gone By
- Freehold, NJ
___________________________________ ____________________
You Me and Everyone We Know
- Washington, D.C.
Tags: unsigned band merch hook up, contest, video
What the Hell is a Dinger, and My Top Seven of Them
MY TOP 7 DINGERS, AS EXPLAINED BY JOHN SELLERS.

"...an album that lacks a song (or more commonly, songs) that you tire of in five plays or fewer."
- from Perfect From Now On, How Indie Rock Saved My Life

1. Jimmy Eat World, Bleed American
2. Brand New, Deja Entendu
3. Hey Mercedes, Evernight Fire Works
4. Manchester Orchestra, I'm Like a Virgin Losing a Child
5. The Format, Interventions & Lullabies
6. Further Seems Forever, The Moon is Down
7. Death Cab for Cutie, Transatlanticism

Sellers loved U2, and Klosterman loved KISS, but other than that, there isn't much of a difference between their writing styles. Both are witty a fuck, both overuse footnotes, and both know way too much about music (and music videos: Sellers just spent a whole chapter ("The Reflex") on channel flipping through the first MTV programming and Klosterman has spent many pages detailing his experiments through 24-hour VH1 80' video marathons). The only difference is that Klosterman is a hybrid of small-but-big-instances-in-life commentary and useless music trivia, whereas Sellers never cared to find out as much about U2, Duran Duran or the rest of the acts that put him above the learning curve. He just comments, where it's big or small or insignificantly earth-shattering. I like Klosterman - actually, I love him, quite literally and obsessively - but Sellers is much less intimidating.

Either way, no one will ever top Azzerad.



IN OTHER NEWS...

I need ideas for my music column for The Towerlight. Lend me your brain thoughts. Here's my column for this week. It's all about All Time Low recording with Hoppus, which is really newspeak for I am really running out of topics, please help.

Found this on Wired the other day. Two sites - Sellaband and Slicethepie - are trying this new music model that I find incredible interesting and slightly clever but a potentially gaping walkway for major trickery. Basically, they have fans donate money, or "invest," in a band. The band makes money, records an album, scores a deal and conjures up a successful career, or something along those lines. The "investors" stay present and on the "in" for the whole ordeal, thus providing a motivation for the "investment" in the first place. Myspace bands are one in a million (more like 8 million, to be more precise), and this could be a definitive way to separate them from the pack. Even so, I think there is nothing more supportive then heading to a show. It's not an investment, but it's more constructive than ten bucks.

Today, London, Sarah and I are headed to DC to see The Gay Blades. This should be interesting and fun, as would be anything as long as Clark Westfield is involved. Thursday I post the semi-finalist poll for the Unsigned Band Merch Hook-Up, and I'm pretty pumped. After that goes up, the contest will be a whole lot more exciting for all parties and a whole let easier for me. Yesterday, Jac and I bought a very special domain name for a new project we are working on. And Friday, sweet Friday, Passed Out Promotions turns four years old.


I want to see a movie. What's good in theatres? And don't say Vantage Point.
Tags: the gay blades, merch hook up, the towerlight, sellers, azzerad, klosterman
Unsigned Band Merch Hook-Up - Semi-Finalists
A Love Like Pi
- Red Bank, NJ
The Appreciation Post
- Boston, MA
Brave Citizens
- Los Angeles, CA
Call It A Night
- Poughkeepsie, NY
Downers
- Waterford, MI
Ecco
- San Luis Obispo, CA
Forget Paris
- Naugatuck, CT
Go Radio
- Tallahassee, FL
Looking Glass Wars
- Westchester, NY
Lansdowne
- Boston, MA
Measured in Grey
- Newburgh, NY
My Getaway
- Palm Coast, FL
The Rise of Science
- Atlanta, GA
Team Goldie
- Landenberg, PA
Therefore I Am
- Boston, MA
The Years Gone By
- Freehold, NJ
You Me and Everyone We Know
- Washington, D.C.
Tags: unsigned band merch hook up, contest, stream, voting