| | | | |
| --- | --- | --- | --- |
| 's Blog | | | | |
The Pen, The Page, The Paper

Warped Tour '09 - Pittsburgh, PA
As if I could love P.O.S. anymore...




Interview coming soon. Very cool guy to chat with. Get pumped - Astronautalis and P.O.S. collab album in our destiny and I couldn't be more thrilled.

I've come to realize that all my video interviews are going to look like this (minus the handcuffs):



Being short is trendy, yes it is. You can read my full Pittsburgh update here.

We're in Cleveland tonight. I believe our bus call is at 2 a.m. Uh oh. My awesome photographer friend Adam Elmakias is leaving today. Womp womp.
Tags: warped tour, pos, interview
Hey j-j-jaded, you got your mama's style.
This is a great blog post about what you should and shouldn't do as a band.

Granted, I'm not in a band. I'm OK with this fact (as are my little, fret board challenged fingers), but these eyes have seen it all. I've seen bands succeed, I've seen some fail miserably, and I've seen a good bunch ride the middle line and rock a half-mast of popularity. Not that I want to be that asshole that tells a group of young, hard-working and optimistic musicians that they'll probably go no where with this venture, but it's true 99 percent of the time. Sometimes, you can just look at a band and know that they're not gonna go very far.

I never used to be this way. I used to have saucer-eyes and a wide open heart for dudes with guitars that really loved playing music. I would pass out flyers and write reviews for them because even though most - once again - rode that line of mediocrity, I still liked to have faith in the ideal of music.

It sucks that I'm 22 and I feel jaded. I listen to some of my ALL TIME favorite bands and I'm not even convinced that they can make a splash anymore. I listen and just know that they're gonna fizzle. This is just the tip of a much, much more complex iceberg, but will it ever be like the old days? Will there ever be a chance for a band to be more than just another band? Or do I just have blinders up?

Sorry to be a Debbie Downer tonight. If you can believe it, I'm actually in a pretty good mood.
Tags: ranting, blog post
Then again, anything is possible - like holograms.
Today was a good day. I felt inspired. Watching The Daily Show right, and Jon Stewart is talking about CNN's holograms. If you missed the sweet technology, or even missed our grand election day thread last night, well, I'm sorry. It was an awesome night, and subsequently, an awesome night on AP.net. I was unaware that technology was advanced enough that holograms were indeed possible. Then again, we've learned that anything is possible.

Finished a flyer for our November Show N Bowl.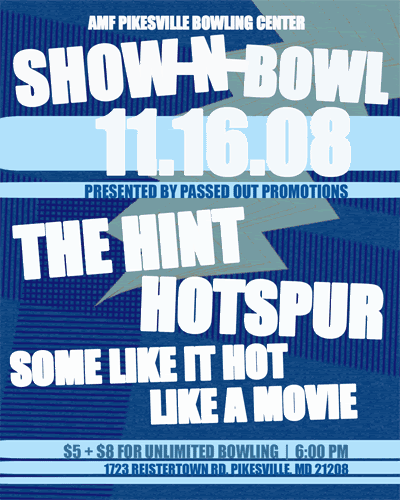 My family and I are planning on attending the January inauguration. My parent's went for Clinton's and now, it's about time we all went together, especially because I'm of legal voting age now. All of this just feels so cool, so surreal. And no one can take it away from us.
Tags: post election, flyer, passed out promotions, books