| | | | |
| --- | --- | --- | --- |
| 's Blog | | | | |
The Remnants of Uncertainty...

Climbing the Charts
Guess who's climbing the AP leaderboard as far as blog views?




That's right, I'm currently sitting pretty at the #14 most viewed blog on the site. Considering that I've been on this site for only about a year, that's pretty awesome. I'm really enjoying blogging and starting to expand my horizons a bit. Thank you all for the support and I'll keep posting!

Also, get ready for the Razia's Shadow preview, I'll have that video up soon!
Tags: blogs, views, top blogs, me, personal, razia's shadow, preview, thanks
Funny Thing Is...
I met the girl of my dreams tonight...


hmmm, is anyone interested in some thoughts on the new Anberlin, Gym Class Heroes, and House of Heroes? How about a Razia's Shadow preview?

Stay tuned...
Tags: girl, personal, music, reviews, previews, anberlin, gym class heroes, forgive durden
Fall 2008 Television Preview: Part 1


Hey Everyone! I promised I'd get this done and I realized it would be easier if I did it in many parts. A bunch of shows start this week, so I'm going to preview those first. Then, later on will be all the shows that start a bit later (I'm looking at you Pushing Daisies) and my reactions to some of the new shows (Fringe, Life on Mars, 90210, etc). Finally, Midseason Replacements and other late start shows (Scrubs, Friday Night Lights).

So for Part 1, I'm going to preview Heroes and How I Met Your Mother. In Part 2, which I'll release before Thursday, I'll preview The Office, Grey's Anatomy, Brothers and Sisters, and the Simpsons. By Sunday I'll preview more shows and give reaction to some of the new shows coming out.

Heroes:



Heroes returns after an entire year off-air due to the writers strike. You may have forgotten what happened at the end of Season 2, so let me refresh you.

Peter Petrelli lost his memory, Adam Monroe used this to his advantage to try to get Peter to help him break into the Primatech company in Odessa, Texas that contained the deadly Shanti virus. The other characters, suddenly separated after coming together to stop the first threat in New York, begin going on different paths to try to stop this virus from being released. Matt Parkman and Nathan Petrelli work together to stop Adam and Peter. Peter starts to fight back but is brought up to speed by his brother just as Hiro Nakumura appears and takes Adam away. Upon doing this, Adam drops the virus, but Peter stops it from breaking right before it hits the ground.

Meanwhile, Niki and Micah try to save Monica from a burning building and succeed. But the building explodes while Niki is still inside. Also, Silar has Mohinder, Molly, and Maya hostage as he demands Claire's blood so he can regain his powers. Speaking of Claire, she is on the brink of revealing the company's secrets and even dumps West over it, but is stopped by Noah, who says that he has struck a deal with the company.

In the final scene, Nathan, Peter, and Matt hold a press conference in an attempt to devulge their secrets. But just as Nathan is about to reveal he can fly, he is shot by an unknown assassin. We then learn that his mother had something to do with it. Also, Sylar escapes with Clarie's blood after Elle comes in and kicks some ass, but once Sylar injects the blood he is shown regaining his powers.

Villains will be an interesting, darker chapter for this show that is trying to recover after a sub-par and truncated second season.

How I Met Your Mother:



Season Three of How I Met Your Mother was mainly Ted and Robin getting over their breakup while Marshall and Lily adjusted to married life. Barney stayed the same for the most part, still going out on the town and conquering woman on a nightly basis. Ted finally met Stella, whom he fell in love with. Right after Ted breaks up with Stella because of his fear of committment, he gets in a car accident and rethinks his decision. Barney, whom Ted isn't speaking to, hears of Ted's accident and runs to the hospital only to get hit by a bus on the way there. After seeing Barney in awful condition, Ted makes amends with his 'bro' and goes to win Stella back. Barney looks at Robin in a different way from his hospital bed and Ted shockingly proposes to Stella.

Season 4 will be interesting. Are we finally going to meet the mother? What will Stella say? Is Barney really going to love a girl?

And that's it for now. I'll be back soon with more fall television previews!
Tags: tv, television, video, preview, heroes, how I met your mother, nbc, cbs
Think (Video)
If you don't like reading my long rants, you can watch me do it on a video. Some people find this way more engaging... so I'm going to try to make videos occasionally to supplement the things I write and keep everything interesting.



I have a lot of music and movies and tv shows to talk about, especially with the new fall season coming, I'm just having a crazy week. I'll try to get on all of this and get it out by this weekend.
Tags: personal, video, plans, preview, life, rant
MVP
I have a playlist on my iPod that I've been overplaying for the last week or so. I call it my 'MVP' mix. Why?

M - The Mile After
V - Valencia
P - Promise of Redemption

And these three bands have put out some of the best albums I've heard this year, in the pop-punk genre at least.

The Mile After has a raw sound with a great attention to detail. Their harmonies and breakdowns are incredible for such a rookie band. Not every song is amazing, but more than half on their album Armada are incredible. "Piano Song", "The Only One", "So Damn Easy", "That's The Way It Should Be" and "Money Is Not A Thing" are all great songs that range from unique poppy gems to power ballads to epic marathons. I'll review this album soon enough, but I thought I'd recommend it now so people can start to hear about this band.

Valencia went from being somewhat of an afterthought to maybe one of my favorite bands and definitely one of my top-10 albums this year. Not only do the lyrics have more meaning and substance than any other pop-punk album I've heard this year, but the songs are solid, well-crafted, catchy, and have the 'in-your-face' quality missing from the genre lately. I don't understand why a band can't sing pretty while rocking? Why does it have to be all about auto-tune and synth lately? Valencia brings back crunching guitars, driving drums, and a singer that has a solid voice without singing through his nose. "All At Once" is maybe my favorite song I've hear all year, "The Good Life" is the perfect summer sing-a-long, "Where Did You Go?" makes me smile and want to cry at the same time (smile for the upbeat song, cry for the emotional lyrics), and "I Can't See Myself" is a sick jam. Valencia's We All Need a Reason to Believe IS the reason to believe in pop-punk again. And I say this knowing that it has been said by many people already... but it really does live up to the hype.

Promise of Redemption released their album When The Flowers Bloom months ago, but I finally checked it out to see the contrast with Valencia. Shane really pours his soul into this album. The title track "When the Flowers Bloom" is heart-wrenching and powerful, "Remember the First Day", the alternate and original version of Valencia's "Where Did You Go?" is beautiful and touching, and "How Fast" is the song that defines me. The album is chalk full of ballads about Shane's girlfriend who passed away, which really powers the emotion behind the record. While the album is not completely perfect, it has more than enough to be worthwhile. If anything, the pure emotion behind the songs makes this album worth having.

Three recommendations, get them NOW.
Tags: the mile after, valencia, promise of redemption, recs, recommendations, reviews
Simply Not
Life has been a bit crazy lately. I definitely want to get back to writing my reviews and poems and whatnot, but I've been going on spontaneous trips and getting a job and making life-changing decisions every day. I'm going to see Paramore and Jacks Mannequin tonight, so I'll review that as well as catch up on all my craziness soon enough.

Stay tuned...
Tags: personal, album reviews, show reviews, paramore, jacks mannequin
Entertainment Blog #4 - 07/20/2008
So, I haven't been blogging much lately which could come as a disappointment or a sigh of relief depending on how you like my blogging. I wanted to get back on track though and what better way than to get back to my entertainment blogs! This week we have an all music edition because frankly, the only movie I've seen recently is The Dark Knight, and I had a whole blog on that already. I also haven't finished any books lately so here are 4 album reviews!

We Shot The Moon - Fear and Love
Release Date: 04/01/2008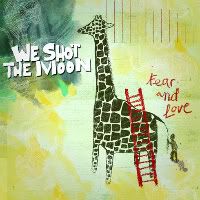 This album came out the same month as Forever The Sickest Kids, The Cab, and Augustana. The band definitely had a little bit of hype on this website, but the album seemed to go fairly unnoticed. Fear and Love is singer/songwriter/guitarist Jonathan Jones' first full-length album since the unfortunate split of his last band Waking Ashland. We Shot The Moon still has that signature Jonathan Jones sound but is more polished with an improved range musically and vocally.

The album begins with the energetic "The Waters Edge", a immediately catchy and steady song. Following this is the first single, "Sway Your Head". This song is an excellent choice for a first single. The chorus will make you jump and up and down and the guitars, drums, and bass compliment the piano hook perfectly.

"Tunnel Vision" is a beautiful ballad that shows the best of Jones. An elegant piano hook under his honest and smooth vocals really makes this a standout track. "Julie" is another standout song that is very reminiscent of the 90's. "Hope" is probably the best track on the album. The rise and fall is executed perfectly and the chorus is outstanding. Jones' range is really showcased on this song and the lyrics are simple but still honest and relative. The album ends with "Please Shine", another great ballad that ends the album in a great way.

Most of the tracks are well crafted, with catchy hooks and good instrumentation. Those who liked Washing Ashland shouldn't be disappointed. This isn't a simple, tired-out pop-punk album, instead it is an album that is catchy, well-written, and flows nicely.

Alkaline Trio - Agony and Irony
Release Date: 07/01/2008




Alkaline Trio has had a successful career and never released a bad album. They've always been consistent with the quality of their releases, their sound has evolved but never too much in one fell swoop.

So when word of Agony and Irony began to spread, many fans were hoping for a return to the pre-Crimson days. Though Crimson was an excellent album, fans can say they got what they asked for with this newest release. Agony and Irony is a solid rock album.

"Calling All Skeletons" starts with Matt Skiba's strong vocals and a rockin' riff that kick starts the album. The first single, "Help Me" is next, an AK3 style pop song that showcases Skiba's range. The chorus is extremely catchy and the song is solid, though definitely not one of the better songs on the album. "I Found Away" is a chilling song with a powerful chorus.

"Do You Wanna Know?" is sung by bassist Dan Andriano. This is a standout track with excellent vocals and an insanely catchy chorus. "Love Love, Kiss Kiss" is a classic love song in the AK3 vein, with eloquent mockery in the lyrics. "Lost and Rendered" is the hardest song, with a crunching guitar and a huge chorus. The album ends with "Into The Night" another powerful rock song with great harmonies.

Alkaline Trio does a great job implementing their classic punk and rock roots with their pop sensibilities on this album. The instrumentation is powerful and energetic, while the vocals are excellent with a slight edge. Overall, this album is classic Alkaline Trio. A great combination of the evolution of their sound over the last decade.

The Academy Is... - Almost Here
Release Date: 07/06/2005




"Attention, attention, may I have all your eyes and ears. To the front of the room if only, if only for one second."

The Academy Is... gets more than a second of my attention with their debut full-length Almost Here. This album is a classic example of the perfect pop-punk formula. The vocals are unique, yet incredible. The pace is steady and uplifting. The lyrics are simple yet not awful or contrite.

The aforementioned lyrics come from the opener "Attention", an appropriately-titled fun track that sets the stage for what is to come. "Season" is fun song that makes you want to jump up and down. "Slow Down" is maybe one of the best pop-punk songs of all time. The vocals flow smoothly and the melody is unbelievably catchy. The chorus swells and the instrumentation is perfect. This is a song you could know every second to by heart and never tire of. "Black Mamba" shows a bit of the edgy side of TAI while singer William Beckett croons about the music industry and his band's struggle.

"Classifieds" is a good song but is lost amongst the others. "Checkmarks" is song that continues the smooth, almost jazzy flow to the album during the verses but has a bit of a dark edge in the chorus. "Down and Out" is a song that slowly builds and really showcases Beckett's voice. Finally, the album ends with "Almost Here", a pop-punk anthem that ends the album perfectly.

Almost Here is a classic pop-punk album that isn't just filler with pretty voices, the lyrics actually have some depth to them and the stylings of the album go beyond most anything else the other tired out bands put out in this genre.

1997 - A Better View of the Rising Moon
Release Date: 04/07/2007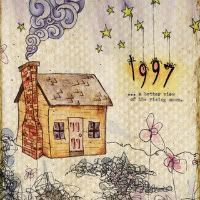 1997 hasn't had the most stable run as a band. But their debut full-length A Better View of the Rising Moon is some of the best incorporation of a male and female vocalist I've ever heard.

Arguably, the best three songs of the album are the first three. "Water's Edge" begins the album in a simply elegant way. A xylophone and some soft guitar anchor the first part of the verse and the pre-chorus has a beautiful dueling vocal performance by keyboardist Kerri Mack and singer Kevin Thomas. The song hits its stride at the end with some beautiful harmonies by both singers. "Garden of Evil" is an insanely fun pop song (definitely helped by all the people hooting and hollering during the second verse) with some very catchy hooks. "Hey Darlin" begins in a big way and stays strong throughout.

"Grace" brings the album to a perfect intermission. A powerful ballad sung entirely by Mack really shows her skill not only vocally but on the piano as well. "Tennessee Song" almost doesn't fit in with the rest of the album, but is an interesting song nonetheless. It flows steadily enough, but never really hits its stride. "Dropping Dimes" is a poignant song about a troubled relationship with a Father. Mack's verse really touches you and the chorus is powerfully honest. Album closer "Curse or Cure" isn't the best album closer, but it gets the job done. The very end of the song is full of beautiful harmonies, so that definitely helps.

1997's debut album is a gem in the pop-punk, guy-girl singer genre. It sounds somewhat like Straylight Run, but also a bit like The Morning Of. Overall, this album isn't perfect, but it sure as hell sounds good.
Tags: we shot the moon, alkaline trio, the academy is, 1997, album reviews, recs
Entertainment Blog: Dark Knight Edition
THIS REVIEW CONTAINS NO SPOILERS! YOU CAN READ IT WHETHER OR NOT YOU HAVE SEEN THE MOVIE!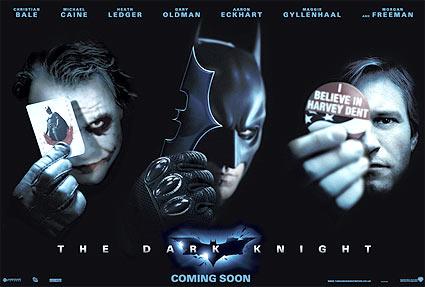 Where do I begin? How about we begin over a year ago... When word of this movie began to spread, people talked about it and were very interested to see what this movie would become. As the months went by, every bit of news was more intriguing. Heath Ledger as the Joker? Aaron Eckhart as Harvey Dent? Maggie Gyllenhaal replacing Katie Holmes?

Then of course, the news of Ledger's death put a dark mark on the project. People wondered if his death would cause people to exaggerate his brilliant performance or put the film in a bad light.

But none of that mattered in the end. All that mattered was that this movie was brilliant. A masterpiece. It exceeded expectations. Expectations that were set higher than I could imagine by outstanding marketing, an extremely obsessed fan base (me included), a preceding film that set the bar high as it was, and an all-star cast/director.

I'm still in shock. I'm trying to write a coherent review but I can't even grasp this movie right now. I'll try to break it down.

The plot... flawless. Every character was incredibly important. With all the spoilers and clips flying around, the movie still managed to keep you guessing throughout. The character development was the best I may have ever seen. I couldn't believe that a summer action movie was actually making me feel this way and that I was getting so deep into the character's heads. Harvey Dent was dynamic and a man of raw emotion. The Joker was maniacal and hilarious. Simply the most gruesome and perfect villain I've ever seen. Bruce Wayne/Batman was guarded, troubled, and righteous. Rachel was tough but lovable. Even Alfred, Gordon, and Lucius were deep characters. I was blown away at how the movie displayed that many characters in such detail.

The acting... outstanding. Christian Bale portrays Bruce Wayne/Batman better than anyone ever could. Aaron Eckhart's charisma and emotion are something else. Heath Ledger plays the most chilling, scary, and lovable villain I've ever seen. He deserves recognition of some kind (yes, I'm talking to you, Academy!) and couldn't have ended his unfortunately short career on a higher note. Maggie Gyllenhaal is fantastic, Gary Oldman is incredible, and Morgan Freeman is as usual, top-notch. Pay attention to the way the characters interact: Batman and the Joker, Harvey Dent and The Joker, Rachel and Bruce Wayne, Rachel and Harvey Dent, Alfred and Bruce/Batman, Gordan and Dent, etc. These actors mesh so well together and are never uncomfortable. I can't imagine how much they pushed each other to be so outstanding in their performances as an ensemble and individually.

The direction... masterful. Christopher Nolan not only managed to co-write this fantastic screenplay, but he directed a masterpiece. Granted, he had extremely talented actors to work with, but he pulled something out of them that I haven't seen before. Even elite actors like Bale and Oldman and Freeman were something else, and Heath Ledger was something I could never imagine. I can't see anyone else playing that part better. Nolan also created these incredible action sequences without going overboard. Nothing about this movie needed to be improved, every scene was essential, and 3 hours didn't even feel long enough. THAT is good directing.

The cinematography... unbelievable. You don't even see very much CGI (because there isn't) and when you do you barely notice. The action scenes aren't overblown or outlandish but thrilling and heart-pumping. The landscapes are captured gorgeously and every detail is like it is painted. Go see this film in IMAX, your eyes will love you.

The musical score... fantastic. A gorgeous and dark score that sets the proper emotion before you even realize what is going on. Watch out for a certain familiarity in the score whenever the Joker is about to come on. You will find yourself on the edge of your seat without even realizing it.

Everything else... costumes, editing, dialog, whatever you can think of... amazing. I can't believe how every aspect of this movie was nearly flawless.

Look at the words I've used to describe it: flawless, outstanding, masterful, unbelievable, fantastic, amazing. I'm out of words to describe this greatness. I don't give in to hype. I usually ignore the hype, set my expectations low, and still find myself disappointed. I am a huge critic and very picky about what I like in movies... and this movie EXCEEDED the hype. I can't stress that enough. The psychological implications of the plot and the themes of the movie are so deep that there could be a class about it.

Watch this movie and don't just blindly wait for the cool action scenes to come. Watch this movie with your mind on, you will be shocked at how big this movie is in every way. If you have seen this movie the way it should be seen, your mind should be tired when you walk out. You should be speechless for a bit. You shouldn't be able to pinpoint your favorite moment right away. And you shouldn't be shocked that three hours has just gone by.

10 stars! A++ Three thumbs up! Believe me, go see this movie now.

edit: In reality, I'd give the movie a 97% approval rating. No movie is perfect... but this one is damn close.

Judge for yourself.
Tags: batman, the dark knight, movie, review, recommendation
Entertainment Blog #3 - 07/06/2008
So it's a little late, go ahead and give me shit about it. I'm moving next week, I have a lot going on. Whoops, did I just let that slip? Whatever, time for the entertainment blog. Today we have two more album reviews, a movie review, and a TV series recommendation. Enjoy!

2008 Album Review:

Panic At The Disco - Pretty.Odd.
Released March 22nd, 2008




Oh no! Here I go. I'm reviewing this album. And here's the crazy part.

I love it.

Don't get me wrong. I loved A Fever You Can't Sweat Out when it came out. The whole 'dance pop-punk' thing was pretty cool and their sound was pretty unique at the time. Obviously the album and the genre has been ridiculously played out in the last few years, but I still enjoy it from time to time. So I was expecting more of the same when I first listened to Pretty.Odd. and instead I heard something that was indeed very odd. It would be an understatement to say PATD changed their sound and took a hint from the great artists of the past in doing so.

"We're So Starving" opens the album with a beachy hook and PATD basically lying to the audience saying that they are 'still the same band'. Of course, this song goes right into "Nine in the Afternoon", a catchy and fun and obvious choice for the first single. After that the album really starts to blossom a bit. The next three tracks are interesting and strangely catchy in a way. "That Green Gentlemen" was an instant favorite, bouncy with a unique quality.

Now, save for a few random little filler songs, the rest of the album unfolds very nicely. "Northern Downpour" is a very successful ballad, as lead singer Brenden Urie and songwriter Ryan Ross blend their voices together very nicely. "When the Day Met the Night" tries a bit too hard to be epic, but still shines. "Behind The Sea" really shows how much the sound has changed, as it is not only Ryan Ross's first song where he is the featured vocalist, but also a trippy, big band orchestration that is surprisingly good.

"She Had the World" and "Mad as Rabbits" anchor the end of the album, as the former is another good ballad that doesn't quite reach the success that "Northern Downpour" does, while the latter is a flower-rock that steadily drives you to the end of a very enjoyable album. The vocal blending of Urie and Ross are executed very well throughout the album, the instrumentation is leagues ahead of their first album, and the lyrics are decent despite a random obsession with weather (Seriously, wtf!).

The album isn't the most original in the world, but it sure as hell is better than a lot of the other pop-punk we are being fed lately. I like where PATD has taken their sound and I have a renewed faith in them. Highly recommended.

Retro Album Review:

Cartel - Chroma
Released September 20th, 2005




Cartel burst onto the scene with this beautifully crafted album back in 2005. Back then and even today, you can't really ask for more from a pop-punk album. "Honestly" is the catchy hit single, "Save Us" is the gorgeous piano ballad, and "The Minstrel's Prayer" is the powerful song that makes the album unforgettable. Add a bunch of extremely solid, sometimes spectacular songs to the rest of the album, and you have one of the best of it's kind.

"Say Anything Else" kicks off the album in a cool way, with a distant guitar and Will Pugh's sweet vocals. Then the song kicks into gear and sets the tone for the rest of the album. The first half of the album is full of catchy, pop songs that have a driving force to them. After "Save Us", the album really starts to blossom. "Luckie St" is a fast song with a sing-a-long chorus and some tougher vocals from Pugh. "Settle Down' is one of my favorite Cartel songs because it shows that they have some grit. Pugh does well with a bit of edginess to his voice. The song captures some raw emotion and really caught my ears the first time.

"The Minstrel's Prayer" begins with a marching band drumbeat that drives a gorgeous acoustic riff. The song builds on this and adds strings and the full band and evolves into something that is more than just a regular pop-punk ballad. It's a truly impressive song. The album then ends with "Q" and "A", a two-part marathon that covers most of the hooks of the rest of the album. "Q" is like any other song on the album, coming in at around 2 and half minutes, but "A" stretches past 9 minutes as it takes the listener through Chroma in a different way. It builds and builds and finally unravels until the album ends with a simple piano melody.

Chroma is above and beyond a simple pop-punk album. It's a shame that Cartel may have hit their musical apex with their first full length, but there is always hope for the future, especially since these guys put out such a brilliant record.

Move Review:

Hancock- WARNING, MAY CONTAIN SPOILERS




To say I was excited for this movie is a huge understatement. I mean, what could be better than Will Smith, Jason Bateman, and Charlize Theron in an original superhero movie?

As the movie began, the awesomeness was clear. Will Smith was outstanding as usual at becoming his character and delivered some of the funniest one-liners in any movie released this year (take that Steve Carrell and Robert Downey Jr!). Jason Bateman was very believable and honest as the PR guy who tries to improve Hancock's image. Charlize Theron looks great in the movie and plays her part well for the most part, at least for the first half of the movie.

And that's really the story of this film, the first half is hilarious and gives a good start to character development. Though it could've done with more action scenes, the plot is interesting and Hancock's transformation is definitely enjoyable to watch.

And then the twist happens.

And after that, I didn't really know what to think. The plot became a bit too ridiculous, hashed out, and hokey at that point. Too much time is spent focusing on some unnecessary plot points, and too many other questions are left unanswered. The ending is dramatic and showcases Smith's excellent acting, but there isn't quite the climax there could have been.

The movie was definitely fun and exciting, with a good cast and some cool effects. But I walked out wanting more, feeling that something wasn't exactly right with that movie. It is definitely a new kind of superhero movie. But while I was looking forward to a superhero movie that went completely against the grain, this one just didn't quite make it all the way.

TV Series Recommendation:

How I Met Your Mother - Season 1




Want an entertaining, funny, true-to-life show about 5 adults in their late 20's and their struggles with relationships, careers, money, and friendship? This is the perfect show. Nothing ever feels too far-fetched. The cast has a unique chemistry that makes you feel like you are sitting with your friends. Even the most unique and bombastic character Barney (Neil Patrick Harris) has a way of bringing it back to reality. The main character Ted (Josh Radnor) is flawed and easy to relate to in his quest to find the love of his life. He's picky and panicky, he overthinks, and his friends each have a unique quirkiness that is lovable. Marshall (Jason Segel) and Lily (Alyson Hannigan) are one of the most realistic and funny TV couples. And Robin (Cobie Smulders) is a tomboyish, but beautiful woman who manages to be just as fickle as Ted.

The season is very enjoyable and takes you through some very hilarious moments as well as some very touching and poignant ones. This is definitely becoming one of my favorite shows very quickly.


Thats all for this week folks! Thanks!
Tags: reviews, recs, how i met your mother, hancock, cartel, panic at the disco, PATD