| | | | |
| --- | --- | --- | --- |
| 's Blog | | | | |
Getting Past the Industry to Love Music Again

Five and Alive: Album Artwork (w/ special guest)
Album artwork is just one reason to buy tangible mediums. It may encompass an album's feel, or give the music a visual life.

AP.net user Cue the Sun has graced us with a lot of great art in her blog. I've asked her to give me her top five favorite album artworks.

She also drew up something special for us. Scroll past to see.

1. Less Than Jake - "Hello Rockview": This album was one of the first I ever purchased and even to this day, it has my absolute favorite album art. Not only is the front cover bad ass, but the inside is laid out like a comic strip, the lyrics inside the speech bubbles.

2. The Format - "Interventions + Lullabies": The beauty of this album artwork is it somehow manages to be rough and sketchy while still maintaining such a clean look. It's all about balance in this one.

3. As Tall As Lions - "As Tall As Lions": I love how when you listen to this album it almost brings you to a different, sort of whimsical world. The cover art visually represents that. (And who else, upon first seeing the artwork, ran their fingers across it and was disappointed that it didn't feel like a paper towel?)

4. Saves the Day - "In Reverie": This artwork is just so, so cool. There's really no other way to describe it. I love how the figures sort of look like they're cut out of paper and I love the dripping effect in the background.

5. The Matches - "Decomposer": This is the kind of art that gets embedded into your memory forever. Whenever I think of The Matches, I think of this crow. Shawn Harris does phenomenal digital work and this piece is no exception.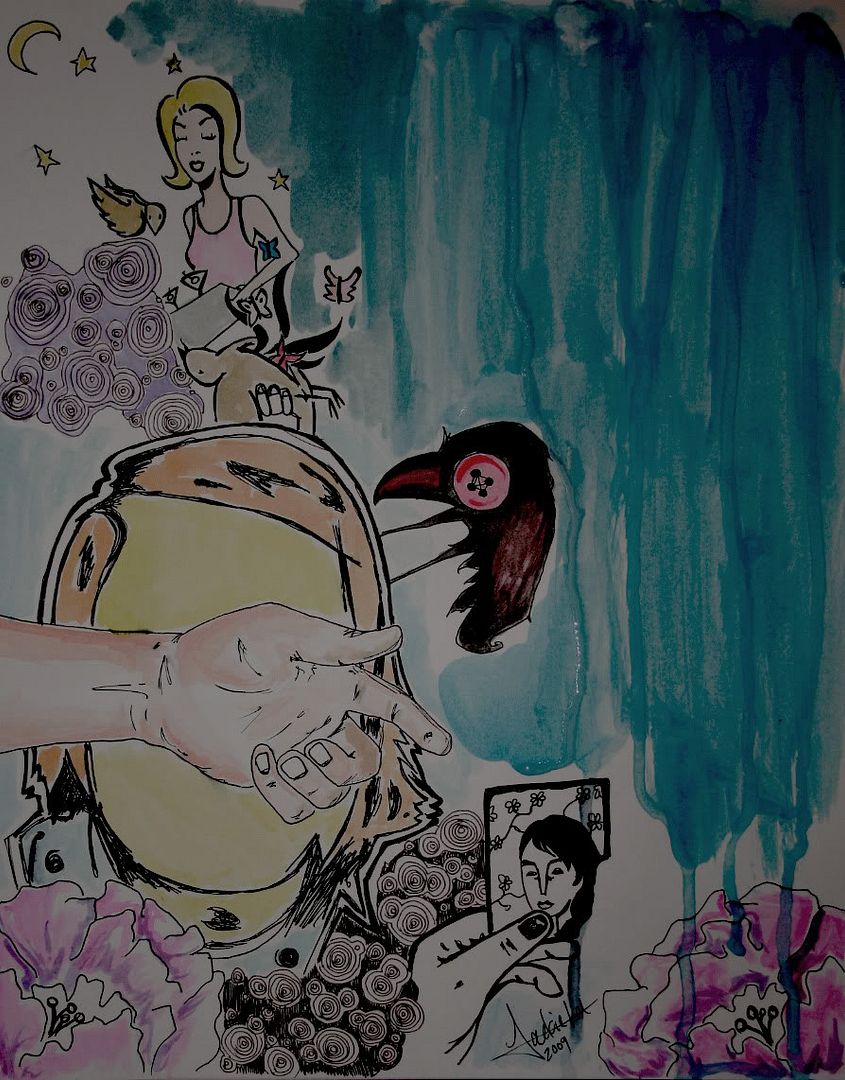 Tags: Five and Alive, Album Artwork, Tangible Mediums
Why Did I Wait, and Why Didin't You?
Today, along with the New Junk Aesthetic, I picked up Thrice's Beggars, with anticipation of a vinyl to come.

Weeks ago, I did not purchase the album digitally. Honestly, I didn't want to pay for it three times, when I knew I was going to pay for it twice.

This brings up the discussion of physical and digital releases, yet again. With the digital age, we are able to hear anticipation with the click of our index finger, or thumb depending. It also takes away from the album experience of waking up, heading to the store, and blasting it back to the house, where you will almost immediately transfer the CD, or vinyl, to a home format (probably to the computer+speakers) and continue to listen through while skimming the booklet, and awing at the album's artwork.

If you haven't already updated, this week was the release of iTunes 9. With that release, Apple announced iTunes LP, which is less a digital wax and 12 inches of artwork, and more a digital kit experience.

I hope this is not the next step in our music evolution. Virgil Dickerson had some great things to say about this as well.

Sure, if you are not a tangible nerd like me, I encourage you to continue to support great music through the new form of digital releases. I am happy that I waited to get Beggars on CD, even though I transferred it to my computer and iPod already. The artwork is stunning, and reminds me a lot of the The Artist and the Ambulance. Anyone who purchased the limited edition packaging of that record knows how awesome it was with the individual cards for each song -- stunning!

I'd really hate to get TV scanned into my brain, and I'd hate to have to go back to my computer for lyrics and great artwork. Nothing will beat a beautiful tangible medium, as well as some sort of physical back-up in case of a crash...who knows?

I also completely back, and can't stress enough to labels and vinyl distributors alike, to combine their wax with a digital download card. We can have our cake, and eat it too.

The jury is still out on how I feel about Beggars. I need a few more listens, but it definitely is one of the best records to come out this year, and keeps growing more beautiful with each listen.

Could anticipation be killing the tangible form, even if we support it in the end? Time will tell I guess, or make fools of us all.
Tags: Tangible Mediums, CD, Digital, Vinyl, Distribution, Thrice, Beggars