| | | | |
| --- | --- | --- | --- |
| 's Blog | | | | |
The Remnants of Uncertainty...

Music I Need (Revisited)
First thing's first... My Razia's Shadow Preview will be up soon! I'm excited!

About a month ago I blogged about all the albums I still need to or can't wait to get this year. I want to have a really large catalog to choose from when I start making my EOTY lists. I've now updated the list to include albums I want that come out in October. Now, I haven't been doing great financially so I haven't been able to buy too many albums. This list should shrink in the coming weeks.

Most recent purchases:
Jack's Mannequin - The Glass Passenger
Anberlin - New Surrender
House of Heroes - The End is Not the End
Gym Class Heroes - The Quilt

Albums I Want:
Forgive Durden - Razia's Shadow: A Musical
Margot and the Nuclear So and So's - Not Animal
Senses Fail - Life is Not a Waiting Room
Funeral For A Friend - Memory and Humanity
Keane - Perfect Symmetry
Emery - When Broken Hearts Prevail
The Hold Steady - Stay Positive
The Living End - White Noise
Person L - Initial
Anthony Green - Avalon
The Honorary Title - Scream and Light Up the Sky
Underoath - Lost in the Sound of Separation
Jonzetta - Cruel to Be Young
Portugal. The Man - Censored Colors
Punchline - Just Say Yes
Straylight Run - Un Mas Dos
House of Heroes - The End is Not The End
The Morning Light - S/T
Bayside - Shudder
Joshua Radin - Simple Times
Copeland - You Are My Sunshine
Astronautalis - Pomegranate
Tiger Lou - Partial Print
Quietdrive - Deliverance
Ra Ra Riot - The Rhumb Line
Snowpatrol - A Hundred Million Suns
Facing New York - Get Hot

Bands I Want to Check Out:
Jet Lag Gemini
Runner Runner
Almost Gold
Set Your Goals
My Favorite Highway
Stages and Stereos

Any bands you guys think I would like, please comment or let me know some other way. I'm open to many types of music, but you can guess what I generally like by the bands listed above.
Tags: music, albums, 2008, money, recommendations, wants
One Word: Want
want.

all i want is some stability.

all i want is enough money to make ends meet.

all i want is a place to live.

a place to be.

some clarity.

we want so much.

how much do we really need?

i just want to be okay.
Tags: oneword.com, want
Entertainment Blog #2 - 6/29/08
Look at me keeping my promises! So, the second installment of my weekly entertainment blog will be a bit different. I have two music reviews, two movie reviews, and a video game rec. Get ready.

2008 Album Review:

City and Colour - Bring Me Your Love





I can't really get a grip on a 2008 album that I've been spinning a lot this week because it has been such a crazy up and down week. But at various points during the week I feel like this album kept me sane. "Body in a Box" is a glorious, upbeat ballad about death that really touched me this week like it never has before. Other songs I'd recommend are "Sleeping Sickness", a moving acoustic piece with a powerfully subtle chorus, and "The Girl", a simple song that gradually builds through three stages. That song is one that I've love to play for a special someone one day.

For this being my first taste of City and Colour, I am very pleasantly surprised. Though there is nothing too intricate about the album, Dallas Green's voice is soothing and his songs speak in a simply profound way. I recommend this album when you need to escape the complicated world and just sit back and chill.


Retro Album Review:

Alkaline Trio - From Here to Infirmary




This album was released 7 years ago and I can still play it today and feel exactly the same about it. Since Alkaline Trio is releasing a new album very soon, I had to do the usual retro listen to get ready for it. From Here to Infirmary has classic songs that will always speak to my youth. The dark, brutally honest lyrics from Matt Skiba are chilling and refreshing in the same breath. "Take Lots With Alcohol" is one of all-time favorite Alk3 songs and features Dan Andriano on vocals. I've always loved the way Skiba and Andriano harmonized. Their voices are unlike any I've heard, rough and smooth, raspy and clean, pretty and ugly. Just a perfect blend for their music.

"Steamer Trunk" breaks my heart, but I love it to death. "Armageddon" is one of my favorite Skiba-sung songs, I love the intensity at the end, it really feels like the world is ending when he sings the lines "Armageddon, let the light in. Before we say goodbye, give us something to believe in. Armageddon, we're not begging for too much I don't think" I love it. Finally, maybe my favorite Alk3 song of all time "Crawl", sung by Andriano, is a song that defines much of my youth. It's beautifully executed and just a perfectly dark, yet healing song. This album is a must-have for the good days of this genre.

Movie Review:

Iron Man




I saw this movie a few weeks ago, but I never reviewed it. I thought the dialog was the best I've seen in any superhero flick. Robert Downey Jr. has made quite the comeback this year and played Tony Stark extremely well. Gwyneth Paltrow played Pepper surprisingly well and the chemistry between her and Downey Jr's characters was nearly flawless. The supporting cast was nearly on par, but Downey Jr. was pretty much everything good about the acting. The effects were pretty awesome as usual, but the fight scenes were underwhelming. As with a lot of the marvel movies, there was too much back story and the actual superhero didn't come to fruition until a while into the film.

Overall, I really enjoyed the movie. Mostly for the it's wit and freshness. The action could've been better, but it set the stage for a good summer of Marvel films (I'll review Hulk next week). I think Marvel is heading in a good direction.

Movie Review:

Wanted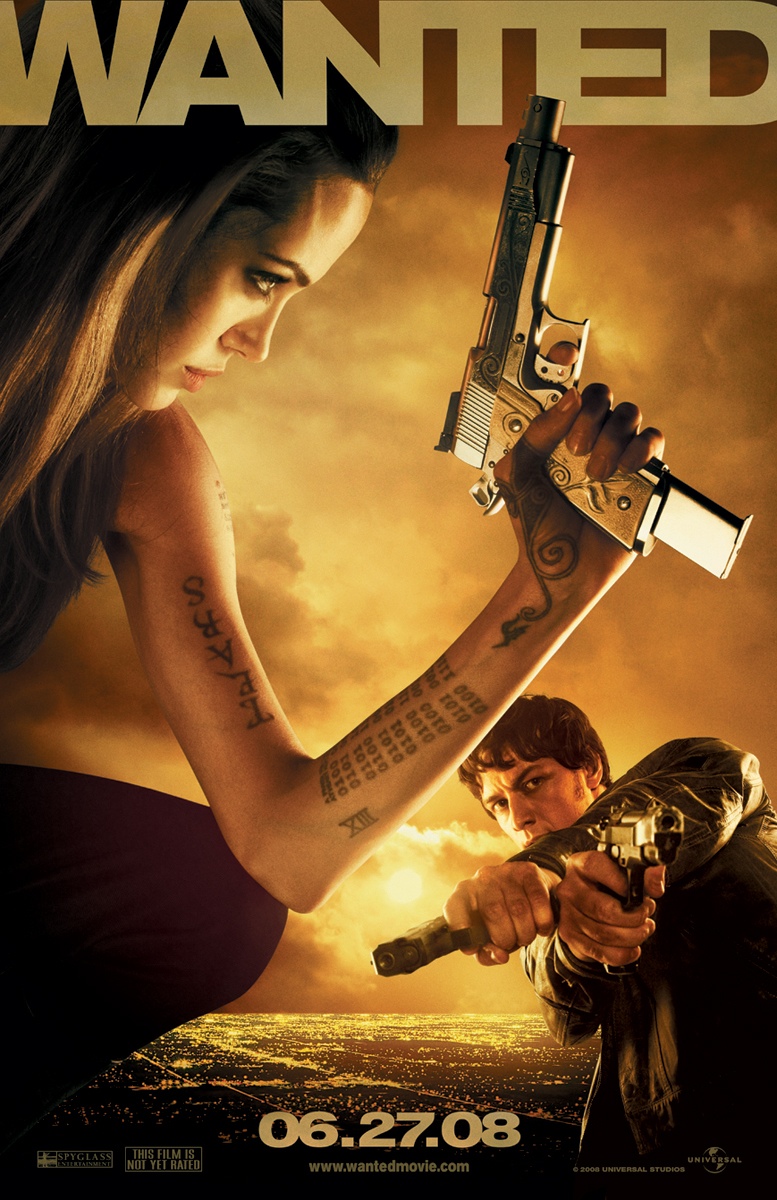 I have a hard time knowing what to make of this movie. Was I impressed with the visuals? You better believe it. Was the storyline intriguing? For the most part, yes. Was anything about this movie realistic? Not at all. Do I have to do this entire review by asking myself questions? Nope!

Wanted begins with immediate action, which definitely sets a good pace for the movie. The movie never feels slow or lengthy, and it definitely makes you jump out of your seat one or two times. If nothing else, you will say, "Holy shit!" or "Oh my God!" quite a few times during the movie. James McAvoy does an excellent job as Wesley Gibson, showcasing the character's fear and how it slowly develops into skill and confidence. Angelina Jolie's character doesn't say much if you think about it, but she uses her natural born sexiness to make it work. Morgan Freeman is his usual consistent self, and the supporting cast does their part.

I guess you have to keep in mind that the events in the movie are fantastical, even though a pretty good explanation is offered for Wesley Gibson's immense skills. There were definitely some plot holes and obvious twists, but the movie left me saying, "Hell yea!" and wanting to do cool stunts with guns and cars and such... so for an action flick, it did its job.

Video Game Recommendation:

Devil May Cry 4 - PS3




Initial disclosure: I don't have much time to play video games, so I'll never actually be up to pace with the newest releases. Deal with it. I'm sure I'll get around to reviewing Assassins Creed sometime this year.

Devil May Cry 4 is a really fun game. The visuals are incredible and the gameplay is simple or complex depending on how you decide to play. You can get into the upgrades and secret missions or just simply enjoy the captivating story and gameplay. I haven't gotten too far into this game, but I really like what I've done so far. I'm sure I'll have much more to say after I beat it. So I guess I'll finish this review next year.

That's all for my entertainment blog this week. Thanks for reading!
Tags: alkaline trio, devil may cry 4, city and colour, iron man, wanted