The promotional image for this thread is brought to you by the one and only Vito Pagano: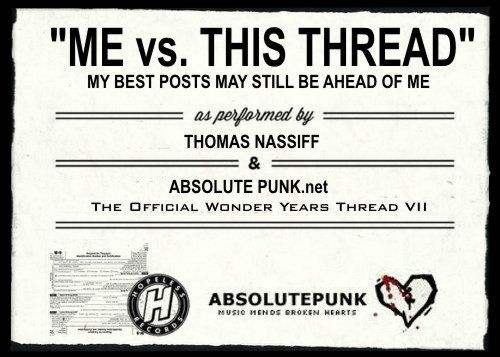 This is the seventh Wonder Years thread. They're a band from Philadelphia and they play pop-punk music but it's not really like all the other bands, kinda just better. At the time of posting this new thread, the TWY men are in their natural home habitat, writing a new record to come out in like spring or summer 2013. They're also doing a tour in the fall but we don't know with who yet. Here is a bunch of words:
Dan punching a lightbulb:
Biography from the Hopeless Records website:
"The whole world's full of losers," sings Wonder Years frontman Dan "Soupy" Campbell on "Washington Square Park," from the band's second full-length record, The Upsides, "but if you get a chance to win, take it."
Perhaps no quote better describes The Wonder Years' career to date. A band that started as something of a joke grew to become recognized around the country courtesy of a sloppy debut LP that flicked some sort of switch. People were paying attention to them. People were listening to them. People liked them. This was, as they say, opportunity knocking. The Wonder Years had a chance to win, and they took it.
Releasing The Upsides in January 2010, a complete departure from The Wonder Years' early work, was just the beginning of an ongoing avalanche of momentum that has led the Philadelphia sextet to the forefront of the pop-punk community. Engaging musicianship, reaching far beyond the repetitive droning of most of the genre, and intimate, instantly relatable lyricism made The Wonder Years a critical darling even before hordes of fans began to take notice. But it didn't take long for everyone to jump on board. Signing to Hopeless Records with their brand of "realist pop-punk" and re-releasing The Upsides with bonus tracks brought about new buzz, and the release of the sprawling, 13-track concept record Suburbia I've Given You All and Now I'm Nothing in June of 2011 confirmed what many thought: The Wonder Years were for real.
Playing shows in basements, backyards and VFW halls the country over in its early years, the band had a DIY mentality long before it broke through to a larger audience. "The idea was that, for a long time, no one wanted to work with The Wonder Years so we said fuck it, we'll do it ourselves," Campbell says. "The idea was that we didn't need anyone else. We weren't looking for charity. We were just going to cowboy up and fucking do it."
Campbell, guitarists Matt Brasch and Casey Cavaliere, keyboardist/guitarist Nick Steinborn, bassist Joshua Martin and drummer Michael Kennedy have known what it's like to play to 10 kids in Salt Lake City…but their mindset hasn't changed, even when playing to 1,000 kids in Boston. This mentality and determination has resulted in The Wonder Years never taking a day off, always going the extra mile to interact with fans, playing emotionally draining live shows, and, most of all, leaving a legacy in their recorded music. The group is still "involved in every aspect of the band," according to Campbell, so everything that comes out is as good as it can be.
The Wonder Years graced the cover of Alternative Press, played an entire summer on the Vans Warped Tour, and opened for New Found Glory on the Pop Punk's Not Dead Tour to close out 2011. They opened 2012 in a huge way, with the Glamour Kills Tour, which Campbell called the band's "first big-boy headliner." Leading Polar Bear Club, Transit, The Story So Far, A Loss for Words and Into It. Over It. across the country for six weeks of sold-out shows proved that The Wonder Years are still growing, still making new friends, and still breaking new boundaries.
The band's current success can largely be traced to Suburbia. The album explores the concept of feeling displaced from your home, providing a wealth of relatable lyricism for fans to delve into. "There's an understanding, at least in my high school English class, that the best authors write about what they know," Martin says. "We just write about what we know and what we feel because it makes the most sense to us. We just strive to write music and lyrics with substance."
The Wonder Years have become notable in the best way imaginable – by being themselves. By wearing their collective heart on their proverbial sleeve. And by taking every chance they get to win.
Punk Is Dead. Get A Job.
split with Stay Ahead of the Weather (2012)
Listen here
Suburbia I've Given You All And Now I'm Nothing
LP2 (2011)
Spotify
The Upsides
LP1 (2010)
Spotify
Distances
split with All or Nothing (2009)
Spotify
Won't Be Pathetic Forever
7" (2008)
Spotify
Get Stoked On It!
LPdoesn'tcount (2007)
Spotify
Sixth Thread
Fifth Thread
Fourth Thread
Third Thread
Second Thread
Top 10 Posters from the Sixth Thread:
Official Pages
http://thewonderyearsband.com/
http://www.facebook.com/thewonderyearsband
http://www.last.fm/music/The+Wonder+Years
http://www.absolutepunk.net/artists/showlink.php?l=4541
Official Twitters
The Wonder Years @twypoppunk
HankThePigeon @HankThePigeon ( Shits on things )
Dan "Soupy' Campbell @headabovewater ( Lead Vocals )
Nicholas Steinborn @nicksteinborn ( Guitar/Keyboard/Vocals )
Josh Martin @joshtwy ( Bass/Vocals )
Matt Brasch @mattbrasch ( Guitar/Vocals )
Michael Kennedy @yoAKATT ( Drums )
Casey Cavaliere @CaseRock ( Guitar )
John James Ryan Jr. @JohnJamesRyan ( Tour Dad and all around best human )

AP.net Thread Regs ...
Thomas Nassiff
http://twitter.com/#!/ThomasNassiff
Drew Beringer
http://www.twitter.com/drewberinger
brandon_260
http://twitter.com/#!/brandonhrywkiw
Jaytothesyg
http://twitter.com/#!/JustinHMGraci
DylanPPPP
http://twitter.com/#!/PopPunkisms
&
http://twitter.com/#!/DylanMEB
xHoodieWeather
http://twitter.com/#!/xHoodieWeather
phaynes1
http://twitter.com/#!/PatMEB
Amib70
http://twitter.com/Amiboughter
SincerelyMe
http://twitter.com/#!/sarahgrossman_
MikeYabs
http://twitter.com/#!/MikeYabs
xBranx
http://twitter.com/#!/brandonpagano
ViTOP
http://twitter.com/#!/VitoPagano
subplotofcrows
http://twitter.com/#!/TheMaxHarcsar
Brandon Allin
http://twitter.com/brandon_allin
JeffyDomer
http://twitter.com/#!/haysanchez
Mikey Paine
http://twitter.com/#!/mchlpaone
Sophos34
http://twitter.com/jakej654
DCarty61
http://twitter.com/dylancarty
frootloops4u95
http://www.twitter.com/localman95
tachyonpython
http://twitter.com/#!/TachyonEvan
theotheryabs
http://twitter.com/theotheryabs
njdevils327
http://twitter.com/njdevils327
ChaplainTappman
http://twitter.com/ryandenns
donwagenblast
http://twitter.com/mylifeisdon
butrfli1234
http://twitter.com/butrfli1234
mar_
http://twitter.com/mar__
DemBitties
http://twitter.com/@swagpoint0h
StephenYoung
http://twitter.com/sinkorstephen
iseethesun123
http://twitter.com/dividedbykyle
koryoreo
http://twitter.com/koryoz
Other excellent photoshops
:
http://www.absolutepunk.net/gallery/...c=6472&userid=
A long ass feature article about The Wonder Years that Thomas Nassiff wrote
:
http://absolutepunk.net/journal.php?...entry&e=357682
NERVOUS ENERGIES SESSIONS - The Wonder Years
:
http://www.ryanrussell.net/nervousen...nderyears.html
PROPERTY OF ZACK SESSIONS - The Wonder Years Live
:
http://propertyofzack.com/tagged/TWYLive
Merch
:
http://www.coldcutsmerch.com/collections/thewonderyears
Dan Campbell's Charity Clothing Line
: SHALLOW WATER
Official Site
http://thisisshallowwater.tumblr.com/
Official Twitter
https://twitter.com/#!/shallowwaterpa
Gifs: